What makes the right RV interior?
Updated 6/8/2021
Luxury coach interiors should make you feel at home. They should be beautiful, cozy and spacious (yes, at the same time) to provide the comfort you crave the moment you set foot inside—wherever you are, any time of day and no matter who joins the journey. Here are just a few ways to achieve this delicate balance and make your motorhouse a home.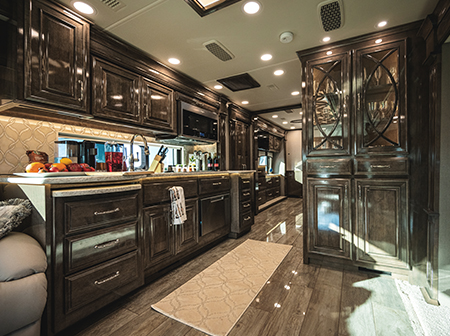 Getting the light just right
Whether you've invited friends over to enjoy your signature appetizer or just need to relax after spending the day exploring, recessed lighting and day/night window treatments help you achieve that perfect ambiance. Touch pad-controlled lighting systems and solar-day and blackout shades suit the night owl, early riser or afternoon napper. Really trying to maximize the relaxation? The available electric fireplace keeps things pleasant and LED-lit countertop edges, cabinets, appliance dials and ceiling accents can set the mood.
When staying in is your thing
Coach life allows you to be adventurous but sometimes you need to unwind with an evening indoors. When snuggling up is the choice, the movie buff, music lover, sports fan or even the news junkie can enjoy their passion with the help of your Entegra Coach's widescreen HDTV, powerful audio system, infotainment packages and Bluetooth® connectivity. Theater seating, in-bunk TVs, board-game-ready tables and USB charging ports throughout are other features to seek out.
Bringing home along
When you hear chatter about materials and fixtures like "Stonewall Grey cabinets," "coordinated tile across the floors, shower and backsplashes" or "the decorative ceiling feature," you might assume it's an interior designer talking about a new mansion. But, no, these are the types of discussions we have every model year.
Exquisitely decorated Entegra coaches feel like home driving off the lot, but there's plenty of opportunities to make it your very own, as well. Decorate the bedroom with your favorite flowers and artwork, dress up a corner of the living room with photos of the grandkids or handwritten notes from the nieces and nephews and adorn the leather sofa with your favorite blanket or decorative pillows.
Now we're cookin'
The prospect of fresh-caught fish, discovering a patch of elusive Morel mushrooms or a hike yielding hand-picked berries will get mouths watering. Likewise, having the chance to experiment with local delicacies, unusual ingredients or a new cooking technique is a chef's delight. No matter the dish, cooks and hungry campers alike are sure to enjoy the fully functioning and luxuriously detailed Entegra Coach kitchen.
You'll feel right at home thanks to features like solid-surface countertops, porcelain tile backsplashes, induction cooktops, convection microwaves, spacious storage and pantries, kitchen islands and residential refrigerators.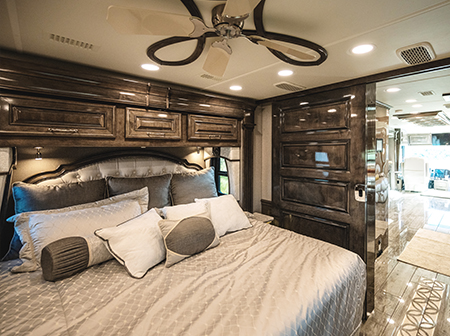 Just winding down
If you're spending a day away from your coach exploring the town, out in the sun or on the trails, it's reassuring to know you'll be returning to uncompromising comfort. Freshening up is made simple in spacious and high-quality fixtured bathrooms. Meanwhile, the bedroom will call to you with popular amenities like king-sized beds with detailed headboards, wood finishes and delicate lighting.
Whatever suits your fancy
If you're the host with the most, you may want more room to entertain. If you love to cook, you may want an extra spacious kitchen or dining area. Floorplans offer a variety of layouts to maximize space for what's most important to you, while an array of décor options make it easy to have a coach that exudes your personal style and gives you a comforting feeling the moment you set foot inside.
If you're looking to travel with the grandkids without sacrificing amenities or privacy, bunkhouse floorplans offer a great option that's emerged in recent years. On the other hand, Class B RVs offer the option of a low-frill, but very comfortable and functional interior.
Like floorplans, décor choices have improved too; dark brown and light brown aren't the only options anymore. These days, our RVs interiors are trending much lighter and residential. Our Modern Farmhouse, for instance, mixes rustic, modern and contemporary materials that make for an aesthetic that more and more RVers are looking for.
RV interiors have come a long, long way. If you've always been drawn to the traditional, rustic look and feel, you can definitely find those, but today, there are more options than ever. Whether it's a modern, residential feel throughout or specific luxuries and homelike amenities you're after, you'll find them in new RVs and throughout the legendary Entegra Coach lineup.
Additional Resources
6 Reasons Entegra Coach Luxury Diesel Motorhomes Offer A Better Ride​