Class B RVs: 5 things you need to know and 4 FAQs
The Class B motorhome has been all the rage lately. Its combination of drivability and comfort offers the kind of travel flexibility that's so precious, especially these days. Also known as camper vans, this class of RV is probably the most consistent in terms of body size and shape—they're all built on a standard van chassis.
That's not to say all Class B motorhomes are the same. While most have all the basics for overnights, i.e. sleeping quarters, HVAC, kitchenettes, toilet facilities, and even showers, the details make a huge difference in terms of comfort and convenience.
Now that we've covered the basics, let's dive into five things to know and four FAQs about Class B motorhomes.
1. They're easy to drive
The fact that Class B RVs drive so much like an everyday vehicle is a big reason these have become so popular. There's almost no learning curve before you're pulling in and out of tight campsites with ease. It's also nice that they are more like your car in terms of gas mileage. Whether you're towing or driving, a Class B will be near the top of the fuel efficiency list compared to other RVs.
2. They allow for the best off-the-grid boondocking access
If getting off the grid, immersing yourself in nature and disconnecting from the stresses of the day-to-day sounds like a good plan, a Class B may be the ideal RV for you. Its maneuverability and relatively small size allow for safely accessing sites most other RV couldn't. Note: Class B motorhomes are taller than a standard van or SUV.
3. There are a lot of places to get service
Should you have a change of plans or you want to get things checked out before a particularly adventurous leg of the trip, most automotive shops will be able to help. That said, your Entegra Coach dealer will always be your best bet.
4. The outdoors becomes the center of attention
If you're looking for a home away from home, a way to get away and enjoy the comforts and luxuries you're used to every day, a Class B RV may not be for you. If being outside is your priority, the camper van may be just for you. It'll provide everything you need for comfortable overnights when you can immerse yourself in your surroundings.
5. Every space is carefully designed for efficiency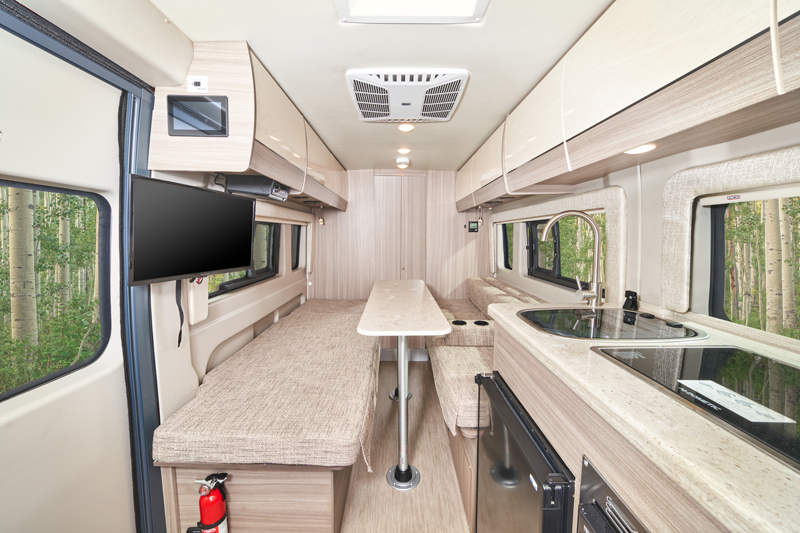 You'll find that almost everything inside a Class B motorhome serves at least two functions. A bed may also function as a couch or dinette during the day. Appliances are common, but they may be in smaller sizes or variations.
How big are Class B motorhomes?
Class B motorhomes are usually just under twenty feet in length and weigh about 7,000 pounds.
Can I stand up in a Class B motorhome?
Class B motorhomes have a dropped floor and raised roof to make them easier to maneuver around in when parked. The 2021 Entegra Coach Ethos has an interior height of 74 inches.
How many people can sleep in a Class B motorhome?
Class B motorhomes are typically best for two people, but some floorplans are designed specifically to sleep up to four.
What's the difference between Class B and conversion van?
They may look the same on the outside, but Class B motorhomes have the power, plumbing, HVAC, storage, and tanks needed to travel longer without connections.

The Ethos is the first Class B motorhome from Entegra Coach. Learn more about how its long list of standard features and luxurious finishes make it the perfect addition to the lineup.