XL comfort, compact package

THE QUIETEST RIDING, BEST HANDLING COACH ON THE MARKET TODAY. PERIOD.
Luxurious touches pair with ultimate maneuverability in this beautifully designed coach. New to the 2022 model are the latest in interior design trends—from the flooring, backsplashes and cabinetry to the new fabrics and exterior paint selections. It's not all beauty: state-of-the-art technologies like Samsung® Smart TVs, JBL premium Bluetooth speakers and premium drive and handling will make every journey a joy.
Specs
| | |
| --- | --- |
| Gross Vehicle Weight Rating (lbs) | 36,320 |
| Gross Combined Weight Rating (lbs) | 46,320 |
| Front Gross Axle Weight Rating (lbs) | 14,320 |
| Rear Gross Axle Weight Rating (lbs) | 22,000 |
| Tag Axle Gross Weight Rating (lbs) | N/A |
| Exterior Length | 37' 10" |
| Exterior Width | 101" |
| Exterior Height with A/C and Satellite | 12' 11" |
| Interior Height | 84" |
| Fresh Water Capacity (gals) | 100 |
| Grey Waste Water Capacity (gals) | 62 |
| Black Waste Water (gals) | 41 |
| Fuel Tank Capacity (gals) | 100 |
| Furnace (BTU Output) | 40,000 Aqua-Hot |
| Wheel Base | 230" |
Specs
| | |
| --- | --- |
| Gross Vehicle Weight Rating (lbs) | 36,320 |
| Gross Combined Weight Rating (lbs) | 46,320 |
| Front Gross Axle Weight Rating (lbs) | 14,320 |
| Rear Gross Axle Weight Rating (lbs) | 22,000 |
| Tag Axle Gross Weight Rating (lbs) | N/A |
| Exterior Length | 39' 11" |
| Exterior Width | 101" |
| Exterior Height with A/C and Satellite | 12' 11" |
| Interior Height | 84" |
| Fresh Water Capacity (gals) | 100 |
| Grey Waste Water Capacity (gals) | 62 |
| Black Waste Water (gals) | 41 |
| Fuel Tank Capacity (gals) | 100 |
| Furnace (BTU Output) | 40,000 Aqua-Hot |
| Wheel Base | 255" |
Specs
| | |
| --- | --- |
| Gross Vehicle Weight Rating (lbs) | 36,320 |
| Gross Combined Weight Rating (lbs) | 46,320 |
| Front Gross Axle Weight Rating (lbs) | 14,320 |
| Rear Gross Axle Weight Rating (lbs) | 22,000 |
| Tag Axle Gross Weight Rating (lbs) | N/A |
| Exterior Length | 39' 11" |
| Exterior Width | 101" |
| Exterior Height with A/C and Satellite | 12' 11" |
| Interior Height | 84" |
| Fresh Water Capacity (gals) | 100 |
| Grey Waste Water Capacity (gals) | 62 |
| Black Waste Water (gals) | 41 |
| Fuel Tank Capacity (gals) | 100 |
| Furnace (BTU Output) | 40,000 Aqua-Hot |
| Wheel Base | 255" |
Specs
| | |
| --- | --- |
| Gross Vehicle Weight Rating (lbs) | 36,320 |
| Gross Combined Weight Rating (lbs) | 46,320 |
| Front Gross Axle Weight Rating (lbs) | 14,320 |
| Rear Gross Axle Weight Rating (lbs) | 22,000 |
| Tag Axle Gross Weight Rating (lbs) | N/A |
| Exterior Length | 40' 11" |
| Exterior Width | 101" |
| Exterior Height with A/C and Satellite | 12' 11" |
| Interior Height | 84" |
| Fresh Water Capacity (gals) | 100 |
| Grey Waste Water Capacity (gals) | 62 |
| Black Waste Water (gals) | 41 |
| Fuel Tank Capacity (gals) | 100 |
| Furnace (BTU Output) | 40,000 Aqua-Hot |
| Wheel Base | 267" |
All Floorplans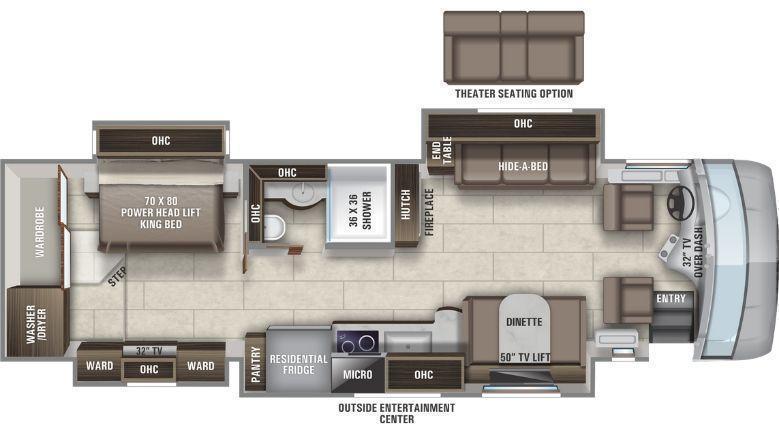 2022 Reatta XL | 37K
---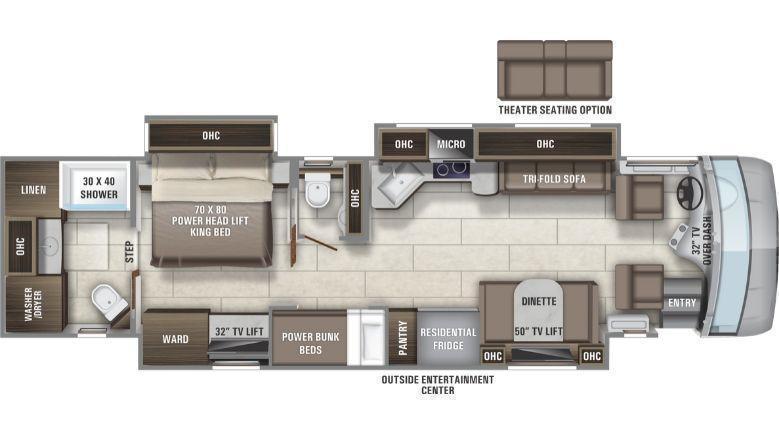 2022 Reatta XL | 39BH
---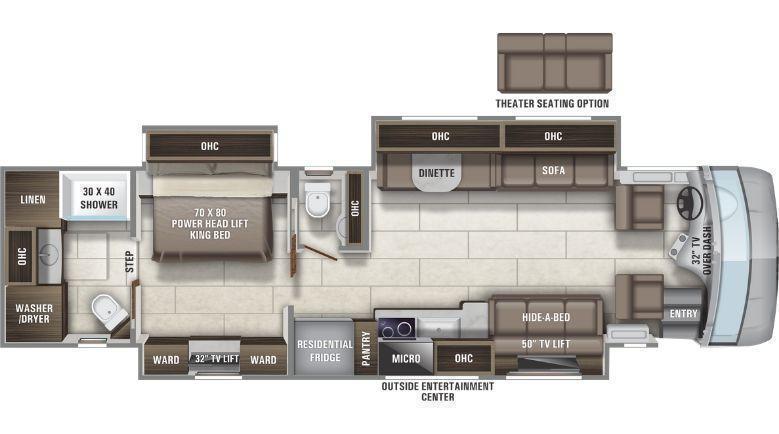 2022 Reatta XL | 39T2
---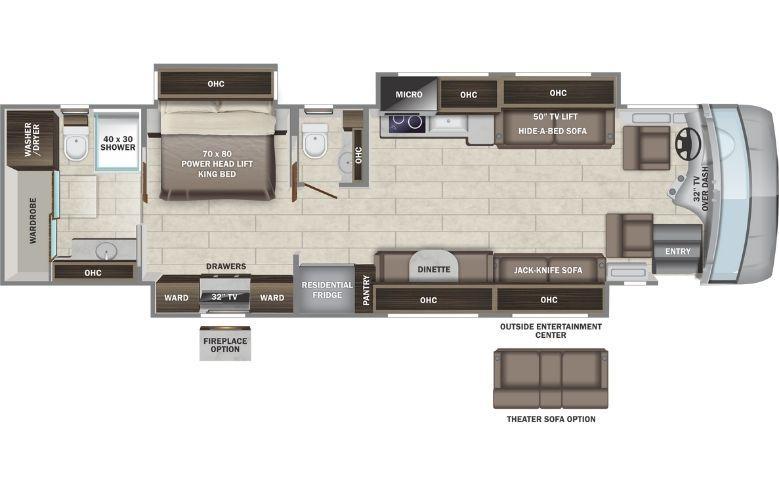 2022 Reatta XL | 40Q3
---