What's New: 2019 Entegra Coach Motorhomes
Have you seen our 2019 Entegra Coach models? We've got key details about each 2019 model to share!
Cornerstone
You deserve the ultimate luxury – and that is exactly what the 2019 Entegra Coach Cornerstone delivers.
The 2019 Cornerstone is sure to turn heads with the five newly designed paint selections: Amber, Azure, Imperial, Phoenix, and Sunfire.
We have added the convenience of starting your coach with the push of a button through a passive start system. Nothing can slow you down.
We are introducing a 15" Valid digital dash which includes your speedometer and tachometer and can switch to the Xite navigation screen. The surrounding screen includes a Valor tire pressure monitoring system, blind spot indicators, fuel and DEF level distance to empty and so much more.
The interior is adorned with designer textiles and luxurious features such as hand laid high-gloss tile floors with a mosaic tile accent, tile backsplash and quartz countertops.
Also, we've partnered with the TV show Shark Tank, and RockPaperRobot with teakwood rollout "Ollie" chairs that are so versatile they can be used inside or outside of the coach. An Entegra Coach exclusive.
See why the Cornerstone is the number one selling model in Cummins X engine category.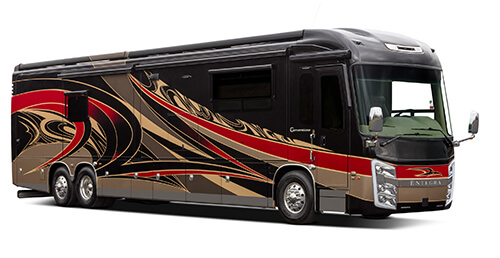 Emblem
The 2019 Emblem is a gasoline-powered Class A motorhome joining the Entegra Coach family of products. The Emblem was introduced with two floorplan options and a host of standard features to meet the expectations of new and experienced RVers alike.
Featuring a one-piece fiberglass front and rear cap, and a seamless crowned fiberglass roof, the Emblem is built for life on the road. Unmistakably an Entegra Coach Class A, the exterior of the Emblem also features lockable pass-through storage compartments with slam latches, an electric-powered entrance step and an entrance door with the industry's largest travel view window.
The Emblem's interior luxuries include 84-inch interior ceiling height with padded vinyl ceiling and high-intensity recessed LED ceiling lights. The kitchen delights in the culinary conveniences of home featuring a residential refrigerator with 21 cu. ft. of space, a convection microwave oven, gas cooktop and a water filtration system.
Move to the bathroom where you'll find a spacious shower with a glass door and skylight, stainless steel lavatory sink and a porcelain toilet. The bedroom offers the luxuries of home with a king-size bed, washer/dryer option, ample storage space and a 32-inch LED TV.
And we can't forget about the smooth ride features the Entegra Coach Emblem has to offer. With a computer-balanced driveshaft, Hellwig® heavy-duty front stabilizer bar, rear stabilizer bar, and jounce bumpers, you'll quickly learn that the journey is as important to us as the destination. And you'll enjoy it even more knowing it's backed by our manufacturer's 2-year limited warranty.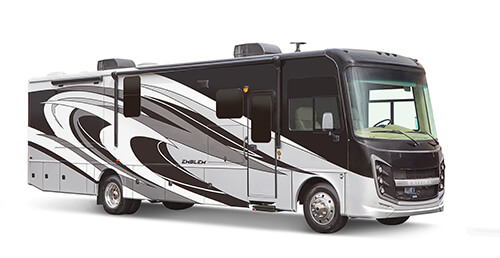 Anthem
It is time. You've worked hard. You deserve to enjoy your leisure time where you want in the surroundings that you desire.
Take a look at the 2019 Anthem from Entegra Coach.
Set the tone with the attention grabbing newly designed exterior paint selections available in Tango, Salsa, Jazz, Jive and Waltz.
The Passive start system will get you on your way with the simple push of a button, it's that easy.
We are introducing a 15" Valid digital dash which includes your speedometer and tachometer and can switch to the Xite navigation screen. The surrounding screen includes Valor tire pressure monitoring system, blind spot indicators, fuel and DEF level distance to empty and so much more.
Choose your most comfortable feeling interior from three all new, well-appointed choices, hardwood cabinetry, high gloss Stonewall Gray cabinet option, and 8" x 48" hand laid high-gloss tile floor. So many other details that will make you feel pampered.
As you head off in the quietest riding, best handling motor coach on the market today – you'll be happy you bought an Entegra Coach.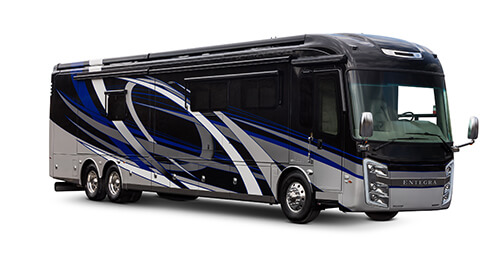 Aspire
You have followed your aspirations and ambitions - it is time to reward yourself with the 2019 Entegra Coach Aspire.
The 2019 Aspire features a new passive start technology. Now the push of a button will get your coach started and get you on your way to your next adventure conveniently.
The 2019 Aspire is striking to behold, both inside and out.
There are five new exterior designs available which are Iris, Marigold, Tigerlily, Goldenrod and Poppy. These are sure to get you noticed so choose the one that best suits your style and personality.
The warm and inviting 2019 interiors are available in Sienna, Alabaster and Cobblestone. Included in these are a high-gloss tile which are hand laid in a striking herringbone pattern, an impressive ceiling feature, and a new interior door styles that compliment the hardwood cabinetry throughout this eloquent coach.
If you choose the cozy Cobblestone interior you will be treated to stunning, high-gloss Stonewall Gray hardwood cabinetry.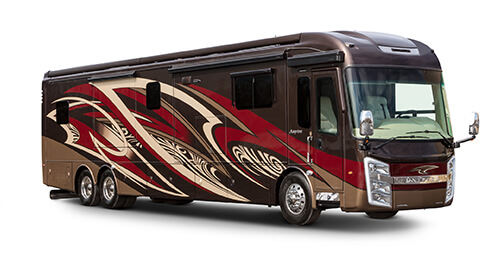 Insignia
At Entegra Coach, you have the opportunity to experience luxury on every journey. In our cozy, homelike motorhome you will be surrounded by the deluxe comforts you deserve.
The 2019 Insignia model is designed with your comfort and convenience as our first priority, which is why we are thrilled to introduce to you passive start technology. You are able to start your coach with the push of a button. This system allows for maximum convenience as well as maintaining our high standard of safety and security.
2019 brings you four brand new fabulous paint designs, which are Autumn Berry, Polished Pearl, Moonlit Beach and Topaz.
There are three beautiful new décor options – Opal, Auburn and Slate. Included in all of these are an impressive hand laid high-gloss tile floor, solid hardwood cabinetry throughout.
The 2019 Insignia kitchen boasts the convenience of an induction cooktop, Whirlpool convection microwave and a residential size Whirlpool refrigerator. Also featured is additional ambient light from the lit countertops throughout the coach giving you even more control of your surroundings.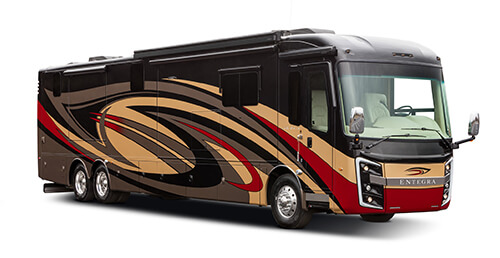 The new year brings the addition of the Safehaul tow brake system so your new coach is already prepped for your tow vehicle.
Compare all of our models and features here, or find your nearest Entegra Coach dealer here.
Check out our YouTube channel to find tips about various features and more about who we are and how we build these beautiful motorhomes. Be notified of the latest model year news by liking the Entegra Coach Facebook page. You'll be one of the first to see our newest coaches and our product experts will walk you through different models, floorplans and demonstrate new features.