Spring into motion
Updated March 17, 2020
Ready for warmer weather? Make sure your coach is, too.
Travel season is right around the corner. You may be ready to hit the road today—but is your coach? Making sure things are in tip-top shape could spare you some major headaches during your travels. Here are some of our tips on steps to take before you get back outside and make memories in your coach!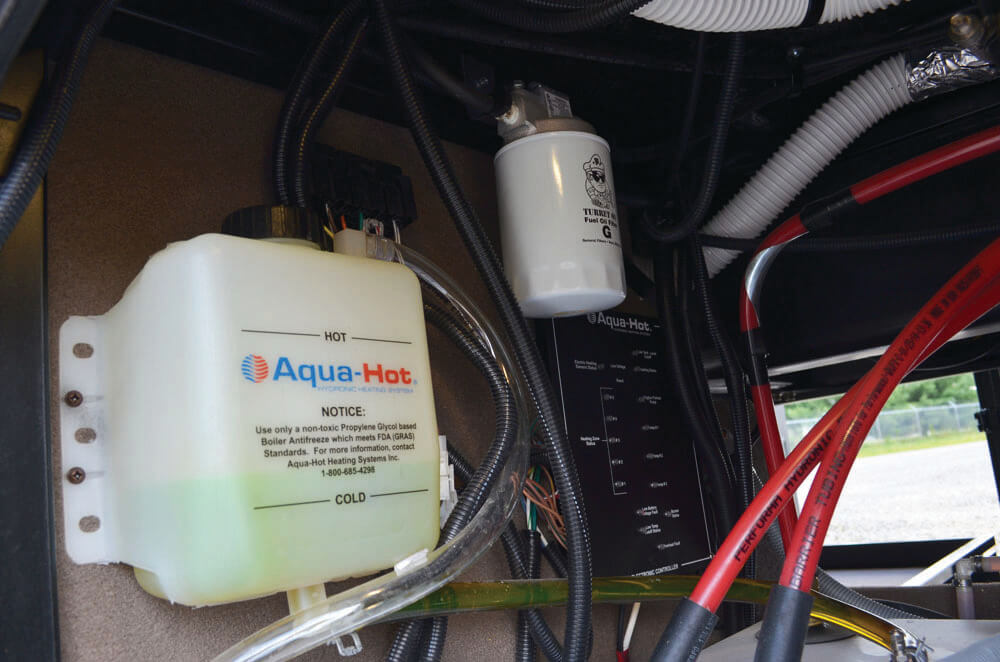 1. Check your batteries
Check your battery fluid levels (lead acid flooded batteries only) and make sure all battery terminals are free of corrosion.
2. Check your fluid levels
Check and top off all fluid levels before your first trip—including boiler antifreeze. And don't skimp on the types of fluids. Use the formulation designed for your coach and avoid mixing colors or brands—this goes for all maintenance elements of your coach. Also, it's a good idea to keep extra fluids and basic maintenance products on hand while traveling.
3. Inspect the roof and slideouts
Perform a quick visual inspection of all roof sealants, including slide room roofs. Apply additional sealant as necessary.
4. Spring clean your coach
Properly cleaning a coach that's been stored away or has had limited use throughout the winter months is an important step to take to get your home away from home in tip-top traveling shape.
Here are our recommended coach spring cleaning tips:​
Let your coach breathe! After being cooped up for a long winter, the air inside becomes stale. Open all of your windows and doors and let the space air out while you clean the rest of it!
Remove any and all pillows and cushions and give them a good shake outside if possible. Letting these items sit in the fresh air for a while can't hurt either!
Dust all surfaces with a microfiber dust cloth and don't forget to get behind and around electronics and vents. Pull the vent covers off, if you can, and give those a good wipe down.
Use a warm washcloth to wipe out all cabinets and drawers to remove any dirt, dust or crumbs that have built up over time.
Wash those windows for better views on your first big adventure of the season!
Check all of your air conditioning filters and other important systems to make sure they are clean and in proper working order.
Vacuum and mop the RV floor with warm soapy water to make sure those stay in great condition.
Finally, make sure your kitchen appliances and bathroom features are scrubbed down to remove all dirt and grime from the winter!
5. Bring emergency contacts
If all else fails, and you encounter a breakdown or emergency on the road, keep your emergency contacts close at hand. This includes the phone number for your roadside assistance provider. Entegra Coach owners get three years of free roadside assistance through Coach-Net, the country's largest RV emergency road service. This program provides:
24/7 technical support and assistance technicians

Service appointment assistance

Mobile mechanic

Emergency road towing and winching

Delivery of emergency fluids

Flat tire service

Jump start/battery boost

Lockout service

Complete concierge service (including many

types of errands and personal services)
With these tips, you'll be all set to hit the road in no time in a sparkling coach that feels refreshed and renewed!
Additional Resources
How To Properly Wash Your Coach