5 reasons to make a Class B your first RV
Updated 5/4/2021
If you're in the market for your first RV, you'll quickly realize there is a huge variety out there—size, shape, floorplan, tow, drive, you name it; when you know what you're looking for and have done the research, you're sure to find an RV that's just right for how you like to travel.
The type of RV we're going to look at today is the Class B, often called a camper van. They are built on a standard van frame and are generally the smallest motorhomes on the road. They still manage to include all the basics of home—a full bathroom, sleeping space, kitchen, storage tanks and entertainment—and then some. They are self-contained enough to keep things comfortable whether you have a full hook up or are camping off the grid.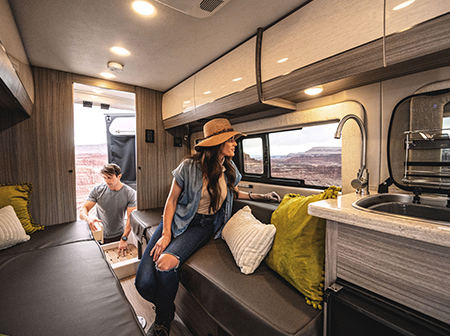 There's a lot of buzz around "van life" and the popularity of Class Bs has surged recently; here are a few of the top reasons travelers decide to make these RVs their first.
1. You would prefer a lower cost of ownership
Not only is avoiding special storage convenient, but it saves a good amount of money too. That isn't the only savings you'll enjoy with a Class B. Whether you're towing or driving with your motorhome, gas mileage is as good it gets, typically 12-15 miles per gallon, not down in the single digits as you'll find with others. Maintenance comes easier and more affordably too, as you won't necessarily need an RV specialist for many of your maintenance and repair visits.
2. Reselling is part of your plan
Class B motorhomes tend to retain their value better than other types of RVs. Thanks in large part to the sturdy van foundation, these RVs resist the wear and tear that can come with adventures on the road. A lot of the additional construction needed to build on top of a frame and add features that will understandably get lots of good use and exposure to elements.
3. You don't want to "learn how to drive all over again"
A big part of the appeal of Class B motorhomes is just how easy they are to drive. More than any other on-the-road RV experience, these are like driving an everyday vehicle. Of course, it's not exactly the same, some practice always helps, but the feel and field of vision will be more comfortable to more drivers than any other RV. Having more drivers willing and able to drive is a nice perk on your explorations.
4. You live in a more urban setting
At about twenty feet long and nine feet tall, Class B RVs are among the easiest to store. Many people have garages that accommodate the van-like frame, eliminating the need to seek out and pay for special storage in colder months. Class C and Class A motorhomes, and most towables, will be much taller and often longer. Not to be overlooked, these units are also much easier to maneuver through tighter streets or congested traffic.
5. You want to be able to get up and go, where you want
Whether you're at home and suddenly decide to take an overnight trip, or you're camping and hear about a once-a-year festival down the road, Class B motorhomes make it easy to go. There's no hitching up, not much to stow away or big systems to shut down—turn the key and go. Just as exciting, when you get to your destination, you're all but guaranteed to find a safe, secure spot where you'll fit. You'll be able to access and handle some remote roads, if you're looking to get off the grid.
Our first Class B is here, Ethos! See what this E-Z Drive™—equipped camper van has to offer and why it fits perfectly in the renowned Entegra Coach lineup.
Class B Frequently Asked Questions
Can a Class B tow a car?
Yes, some Class B RVs can tow cars. Class Bs have a tow capacity of 3,000-5,000 lb., making it possible to hitch up things like small cars, motorcycles or small trailers. However, the ease in drivability of a Class B RV may negate the need for another vehicle. Always check your unit's Owner's Manual for specific towing and driving capabilities.
Can you shower in a Class B RV?
Yes, Class B RVs have showers. To most efficentietly maximize space in the unit, all Class B bathrooms are "wet baths", where the toilet and shower are comfortably and sanitarily combined.
Additional resources