Why Choose a Luxury Diesel Entegra Coach? The Spartan Chassis
You're looking for a coach, but not just any coach. You want one with style, comfort, and reliable features. But don't you deserve the best? At Entegra, we pride ourselves on providing the best. In fact, Entegra is the quietest-riding, best-handling coach on the market today. Period.
Why? Because we build on a Spartan Chassis
Just like your home, it's important to get the foundation right. That's why we build our luxury diesel coaches on Spartan Chassis. Founded in 1975, Spartan has been a leading innovator in the industry. They engineer and build their chassis to feel like a luxury vehicle. Their innovations include the independent front suspension and the rear tag axle. These two features alone contribute so much to the ride and handling of your coach. Without them, you would experience harsher bumps, louder vibrations and significant drifting on the road.
Many may not know that Spartan isn't only involved in the Class A market. They produce products for both emergency response and defense vehicles as well. Why bring this up? These types of vehicles get pushed to the limit daily. They are put through the toughest situations and operated in the harshest environments. And they trust Spartan. That experience, over 40 years' worth, is then translated into a better Class A chassis! One that is durable and long-lasting, while still providing a luxurious driving experience.
"Wait," you may say, "Don't other manufacturers use Spartan as well?" Yes, but unlike the competition, we use the Spartan Chassis across our entire line of coaches. Other manufacturers reserve the Spartan Chassis for only their most expensive models. From the most affordable to the most lavish, you get a top-of-the-line chassis on every Entegra Coach. PLUS, we improve the chassis in ways other manufacturers don't. But we'll talk more about those improvements in later posts.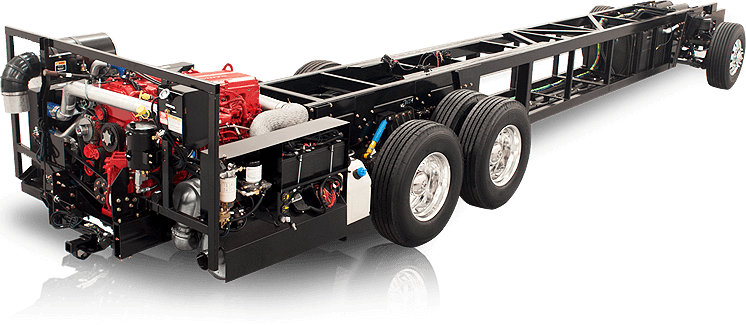 Whether you are looking for a coach or are a proud owner of your own, you know that a strong foundation is critical. With Entegra, know that you're riding on the best in the industry: the Spartan Chassis
More Resources:
There are 5 more reasons to choose an Entegra Coach. Learn them all here [hint- tile can make all the difference]