We Are Entegra: Ted Cook
Meet one of the many valuable people that are part of the Entegra Coach team – Ted Cook. We recently sat down with him and learned aside from being Entegra Coach's Eastern Regional Sales Manager, he loves to spend his time with his family. Keep reading to learn more about Ted and what #WeAreEntegra means to him.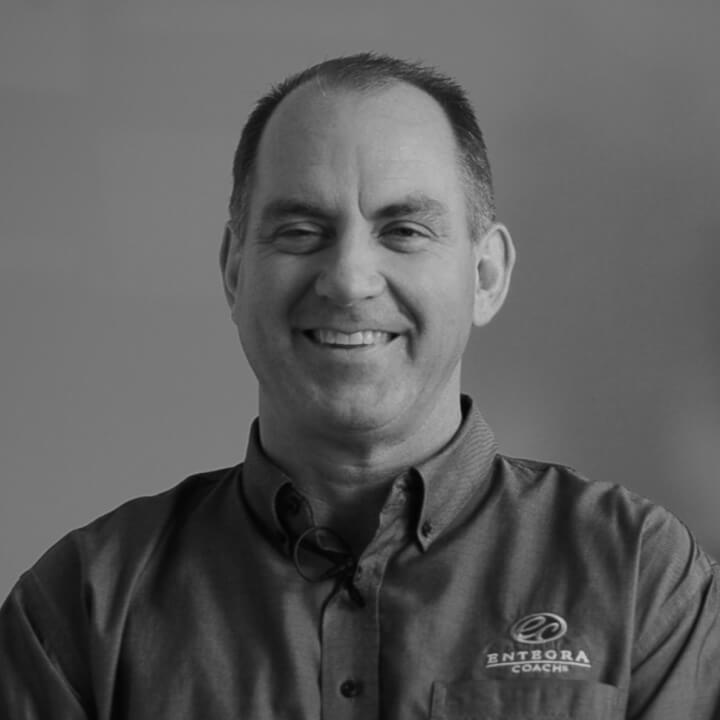 Name: Ted Cook, Eastern Regional Sales Manager
Tell us a little about you: married? kids? hobbies?
I have been married for over 32 years. We have three grown children, two son-in-laws, and 1 granddaughter.
What's an average work day look like for you, if there is an average?
An average work day involved a lot of interactions with various dealerships. Together we work on orders as they come in, keep track of all of their inventory in stock and the orders that the dealers may have in process that we are currently building or getting ready to schedule.
How long have you worked for Entegra Coach?
I have worked for Entegra Coach since the very beginning, when they purchased the assets of Travel Supreme. I started there in 1990, so I have over 28 years of high-end RV industry experience.
Did you work in the RV Industry prior to starting at Entegra Coach? If so, how long?
Yes, I did. Before that, I had a few years working at a place called New World Editions, where we built smaller Class Cs, and then also at Mallard Coach, where we built travel trailers and fifth wheels.
What is your favorite thing about working at Entegra?
I enjoy working at Entegra because I love the high-end industry and the customers that come with it. There is a certain challenge with ordering so many pieces for every coach, bringing all those pieces in, completing the coach, and then showing the customer how it all works and how it all comes back together.
Why do you like working for Entegra Coach?
I enjoy working for Entegra Coach because we really do build coaches just as if we were about to sell them to our own family members. It's something we can stand behind. We build them as if we were trying to sell it to, well, our own mother. We do build the quietest riding, best handling coach on the market today because, that's how mom would want us to build it.
What makes Entegra Coach special or different in your opinion?
I think the thing that really stands out is that we want to build it the best way versus the cheapest way to build a coach. We really are trying to build the best coach. We use different construction materials and processes which take extra time. For example, we take the extra time to tile around all of the cabinetry—a step which adds hours, and almost days, into our production time, but will make the tile last years for the customer once they buy the coach.
What does doing your specific job right mean to you?
Doing my job and getting it done right really means that I have worked with a customer to get him exactly the coach that he is looking for—not trying to sell him something that he really does not want to have, but something that he wants to have that fits his needs and desires.
What do you enjoy doing when you're not at work?
I really enjoy spending time with my family. We have started doing a little weekend getaway together each year and I really enjoy that time spent with them.
What does "We Are Entegra" mean to you?
What "We Are Entegra" really means to me is that we are going to stand behind the product, and we are going to always do what is the right thing, regardless of what everyone else does, because it is the right thing to do.