Features and Trends Young RV Travelers Are Loving
Young people are flocking to the RV lifestyle. The freedom, flexibility and relaxation of hitting the road is becoming more difficult to resist. It's in part because of the fast-paced, overwhelmingly digital world we live in, but also because RVs are being designed to make hitting the road more possible and comfortable for young travelers and their families. Today's RVs are filled with everyday technology young people have grown up with—and come to expect—and offer more variety than ever so as to fit into different budgets.
Here's a rundown of a few of the features and trends that cater to young travelers.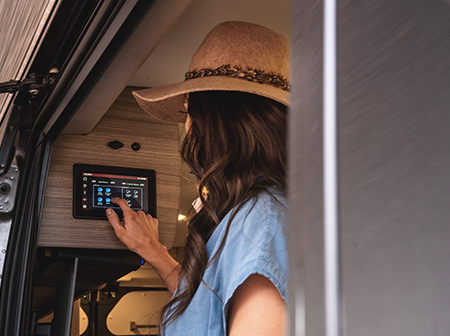 Choices, choices, choices
Exhibit A is our very own lineup. This year we built upon our renowned luxury diesel lineup offering by adding gas Class A and Class C options. We did this in large part to make the Entegra Coach lifestyle available to a much wider group of road warriors. And we're not alone; you'll see more variety across the board.
Mobile multimedia miracles
Podcasts, on-demand video, music streaming, satellite radio, you name it; millennials and their generational neighbors love consuming media. Today's RVs make it easy to do so on the road. On various models across our lineup, you'll find the hardware to make a coach a multimedia powerhouse. Available features like satellite dishes or prep, digital antennas with signal boosters, even Wi-Fi extenders, make accessing media of all types a snap, even on the road.
The gear you need to enjoy it all is there, too. In the Entegra Coach lineup, you'll find ultra-HD TVs up to 50-inches in size (inside and out in some cases) from name brands like Samsung, and speaker systems from the likes of JBL and Bose.
The wired cockpit
Nowadays, drivers expect to have a lot of power within arm's reach. Class A and Class C motorhome builders have taken notice. In each cockpit across our lineup you'll find an in-dash infotainment system that provides critical information about the coach, including custom RV navigation, and mobile device connectivity. Backup and side view monitoring, systems young drivers are accustomed to, are also available throughout our lineup.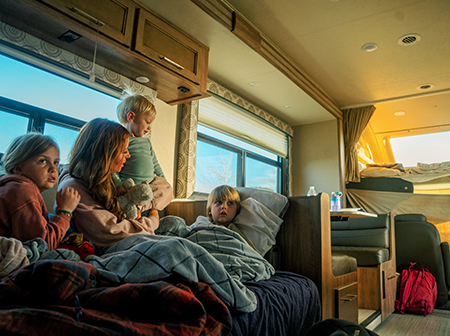 Family-friendly functionality
A Class C's cab-over bunk is perfect for the little ones to lay their heads. Ours are rated at 750-pounds, higher than the industry average, for added peace of mind. You'll also find outside showers on some units for cleaning off the extra-adventurous kids and their gear before they track it into the coach. Last, but definitely not least, larger models boast added safety features like security lights, smoke alarms, carbon monoxide detectors and propane alarms.
P.S. Lots of more seasoned travelers are loving these features too!