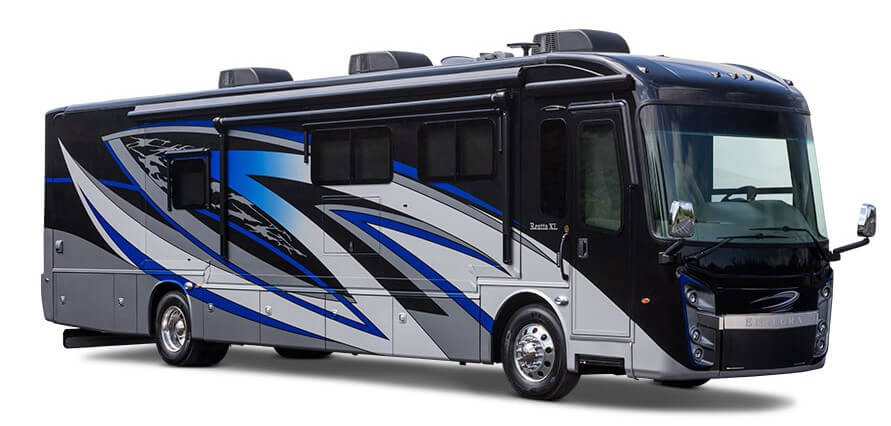 What's New for Reatta and Reatta XL in 2021
The wait is over! Entegra Coach 2021 products are now in production, and we are ready to tell you all about the great updates we have made to the Reatta and Reatta XL model lines this year.
Upon entering the coach, you will now find a removable screen for the entrance door. This is great news for the co-pilot, who no longer has to look at the beautiful scenery through a mesh screen during travel. In the cockpit, we have upgraded to high-class, newly styled Flexsteel® driver and passenger seats. These seats not only look great, but sit comfortably as well. Next, you will find the much desired tire pressure monitoring system and Xite® 360° camera system. Both of these features have been incredibly popular on other product lines, and we are happy to fulfill the many requests for these items on our Reatta and Reatta XL lines. Next, we have added a new Valid® 12.3" high brightness digital dash with quad-core graphics processor and on-board diagnostics. This digital dash provides a clean, modern look with a great user experience, and it has the ability to display the traditional instrument cluster, the newly added 360° camera system or the Rand McNally® GPS navigation. This feature displays all necessary information directly in front of the driver, which greatly enhances the overall driving experience. A larger 9" Xite® XSG3 infotainment system with new enhanced graphics adds to this experience, as well. Also in the cockpit, we have added the radio controls and Bluetooth® phone functionality to the steering wheel and added a second 12V outlet to the dash.
Moving into the living area of the coach, we continue the upgraded Flexsteel® furniture with updated vinyl throughout. We have also updated our cabinet doors, valances, floor tiles, and artwork for a clean, modern aesthetic.
In the kitchen, a new window brings fresh air into your galley while cooking. Our new kitchen window slides open and has a screen, which is a vast improvement over the competitions' solid pane window. We also added manual day/night shades, as well as dual wood spice cabinets on either end of the window tied in with the wood framed backsplash. Another kitchen upgrade is a large, single bowl stainless steel sink instead of the old double bowl style.
In the bathroom, we have increased the height of the medicine cabinet doors to increase storage. The new Aqua View Showermi$er with "GREEN" technology saves fresh water for those longer dry camping experiences.
On the exterior of the Reatta and Reatta XL, we vastly improved accessibility to the Spartan® chassis batteries on the exterior.
In addition to these new upgrades, we have also made many 2020 optional features standard for the 2021 model year. The central vacuum system, stackable washer/dryer, Winegard® WIFI extender, solar prep, basement slide out storage tray and 3rd AC unit with a heat pump (N/A on 37K) are now standard features in the Reatta and Reatta XL
Our 2021 Entegra Coach Reatta and Reatta XL will debut at the FMCA rally in Tucson, Arizona on March 26th-29th. The 2021 product line is now available for order and will be hitting dealer lots in late March. Please visit our dealer locator to find a dealer near you. For a complete list of 2021 model year changes, click here.