Getting the most out of your motorhome test drive
Updated 5/4/2021
Taking a motorhome—or any vehicle for that matter—for a test drive can be really exciting; you're experiencing something new and different and might even be on the brink of making a big decision about your future travels.
Getting settled behind the wheel
It's good to familiarize yourself with technologies you may not find in your everyday vehicle before taking to the road on your test drive. Some of today's motorhomes include surprisingly powerful computing and display systems. For example, the Valid® 12.3" high-brightness digital dash, found on many Entegra Coach models, features a quad-core graphics processor and on-board diagnostics. This digital dash provides a clean, modern look with a great user experience, and it has the ability to display the traditional instrument cluster, GPS navigation and visual monitoring.
Super-handy parking and safety-enhancing features like, rear- and side-view monitoring found in almost every new car have found their way to motorhomes. All of our coaches feature rearview cameras, and most sideviews as well. Some even include 360-degree overhead monitoring so you can see all around the coach. Once you settle in, get comfortable with how they work, when they engage and what you can and can't see when they do. Monitoring systems aren't the only modern conveniences making their way into motorhome cabs. Passive start, multi-function touchscreen displays, power adjustable well, everything basically, USB ports, the list goes on and on. No reason to be overwhelmed though. Just get a feel for where everything is and how to reach it before taking to the road.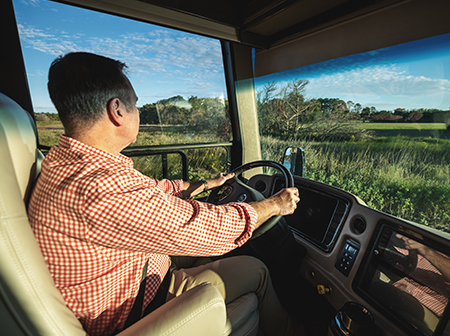 Check sightlines
Once you're comfortable in your seat and have a feel for where things are and how they work, it's time to hit the road. From our time with customers, this experience is really about your feeling behind the wheel, literally. What feels different as speeds change, while stopping and starting or going up and down grades.

Another example, take note of the noises you hear, one of those things that you kind of lose track of on your everyday drives. On your long hauls, even a small rattle or hum can add up and be distracting. It's so important, that all of our Luxury Diesel models are built with sound dampening wood in floors, the same kind of fiberglass found in sound absorbing theater rooms in our walls, vinyl padding in our ceilings and reinforced chassis to absorb noise before reaching the cabin. Watch this video.
Feel the road and what sensations change
Along with the sound of the road, you'll want to notice how the road feels. How much rattling or vibration is there when you accelerate, brake or maneuver a grade? To eliminate any unnecessary bumping and rattling—which can lead to driver fatigue—we customize the already premium chassis we use to resist things like torsion or road irregularities. Other examples, found on our gas Class A and Class C motorhomes E-Z Drive package, include components like jounce bumpers, helper springs and stabilizer bars to absorb vibration before you do.
Drive on different types of roads
You'll want to mix some variety into your test drives. As long as you're comfortable, ask the dealer if you can try some highway driving, some slower driving and find a hill or two to go up or down. Get a feel for turning as well, both sharp and wide, while you're at it. How difficult is it to turn the wheel? Find out if the coach can help make it easier on you, even at lower speeds, with a feature like the electrically powered steering (EPS) found in our E-Z Steer packages.
Rear tag axels and independent front suspension (IFS) also go a long way toward more comfortable steering. If a coach you're test driving includes these valuable features, be sure to ask your dealer to point out when they may activate or be helping you on the road.
Not all dealers offer test drives, but if you're working with one that does, do not miss the opportunity to take advantage. It can be one of the most valuable parts of your shopping process. Find your nearest Entegra Coach dealer today.