#WeAreEntegra - Todd & Holly Leiser
Have you ever been driving down the highway and saw a motorhome pass you by and wonder what it would be like to out on the road in one of those things? Well, you are not alone. Join, Todd Leiser as he shares the story of how he and his wife became a member of our #WeAreEntegra family.
We were fortunate enough to retire in 2013 at age 57. After years of driving our cars up and down I-75, seeing motorhomes headed to and from Florida, and kind of laughing about how, when we retired, we'd join them— Well, we did! We are so pleased to be a part of the Entegra family, that we offered to tell our story in hopes that, should it be similar to yours, you might join us!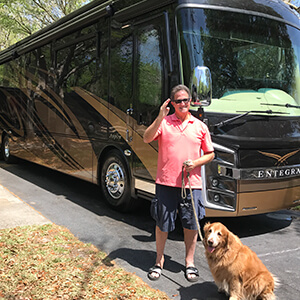 We never camped as kids, never owned an RV, a boat or anything that might lead us to this lifestyle. What we wanted to do was see America, but the thought of having to leave our Golden Retriever behind in a kennel or at a dog sitter certainly would cramp our flexibility, shorten our trips and leave us saddened not to have him with us. The solution we ultimately decided was in fact, one of those motorhomes we'd seen on the interstate.
For our use, the way our Entegra fills our need so well is that it is our "rolling condominium". With most of the same amenities as at home, and even some more, we've traveled across the country, sleeping in our own bed, never unpacking a suitcase and having our dog with us. We tend to plan our trips around events or destinations we want to visit. Once in camp, our days are typically sightseeing in our tow car, knowing that when we return, we have our own place with our own stuff to spend the evening in. On days we don't take an excursion, our Aspire 42DEQ gives us plenty of room to relax both inside and out, utilizing the TVs, integrated sound system, dishwasher, washer/dryer and fireplace, depending on what we want to do that day. We definitely are "luxury campers", seeking destinations to see and our wonderful Entegra Aspire to do it from!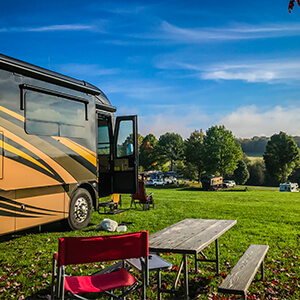 Literally, we have a condo where we can change the view whenever we want. As a matter of fact, that's what we did— Sold our second home and bought our Entegra.
We cherish the entire lifestyle. We enjoyed the process of discovery, research and ultimately purchasing our Entegra. We've found learning tips & tricks about the coach to be a lot of fun. Most of that knowledge has come from other Entegra owners who we've found to be as passionate about their Entegra as we are with ours and using it in the ways that makes them happy. We spend a good amount of time planning and recapping our trips and we love that part of the adventure. Most of all, we are enjoying life and seeing this great country of ours.
In our first year we put nearly 15,000 miles on our Entegra by visiting over 30 states that included taking Route 66 to California, visiting the Utah National Parks, Yellowstone, Mt. Rushmore over nearly three months last Spring. Then in the Fall, we escaped Hurricane Irma in Florida and spent 6 weeks in New England and Mid-Atlantic states looking for fall color. Along the way, we've attended NASCAR races, toured museums, attended concerts & festivals & enjoyed unique foods & local delicacies. We've been able to visit with family & friends that we otherwise probably would not have been able to see. We've joined a local RV group and made new friends there who we join for monthly wintertime long weekend rallies in Florida and the Southeast.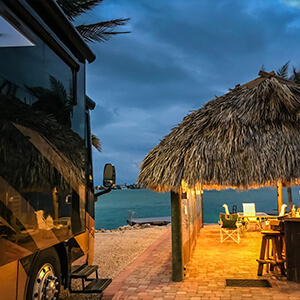 One of the reasons we have done this now is that throughout my career, I heard a number of people say either they, or their parents, or someone they knew, always wanted to do this, but either never pulled the trigger or had something happen that prevented them from ever being able to "buy their motorhome and travel the country." Since we joined the Entegra family, we are surprised by the number of our "stationary" friends who have told us they were envious of our ability to travel and enjoy living vicariously through some of our social media sharing.
All in all, we are very happy with our decision to take on this lifestyle and to do it with Entegra Coach. ~Todd & Holly Leiser