Top U.S. Destinations for Photographers
With top-of-the-line camera technology included in just about every smartphone, it's easier than ever to tap into your inner photographer – especially when you hit the road in your coach.
The good news? There are a ton of photogenic destinations throughout the USA that are accessible in your rig. You don't have to be a professional photographer to snap expert-looking photos in these beautiful locations – the landscape will do the work for you.
Gilchrist Blue Springs, Florida
It's not just the hundreds of miles of beautiful ocean coastline that provide social network-worthy photo ops. The Sunshine State hosts a number of natural springs with crystal-clear fresh water, perfect for capturing stunning pictures.
As one of the newest additions to the Florida State Parks system, the beauty of Gilchrist Blue Springs is that it's neither overrun nor overdone – i.e., it's not somewhere everyone has been before, making it that much more fun to frame up and show off to your friends.
Additionally, Gilchrist Blue Springs' campground is RV friendly, so once you're done snapping those priceless shots, jump in, take a swim, and stay a while!
Olympic National Park, WA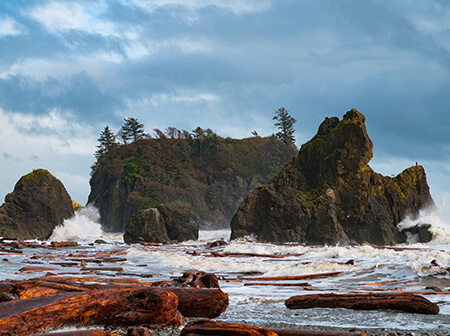 The spellbinding scenescape of Washington's lush greenery, rushing rivers and snow-capped mountains make it unique from any other place in the Lower 48 – especially in Olympic National Park.
Where to get the best shots while you're here:
The Olympic Highway going around Lake Crescent
Ruby Beach
Rialto Beach (just outside the park)
The beauty of this destination is that there are plenty of drivable and picturesque stretches of road where you can park your rig, drink in the fresh air of the Northwest, and fill up that camera roll with amazing shots.
Zion and Bryce Canyon, UT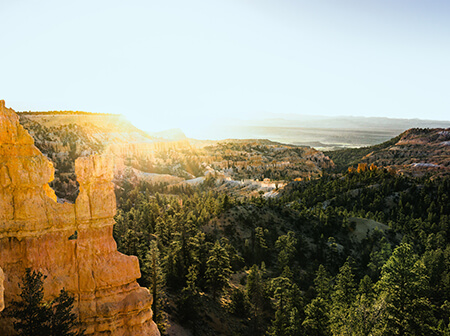 The stretching horizons and harsh desert of the West unquestionably create some unique photo opportunities. Zion National Park and Bryce Canyon National Park are no exception. Soaring pinnacles, multicolored rocks, winding rivers and deep canyons carve out the beautiful and rugged landscape here.
Where to get the best shots while you're here:
Checkerboard Mesa
Junction Bridge
Observation Point
Along with the scenery come spectacular hiking and camping opportunities – not to mention the parks are dotted with RV-friendly campgrounds, giving you more time and more opportunities to snap jaw-dropping photos of the natural wonders all around you.
Tent Rocks National Monument, NM
The journey is equally as beautiful as the destination at Kasha-Katuwe Pictured Rocks National Park, just outside Santa Fe, New Mexico.
A hike on the Slot Canyon Trail guides visitors through beautiful and winding pathways between towering canyon walls, and ultimately to a scenic overlook. Unique rock formations and giant natural structures – including the tent-shaped rocks for which the park is named – make exceptional photo fodder in this hidden New Mexico gem.
Sedona, AZ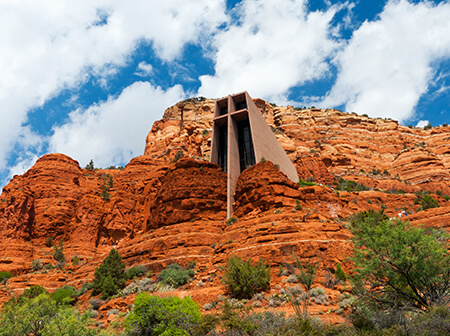 Red rock formations and rough terrain showcase the Southwest's spectacular beauty in Sedona, Arizona. Natural structures and man-made buildings – like the Chapel of the Holy Cross, tucked into the rocky landscape – make Sedona a scenic destination for professional and novice photographers the world over.
Where to get the best shots while you're here:
Schnebly Hill Road
Red Rock State Park
Cathedral Rock
Airport Mesa
Chimney Rock Loop Hike and Sugarloaf/Thunder Mountain Trail
Courthouse Butte Loop Trail
Devil's Bridge
Hike to a scenic outlook or meander the highways outside the town to find breathtaking photo ops. Just don't forget to head out early enough to capture photos of the sunrise!
Charleston, SC
Step back in time and experience scenic, old-world charm in Charleston, South Carolina. Ranking #10 on Travel + Leisure magazine's list of top 15 cities in the world, Charleston's cobblestone roads, beautifully restored houses and photo-worthy nooks and crannies give this city the feel of a village while maintaining the population and amenities of a proper urban area.
Where to get the best shots while you're here:
Rainbow Row
Riverfront Park
Colonial Dorchester State Historic Site
Sullivan's Island
Magnolia Plantation and Gardens
Waterford Park
Chalmers Street
From the city to the beach, this scenic Southern city runs the gamut of photogenic sites among its historic buildings, beaches and parks.
What are your favorite photogenic destinations in the U.S.? Share them with us on Facebook!