Travel Route 66!
Traveling historic Route 66 is typically a bucket list vacation for people who have a love of the open road. The first of many "great American road trips," the legendary highway exudes the idea of freedom. With over 2,000 miles of pavement between Chicago and L.A., there are endless options of things to see along the way. So how do you begin to plan for a trip like this?
Step one: Determine your route. Choose a start and end point. Whether you plan to drive the whole route or only want to see a portion of it, choosing where you'll hop on and off Route 66 is your first task. Popular segments of the journey include, Oklahoma City to Albuquerque, Albuquerque to Los Angeles or St. Louis to Chicago. Of course there are any number of shortened routes you can tailor to your preferences, so this trip can be as customizable as you wish to make it.
Step two: Once you have your route mapped out, it is wise to make accommodations as soon as possible if you have an idea of what day you will be arriving and leaving an area. RV parks along this stretch of road tend to fill up quickly, especially in the summer months. Make sure you aren't left out in the cold and reserve RV spots early. You can find help locating RV parks in each state along Route 66 here.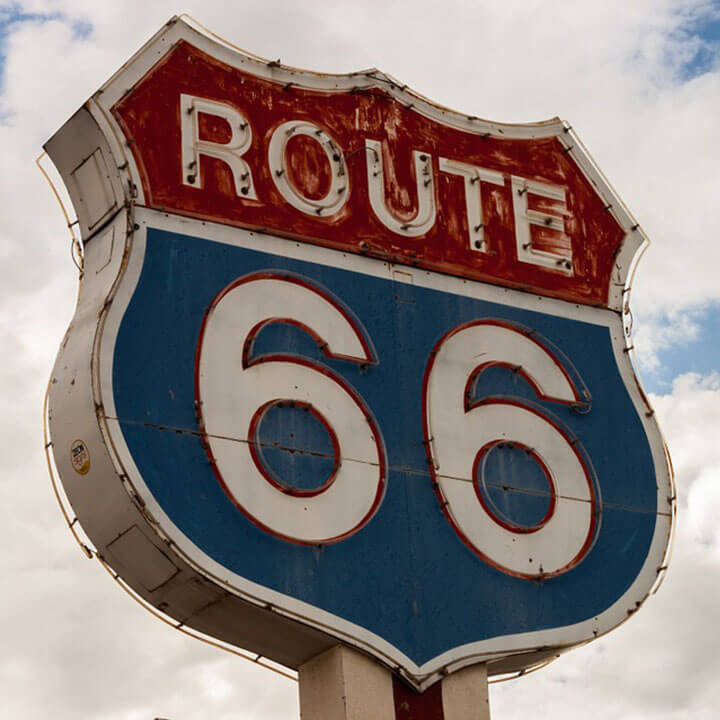 Step three: Narrow down the sites you wish to see in each of your stops. There is certainly no shortage of things to experience on your epic adventure on the "Mother Road." Man-made marvels, natural wonders and historic landmarks dot this part of the country so there is something for everyone! There are plenty of resources to help you plan this part of your trip, like this website here.
Step four: Plan out any side trips. There are plenty of major sites within driving distance of Route 66, like the Grand Canyon, for example. While not directly located in the path of the famous road, it is easy to get to if you plan accordingly.
Step five: Hit the road and have the time of your life!