How Standard Features Can Set a Luxury Coach Apart
Of course, Entegra Coach is known for making the quietest riding, best handling luxury diesel Class A coaches on the market today. Period. But one of the other big ways we set ourselves apart is the breadth of amazing features we offer standard instead of as options.
From our flagship Cornerstone to the Insignia, all our luxury diesel Class A coaches are packed with technology and comforts luxury coach owners deserve—also reducing the number of decisions they need to make a purchase. We like to use the phrase "without compromise" a lot around here, and this is an example of that long-standing philosophy.
Not only does this approach mean that Entegra Coach owners drive off the lot in a supremely equipped coach, but also one that's likely to retain more value longer—aka, higher resale or trade-in value. That's because the National Automobile Dealers Association (NADA), the authority on used vehicle pricing, does not take options into consideration when determining value. This translates to consistent 6-8 percent higher resale or trade-in values for our coaches, a significant savings in terms of total cost of ownership.
Let's take a deeper look at just a few areas where our coaches are loaded with standard features.
Climate control – What a luxury to put your feet on the floor after a deep sleep on a brisk fall evening and feel a gentle warmth. That's what you'll enjoy in each Entegra Coach. One of the many features of the versatile Aqua-Hot® water and heating systems, a heated floor is a comforting and welcoming feature we're happy to offer standard. Speaking of sleeping well, each Entegra Coach bedroom is equipped with a ceiling fan so you can have precisely the conditions you prefer for a great night's sleep or afternoon snooze.
Cleaning and maintenance – We want to help keep you comfy and your coach tidy on the road. A handy central vacuum system makes it easy to sweep the beautiful tile floors and dispose of dust and small debris. A stacked washer and dryer sure come in handy for keeping your wardrobe fresh and you looking sharp. You guessed it, both come standard on most of our coaches.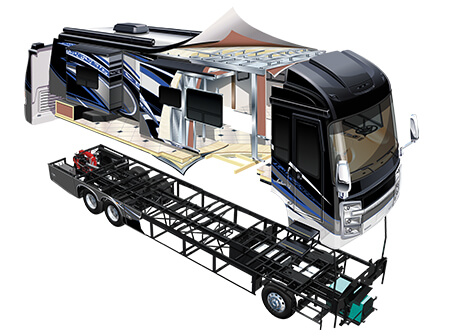 Ride and handling – Every Entegra Coach is built on a Spartan chassis. With more than 30 years of custom chassis manufacturing, Spartan has an unwavering dedication to excellence and integrity, plus dedicated customer support. Spartan believes that the ride of your life starts from the road up, and we couldn't agree more.
Décor and design – Fine finishes and well-thought-out detailing go a long way towards making a coach feel like home away from home. Each coach's residential feel is accentuated by real-wood cabinetry, delicately assembled by expert craftsmen. Step outside a unit and you can't miss our signature C-shaped headlights that give each coach an unmistakable and classy look.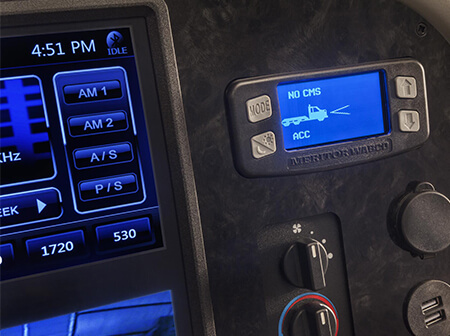 Driving safety – An unsurpassed arrangement of built-in safety features allows travelers to enjoy their smooth and quiet ride with peace of mind. The in-dash En-telligent™ VegaTouch command center, blind spot monitoring, electronic stability control, En-telligent Collision Mitigation from OnGuard™ and electronic stability control are just a few of the standard features built into our premium models that help make safe adventuring easier.
Owner support – While it may not exactly be a physical feature on any of our coaches, we'd be remiss if we didn't mention the support Entegra Coach owners enjoy. As opposed to the one-year warranty most other brands offer, each Entegra Coach is backed with a comprehensive two-year limited warranty and a five-year structural warranty. Owners also enjoy three years of roadside service, up to three times what the competition offers. We can offer these high levels of coverage because of the faith we have in the products we deliver.
We're constantly listening to what owners like and exploring ways to make as many of those features standard as we can. If it results in a better coach, we're on board.