Using the Hide-A-Bed Safely
Bringing the whole family along? No problem. The easily accessible hide-a-bed sofa allows coach owners to provide everyone with a place to sleep. The hide-a-bed sofa adds a mattress to your coach's floorplan without compromising comfort—or space.
When using the hide-a-bed, there are a few important steps to follow in order to access the mattress correctly. Here's what you need to know about how to safely get to the hide-a-bed mattress without causing serious damage to your coach's sofa.

Tips for your hide-a-bed sofa:

First, remove the sofa's cushions; t

hen, lift the sofa's arms straight up to detach the arms from the base of the sofa for full access to the mattress.

Leaving the cushions or arms on before unfolding the mattress can damage the sofa.

Complete the hide-a-bed mattress with a cozy set of sheets and blankets so your loved ones can snuggle up for the night and everyone can wake up the next day feeling comfortable and refreshed.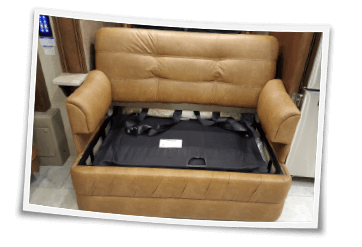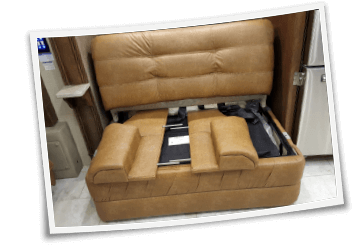 Find the perfect, travel-ready bedding for your holiday wish list

Classic Colors Down Comforter from L.L. Bean—Choose from a variety of colors to match your taste, no duvet covers or dry cleaning necessary for this European duck down comforter.
Laural Home® North American Map Twin Duvet Cover in Beige —Let your family and friends sleep tight and dream about possible travel plans—then turn your North American travel dream destinations into a reality.

AllerEase Washable Allergy Protection Pillow from AllerEase—Better sleep and convenience awaits. With every wash, this pillow's down alternative fibers fluff back to its original shape.

Village Sheet Set from Pottery Barn—These seasonal nostalgic sheets will take you back to a simpler time.