Introducing our NEW bunkhouse floorplans: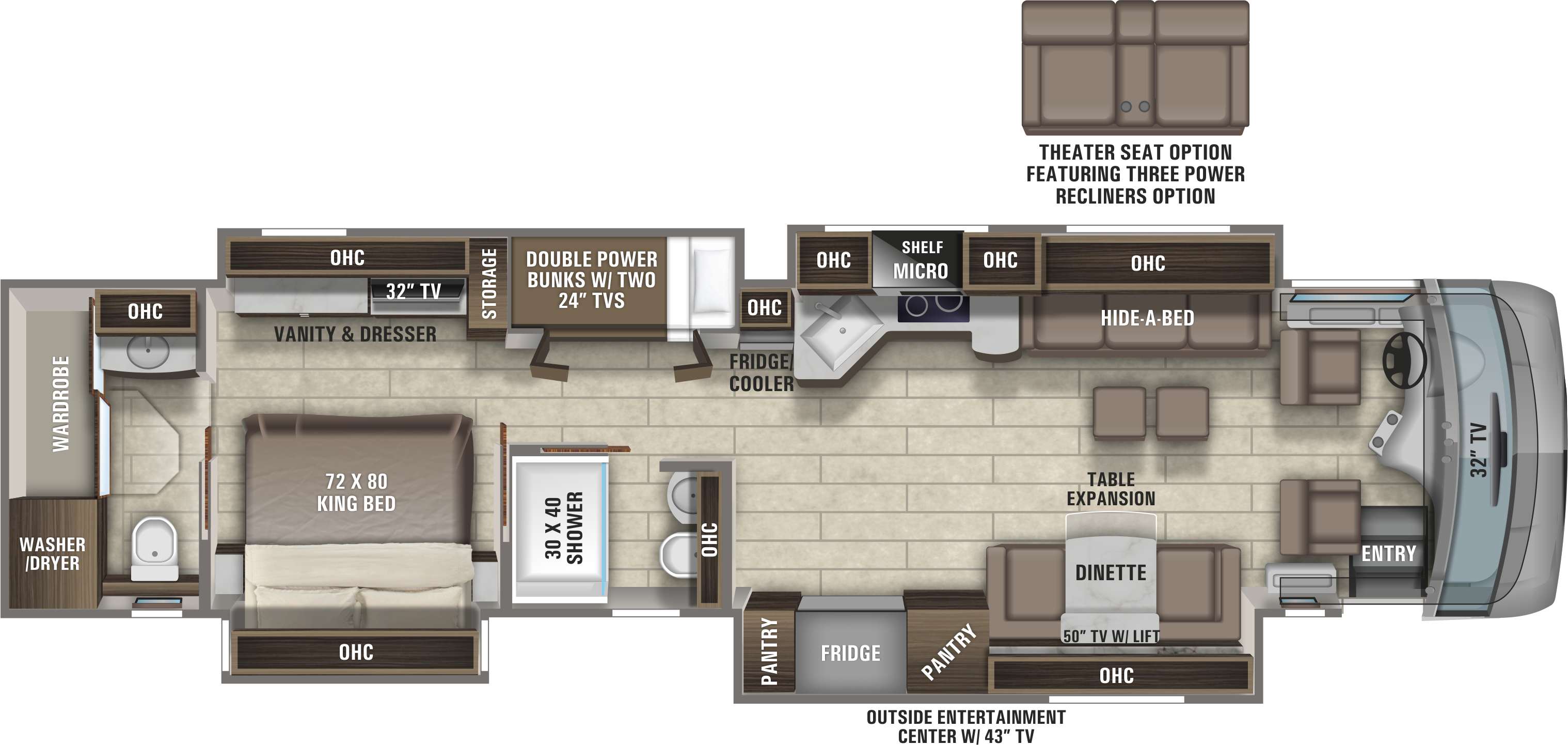 Cornerstone 45R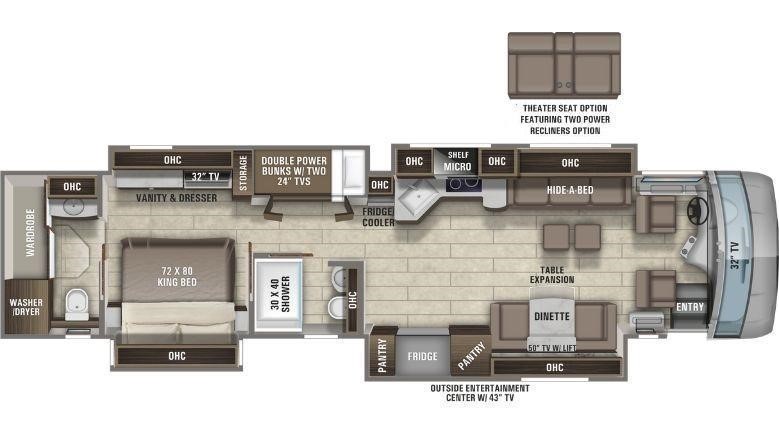 In 2016, Entegra Coach released its first bunkhouse floorplan – the Aspire 44R. Ever since, we have received many requests to deliver a similar floorplan in our Anthem or Cornerstone lineups. Many of you wanted to travel with your kids or grandkids without sacrificing any of the luxuries or features desired from the Anthem or Cornerstone. You asked, we listened! Our new 2021 Anthem 44R and Cornerstone 45R deliver the best of the best in amenities while making space to travel with those you love the most.
We've come up with several activities to try in our 44' 11" 44R and 45R floorplans – educational, non-educational, exercise videos and even creative ideas for their double power bunks.
Educational
Sticky Note Target – Start by writing letters A through Z on sticky notes and attach these randomly on the wall adjacent to the refrigerator. Create a "start" line a few feet away from the wall (more if you have older kids), and have your child(ren) stand behind it with a stuffed animal or pair of rolled up socks. Offer the younger kids certain letters to hit and the other kids a word to spell, and instruct them to throw their object underhand to try and hit the letters. If you want to make it tougher, if they miss one of the letters, they have to start the word over again. If you want to offer another alternative, add point values to several sticky notes. Offer them five to ten throws and once they've completed, add up the values. Whoever has the highest value, wins!
Musical Letters – In this exercise, you can re-use the Post-It Notes from Sticky Note Target game. If you have multiple kids, create another set of 26 sticky notes lettered A through Z. Once you have the correct set of sticky notes, spread them around the coach. While they dance, play some music and when the music stops, you will call out letters. Once they find their letter, they must sit down on it. If you want to make it tougher, if they sit on the wrong letter, they have to complete an age appropriate movement – jumping jacks, push-ups, sit-ups, squats, etc. To scale this exercise, use colors, numbers or sight words to make it easier or harder.
Non-Educational | Entertainment
Paper Craft Ideas – This may be the easier of the activities because all you will need is paper. Offer your kiddos some ideas to turn their simple pieces of paper into fun activities – paper airplanes, origami or cootie-catchers/paper fortune tellers. From this, you can instruct them to throw their paper airplanes as far as they can while dodging walls or obstacles.
The Wiggle Jar – Start out by printing these activity cards from Home School Share, or make your own, and place them in a jar for whenever your kids get restless and need to let some "wiggles" out. These inventive cards include movements and actions like, "crab walk across a room: dance to your favorite song". Feel free to discard the cards that are not suitable for your life on the road.
Figure Skating – Clear an area in your coach – most likely your living area - and pretend you're gliding across a sheet of ice. To make this possible try using dryer sheets (these will provide just the right slide and won't scratch floors), paper plates with bare feet or cut-out old tissue boxes.
Freeze Dance – This can be added in to your dance party, or game of Musical Letters above. When one person stops the music, everyone must instantly freeze. If you catch someone move, they're out. Whoever is last standing, or dancing in this case, wins.
Exercise Videos
GoNoodle® – This channel offers the greatest variety of "get-you-moving" videos for your kids and even young adults. After doing a little exploring and experimenting with the kids, you're bound to find the perfect one.
Just Dance Kids – Try searching "Just Dance Kids" on YouTube. This should pull up a playlist of video routine of common songs known by your kids. Caution – they offer great music that may make you even want to get up and start dancing alongside them!
Creative Bunk Bed Ideas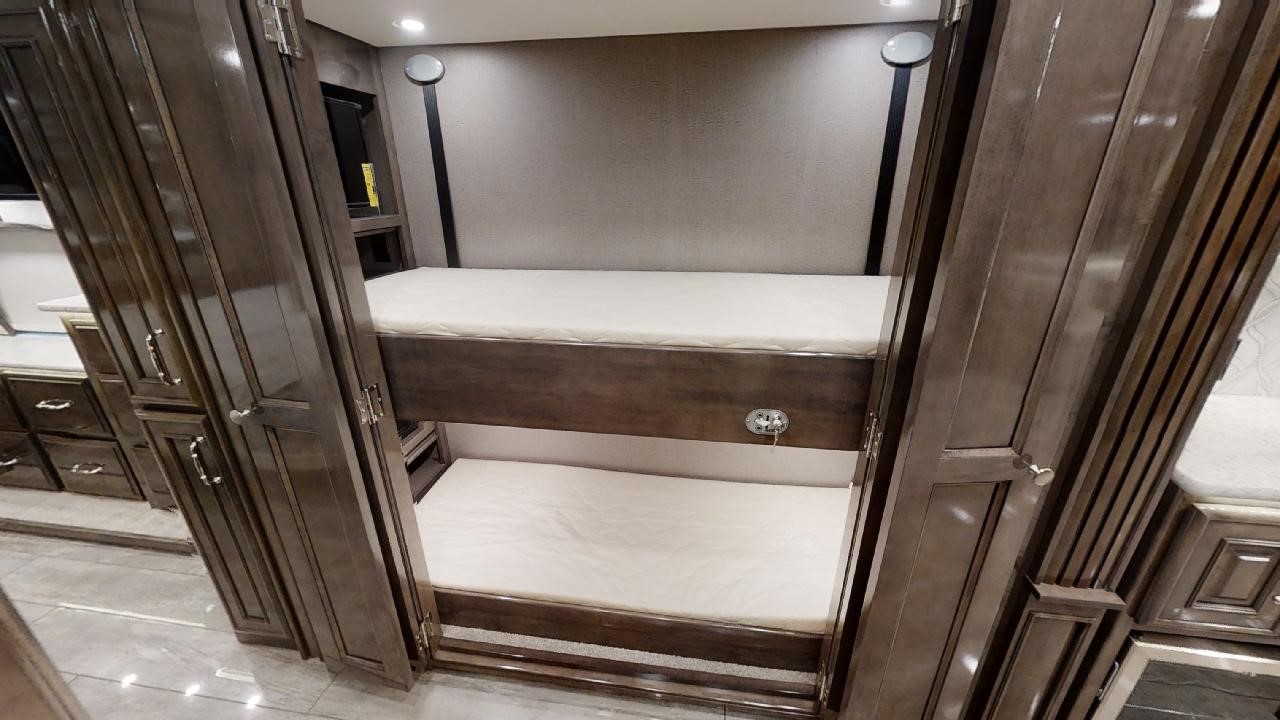 An Outrigger Canoe/Pirate Ship – You don't have to own pirate ship bunk beds to offer your kids an experience sailing across the imaginary seas. They can be Jack Sparrow on their very own Black Pearl or Moana on her way to Tahini. The captain has command of the top bunk while the snacks are kept in the bottom bunk. Use your imagination for props – use a bucket lid as the steering wheel and a paper towel tube as a spyglass to see what lies ahead. Use the paper provided in the Paper Craft Ideas above to create your very own flag. Now sail away!
The Double Decker – Driving a big car is always fun, especially for kids. By driving from the top bunk, using a bucket lid as a steering wheel again, take destination ideas from passengers in the bottom bunk bed. Use the paper provided in the paper craft ideas to create your own tickets for your passengers. Take right and left turns to get passengers to their final destinations.