Diamond Shield Paint Protection Film with Nano-Fusion™ Technology
PAINT PROTECTION FILM with NANO-FUSION™ TECHNOLOGY
Diamond Shield installs the industry's best available Paint Protection Film, Nano-Fusion™ on most Jayco and Entegra coaches. Competitive products contain a laminate topcoat prone to cracking and yellowing. However, patented, OEM-approved and preferred Nano-Fusion uses a patented technology to infuse protection deep into the base urethane film, which provides clear protection in a single, integrated membrane. No separate top layer, or the problems that go with it. The result? The most stain resistant and durable film on the market.
Features & Benefits:
Limited Lifetime Warranty

Superior Clarity

Outstanding Strength

Virtually Invisible

Resists Yellowing and Staining

Eliminates Special Care Products
FILM COVEREAGE AREAS
Painted areas below windshield

Door Lock

Grab Handle

THE DIAMOND SYSTEM ADVANTAGE
Most Advanced Products

We offer industry leading products — all designed for the ultimate in performance under any conditions.

Superior Installations

Our certified technicians are the best in the business and are specially trained to ensure each install or repair lives up to the Diamond Shield standard for excellence.

Nationwide Service Network

The industry's most extensive network of certified installers means that the Diamond Shield team is available wherever you need them — coast to coast.

Unmatched Guarantee

Our products come with the confidence of knowing that we stand behind our work like no other. In fact, our Nano-Fusion film installations come with a lifetime guarantee.

Support Down the Road

No matter what the road throws at you or your customers, Diamond Shield is here to help with expert advice and quick response time.
PRODUCT CARE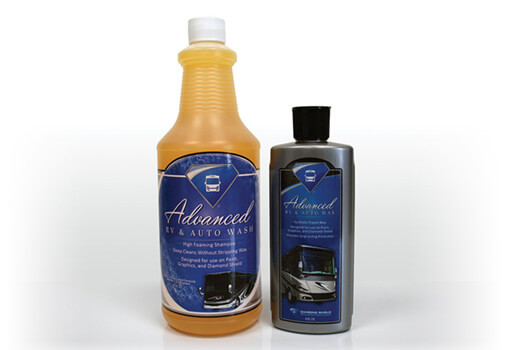 Step 1: Wash Regularly

Wiping bugs and road grime off your vehicle, with a wet soft cloth, as soon as you get a chance is essential to keeping your film looking great. This will also reduce the risk of staining and discoloration from bug acids, runoff stains, and road grime left on for an extended period.

Step 2: Wash Monthly

Washing monthly will give your film the deep clean it deserves and will ensure the film remains crystal clear. We recommend using Advanced RV & Auto Wash and a soft cotton or lambswool mitt to apply. Do not use any abrasive brushes, rags, cloths, or compounds.

Step 3: Wax Quarterly

Waxing your film on a quarterly basis, or more, will add that extra layer of protection to your film. Keeping it waxed will prevent damage from bug acids and road grime, and allow the film to effortlessly be wiped clean. We recommend using Advanced RV & Auto Wax, a synthetic polymer cream wax designed specifically for Diamond Shield.

General Care Precautions

Several cleaning techniques and cleaning products that should NEVER be used on the areas protected by Diamond Shield on your vehicle include:

DO NOT: Pressure Wash

DO NOT: Use Rain-X Products

DO NOT: Use any abrasive brushes, rags, cloths or compounds

This general care list is not comprehensive. Please call Diamond Shield at 1-888-806-5862 before using any products not specifically listed on our website. Using unapproved sprays, cloths, or waxes may cause damage to the film, which may not be covered under warranty.
COMPANY BACKGROUND
Founded in 1995, with locations in Rochester, NY and Elkhart, IN, Diamond Shield is the leading provider of Paint Protection Film to RV OEMs – Specializing in Worry-Free RV Paint Protection Film for OEMs, Dealers and Consumers. Diamond Shield delivers Industry Leading Products, Professional Installations & Unbeatable Nationwide Service. Steadily earning the trust of more manufacturers, dealerships and individuals than any other paint protection company in the market.
You may contact Diamond Shield online : www.diamond-shield.com or toll free at: 888-806-5862