Why the 2017 Lineup is So Groundbreaking
We may build the quietest riding, best handling coaches on the market today, but that doesn't mean we aren't constantly working to develop the coaches of tomorrow. There's no better testament to this than the new 2017 lineup. Each 2017 Entega Coach is packed with high-tech features that have never been seen on a coach before, including:
En-telligent™ VegaTouch whole coach command center with larger touchscreen controls and HDMI® input provides clear access and simple control of critical systems like HVAC, tank levels, batteries, pumps and power. Keeping on top of things and being able to easily adjust will help your journey stay on schedule.
Blind spot monitoring makes turning and merging safer by alerting drivers of vehicles in hard-to-see areas around the coach. Tight turns and rush hour won't be such a pain in the neck anymore.
The new En-telligent Collision Mitigation System from OnGuard™ uses radar to help maintain safe distances from leading vehicles and automatically brakes if a dangerous situation arises. The quietest riding, best handling coach on the market just got smarter and safer.
Electronic stability control takes into account the coach's load and the grade of the road to help negotiate rolling terrain. We're always looking for ways to help drivers with the road's tricky situations.
Pulsing third rear brake light signals to following vehicles when the coach is braking. Small details can make a big difference on the highway. (N/A Insignia)
Low-beam LED headlights help keep other drivers aware of your big rig. Our beautiful coaches turn heads, but you can never be too safe on the road.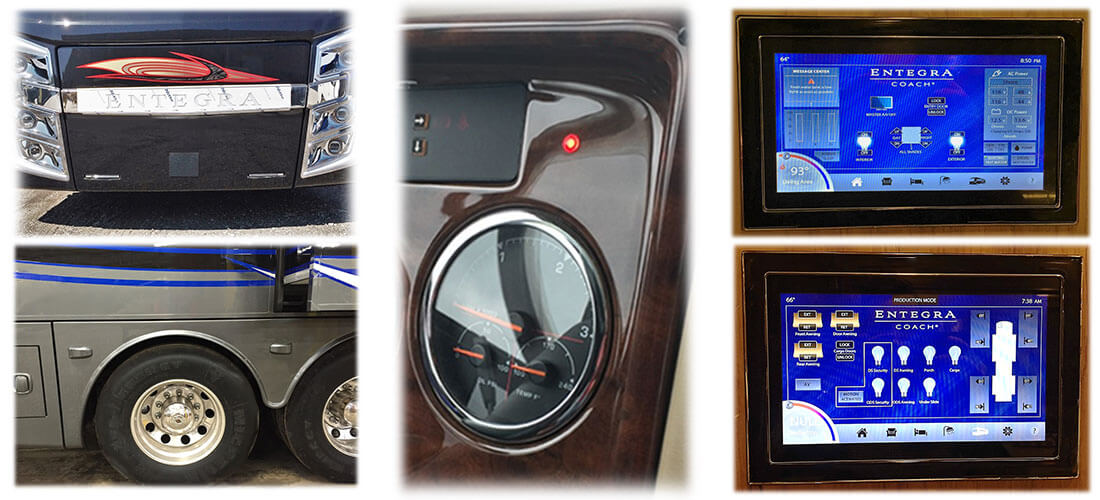 (From left to right: En-telligent Collision Mitigation System from OnGuard, Blind Spot Monitoring System, Blind Spot Monitoring Indicator (On), VegaTouch screens)
We took great care in identifying and strategically integrating these industry firsts so you can enjoy an unmatched blend of safety and easy living—the new standard. It's our hope that by making it easier to handle some of the road's tricky situations and helping manage and control the coach's critical systems, you'll be able to enjoy the luxury you deserve even more.
Visit your nearest dealer to experience the trailblazing 2017 lineup for yourself.