Why We Expanded Our Lineup
Transparency is very important to us. Our aim is to always be open and honest with current and prospective Entegra Coach owners.
As an established leader in the Class A diesel market, some have been curious about what goes into a bold and exciting decision like expanding our lineup to include a gas Class A model and three Class Cs. So, we thought we would give everyone a glimpse at some of what went into the idea to double the number of products in our offering.
Providing families opportunities to spend time together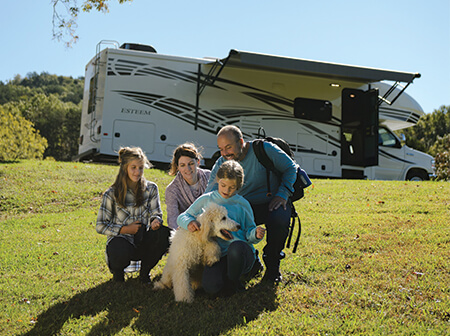 If you love Mom and Dad's, or Grandma and Grandpa's Entegra Coach, it's now easier than ever to join them on the road in your very own. As a company that's always been focused on family—both our very own here in Middlebury and our family of owners all across the country—we wanted to offer another option for spending time together. Some looking to experience the lifestyle may be ready for a diesel pusher, but others might not.
Our smaller Class Cs and gas Class A provide more options for all kinds of families.
Keeping up with the lifestyle's growing appeal
RV sales are setting records. The industry surpassed 500,000 shipments in 2017, a staggering and exciting number. Just last month, 539,000 shipments were projected for 2018 and insiders suggest 600,000 is not too far off. Motorhome sales specifically were up almost 11 percent in 2017 over 2016. More people want to camp; more people want to travel on their own terms; more people want to get away from the grind; and more people are realizing that hitting the road is one of the best ways to do all of that.
We want to help make that possible for as many people as we can.
We hope to earn lifelong customers
As part of the Entegra Coach family, you enjoy an abundance of spectacular adventures, beautiful sights and build wonderful friendships. Should a time come when you consider downsizing from a 40+ foot coach, there's no reason to leave the Entegra Coach family. With our smaller Class Cs, you can continue enjoying the RV lifestyle with the quality and service with which you've grown accustomed. Our new models offer opportunities to make memories in your Entegra Coach for years to come.
We want to be a lifelong travel partner.
We're darn good at luxury
After ten years, we've built a strong reputation. Constant R&D paired with open and honest dialogue with owners and dealers has allowed us to build a wealth of knowledge when it comes to what works and what doesn't for luxury motorhome travelers. Many of those same principles apply regardless of the type of fuel a coach uses or how big it is.
We want to make the most of our expertise.
The Entegra Coach community inspires us
Every time we get to speak with or spend time with Entegra Coach owners it warms our heart. It's such a fun-loving, good-hearted and close-knit group. We want more of that! And we think current owners do too!
We want more people to have the chance to be a part of this community.