Keeping up with the Ropers
How a retired Navy master chief and his wife are grabbing life by the steering wheel
T
hese days, Reggie and Cora Roper are enjoying each moment to the fullest—one breathtaking land mark at a time. From white sand beaches to snow-capped peaks, they've experienced the best America has to offer.
Having started in Florida in May, meandered north through the Midwest, trekked west, and looped back down through the Pacific Northwest and California, their journey has taken them from sea to shining sea. And with the final destination undetermined, the fun is just beginning.
It's a leisure lover's dream, to be sure. But don't let this laidback lifestyle fool you; cruise control has never been an option on the Ropers' road to success.
As a small-town kid with big aspirations, Reggie's lust for adventure began early. At the tender age of 17, he decided to join the U.S. Navy—and convinced his parents to get on board with the idea.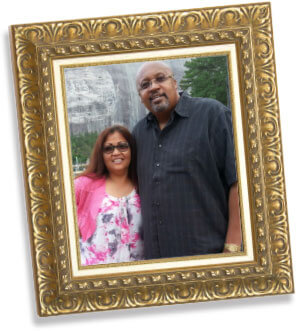 Twenty years, seven months, five days and 50 countries later, Reggie retired from his post as Master Chief—having risen in rank from E1 to E9 in 16 short years.
"That's well ahead of the usual cycle," Reggie says of his career path. "So the man upstairs has been good to me."
Reggie is being modest—a higher power may have helped, but it's his hard work that really paid dividends. And it's an ethic that served him well in his civilian career.
Cora's no slouch, either. After marrying Reggie in 1977, the two traveled the world with the Navy and grew their family. Three kids later (each born in a different country along the way), Cora went to work at Barnett Bank, now Bank of America. Reggie joined her there in 1995. Together, they boast a combined 41 years with the company.
Theirs were tenures to be proud of—but the achievement was bittersweet.
"In recent years we've had so many deaths in the family—young people in their 40s, 50s and 60s," says Reggie. "You never know when your day is coming. We said, we are not going to be those folks saying, 'I hope I can do this one day.' Hope is not a strategy."
The death of Reggie's sister in 2006 was the first big wakeup call, he says.
"She bought her dream house in Atlanta and she didn't spend a single night in it because she went to the hospital," says Reggie. "Less than three weeks later we were taking her off life support. After that, I said, 'I am not waiting until 60-anything to start mixing business with pleasure."
It was then that the Ropers decided to purchase their first Class A coach. Just like that, business trips became family vacations—and they were hooked.
"The man upstairs has
been good to me."
In March 2014 Reggie retired, with Cora close behind.
"Many of my family members died in their early 60s or younger," says Cora. "After my two sisters passed away within four months of each other, I said, 'No, I'm not going to wait that long.' So I joined Reggie in retirement."
"And it's been the happiest days of your life," Reggie chimes in with a chuckle.
New set of wheels, new lease on life
After his first three coaches, Reggie was itching for something new—the power of diesel in a luxury package. Cora, meanwhile, would be the deciding factor when it came to floorplan.
The Ropers saw what they were looking for at a Florida FMCA rally in 2013.
"We saw this thing called the Entegra Coach and went, 'Oh wow!'" he recalls. "And the rest is history."
The Ropers made their move to Entegra Coach soon after with the 2013 Anthem 44SL—a black, tan and cream-colored beauty that Cora affectionately calls "Mister E."
"Mind you, our previous coach was no pushover," Reggie explains. "But once we started rolling through the camps in the Entegra Coach, heads were really turning. I tell people, go to EntegraCoach.com and you can see what it's all about!"
"They're always comparing their coach to ours—stopping and interviewing us about it," Cora adds. "We are so proud to be the owners of this coach."
It's a coach that "commands respect," as Reggie puts it. As does Reggie's military rank—particularly among fellow service members whom the Ropers encounter during their stays at various military bases.
"Let me tell you, some of the best RV parks I've been to are on bases," Reggie says. "Mayport Naval Station in Florida sits right there on the Atlantic Ocean. You watch dolphins, cruise ships, navy ships and submarines going right past your window. Whidbey Island Naval Air Station is another—the Puget Sound is your backyard."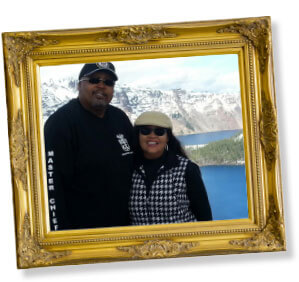 Access to military bases has its perks. In addition to the value of the campsite (Reggie has found spots on bases for less than $30 a night, in places that might otherwise cost $2,500 during peak season), the base commissary and gyms save money that goes toward dining, gas and sightseeing. So while the Ropers are KOA members and keep their options open, they're happy to take advantage of all that Reggie's service affords.
"If we can get within 50 miles of a base, we'll do it," he says.
A fantastic blur
"We travel so much we're forgetting where we've gone," Reggie says, laughing. "But I suppose that's a good problem to have."
Still, the Ropers won't soon forget certain awe-inspiring scenery (see the sidebar for their top picks)—and the wonderful friends they've met along the way.
"In terms of empowering us to feel really good about the transit, I have to say that Middlebury, Ind., where we visited the Entegra Coach facility, was one of my favorite stops," Reggie says. "They really hooked us up. After that, we had what felt like a renewed coach, and it really gave us the confidence that we needed to strike out across I-80 and I-90 to make our way west."
Reggie says Joyce Skinner, Entegra Coach Director of Customer Service, also empowered him—helping him get the coach in tip-top shape for the trek. "We have absolutely no shame in expressing how much we love Joyce," he says. "She and the others in Middlebury just made it easy for us. They really truly did."
That assurance comes in handy on long stretches of mountain-hugging highway. Ted Cook, Entegra Coach Regional Sales Manager, assured the Ropers that their coach was powerful enough to tow their Jeep—and then some—even on the steepest inclines.
"Ted really set me at ease," says Reggie. "He said, 'Reggie, these coaches are built like 18-wheelers.' And Cora reminds me of that all the darn time. But she still likes to tease me and say, 'Hey, I see the Jeep on the side of the coach!'"
Navigating the cliffs and switchbacks is something to which Reggie may never fully become accustomed. He breathes a sigh of relief—and has a quick chuckle—once the worst is over. "You can start up the hill, take a nap, and when you wake up you're still not up the hill!" he says with a laugh.
The Ropers have already conquered high elevations, but when it comes to future travels, the sky's the limit. And as they continue, Reggie and Cora hope to meet and inspire more people to stop waiting and start living.
"I have told as many people as I have talked to: You are solely responsible for the smile that's on your face when the undertaker takes you," he says. "We're keeping a smile on our face, and we don't really plan on wrapping it up!"

When things get cold, head south.
Reggie and Cora don't care much for parkas and ski hats. Fortunately, life on the road means having your pick of temperate locales when the mercury drops.
A stackable washer and dryer are worth their weight in gold.
The Ropers like to stay active, and that means plenty of dirty laundry. In a pinch, they've even washed their bedding on the coach.
Choose trustworthy house sitters.
Their road trip has no definitive end, but Reggie and Cora don't plan to sell their house. Instead, their son, daughter-in-law and three grandchildren have taken up residence there. They maintain things, collect the mail, and even look after Cora's precious Maltese.
The slide-out cargo tray is a girl's best friend.
Cora loves her shoes and purses—and to Reggie's surprise, the Entegra Coach had room for them all. Cora goes "downstairs" to the slide-out cargo bay to finish out her wardrobe with the perfect accessories.
Some kitchens are too pretty to cook in.
Cora loves her coach kitchen so much, she wouldn't dream of frying bacon on its electric stovetop or dicing veggies on its immaculate countertops. Instead, she manages mess-free cooking in the convection microwave oven using waterless cookware. She also whips things up—Filipino and southern soul food are her specialties—with her George Foreman outdoor grill, hot plate and rice cooker.
Less is more.
Cora's designer duds may get impunity, but other material possessions are subject to one strict rule: if something comes on the coach, something must come off. Cora still loves to shop, but Reggie says they've both improved their ability to limit their belongings.
Cleaning your coach? Get creative.
Many of the bases the Ropers visit have RV washes, but they're often too small for the 44-foot Entegra Coach. To compensate, Reggie pulls one end of the coach into the wash at a time.
Coach life is an investment in happiness.
With gas, eating out, sightseeing and more, life on the road can get pricey. But for the Ropers, it's worth every penny. "We didn't retire to sit around and be sourpusses," Reggie says.