How to Have a Successful Trip with the Grandkids
We at Entegra Coach are so lucky to have such wonderful owners. Ann and Mario are two time Entegra Coach owners and currently own an Anthem. This summer they enjoyed a few exciting adventures with their grandchildren and shared with us their stories. Enjoy!
We have had a motorhome for most of our married life….43 years and counting if I don't kill him first. LOL!
As our own children grew up, we used our motorhome for much more than long trips. We were working and certainly did not have the time to take weeks off work, or for that matter, to take the kids out of school. So our motorhoming consisted of weekends going to amusement parks, taking the travel hockey team to a game, a trip to Gettysburg, or just driving to end of our street to ice skate on the lake so we could go into the coach to warm up and have hot chocolate.
So it was not a real leap of faith for us to think to travel with our grandkids and do the same type of trips that our now-grown children would have enjoyed. We now have four grandchildren, two girls, nine and 11 and two boys three and four.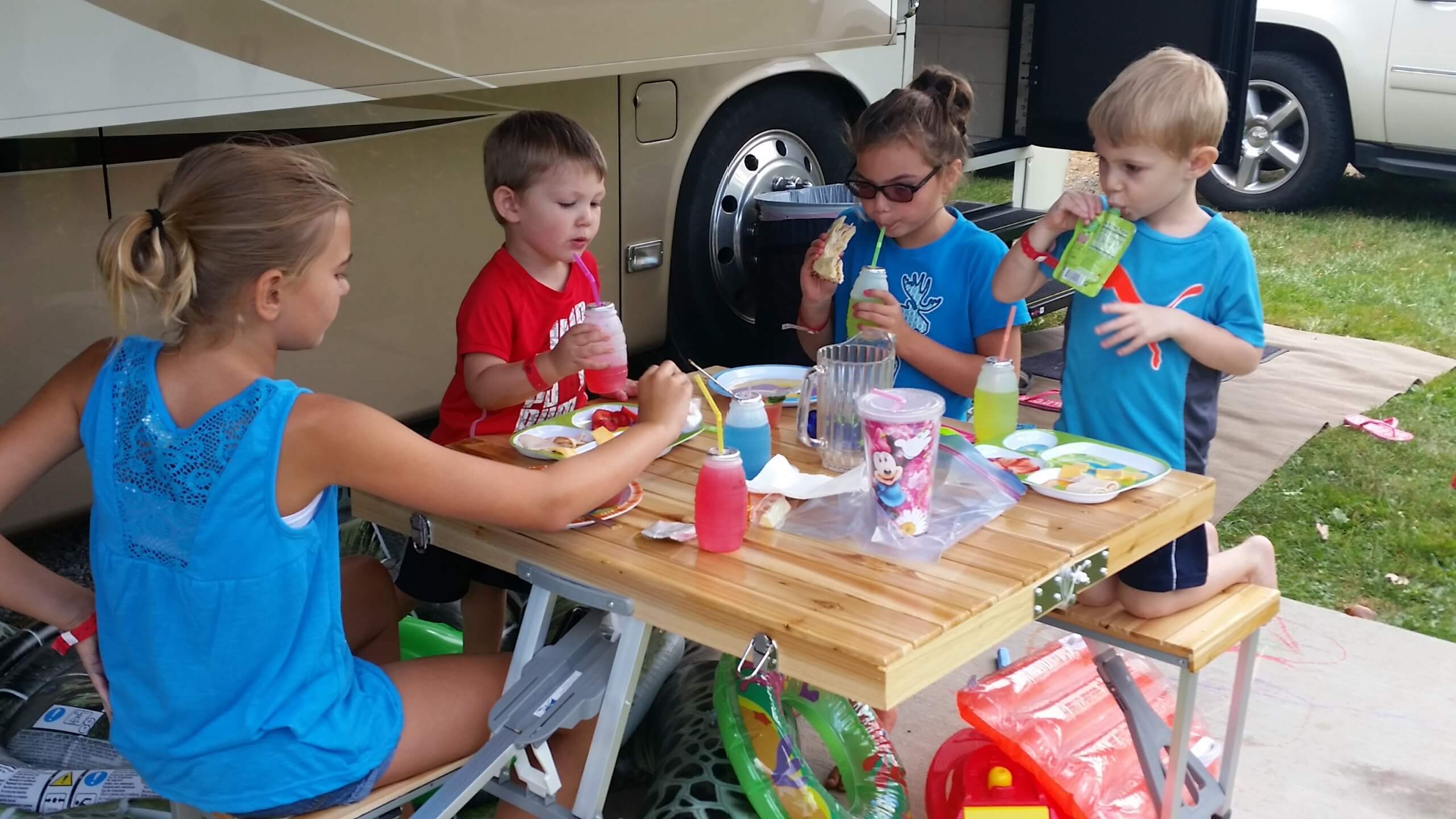 Now I will change my pronoun from We to I, as grandpa goes along with whatever I have dreamed up.
My idea of a great trip with the little ones is short stints….Thursday through Monday with kid-friendly RV parks.
Make sure you have activities while driving to keep them busy – Movies, cards, coloring books – and be ready with the snacks and drinks.
One of our most recent trips was to a Jellystone RV Park in Ohio. I went online and looked at the activities that were planned for the weekend we planned to visit. Once I had the activities, I sat with the kids and we planned what we wanted to do. The park had a weekend full of activities for all the children. There were hayrides, chocolate water slide, mini golf, crafts, tie-dyed tee shirts, and a huge pool.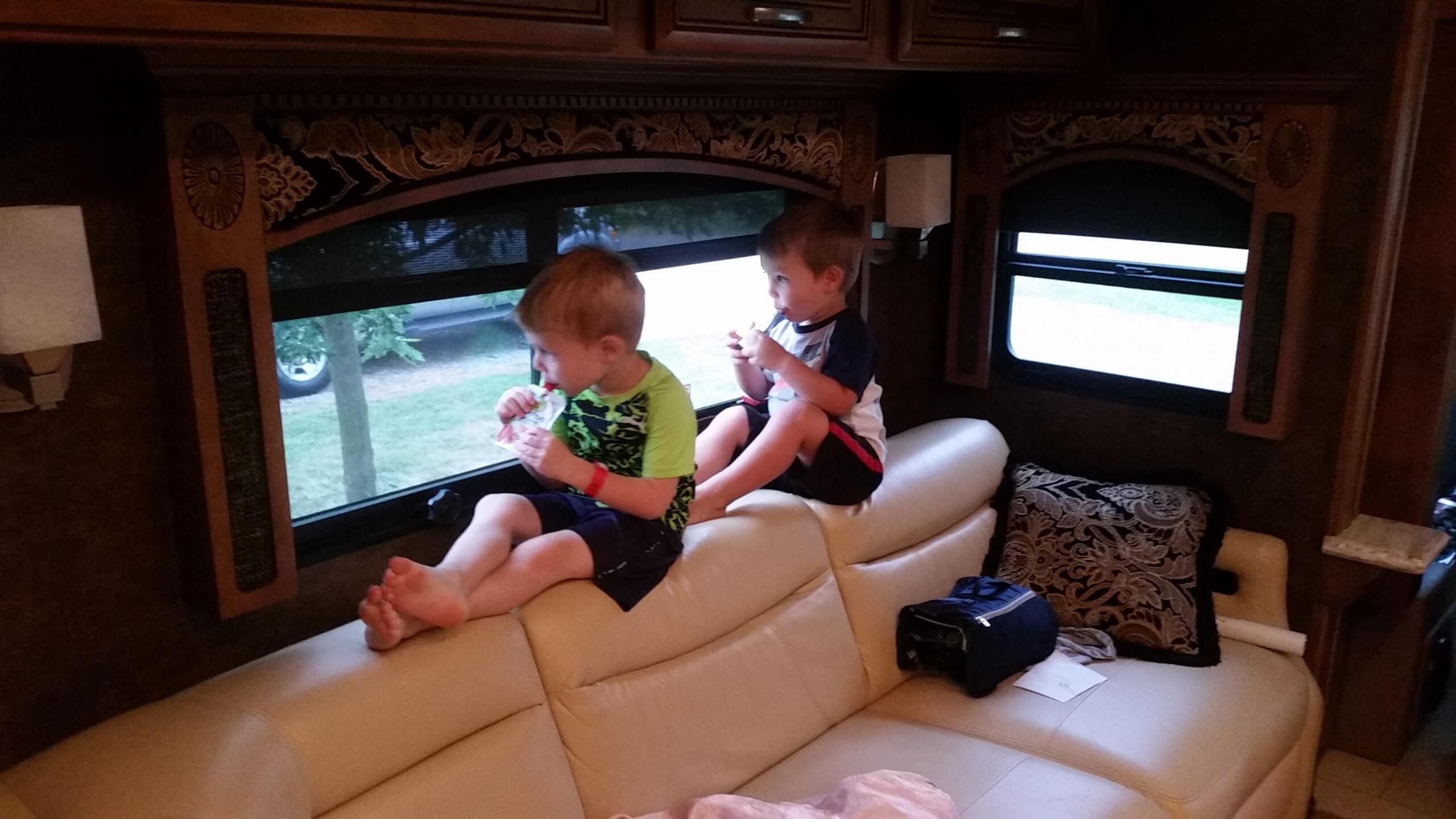 Our next memorable trip was to Bethpage Camp-Resort in Urbana, VA. In fact, this was an Entegra Coach Rally, and having been to this RV park previously, I knew that this would be a great park for the kids. This trip I ended up with just the two girls. Although Entegra Coach is not usually kid friendly, I knew the resort was kid friendly. Also, Entegra Coach had a fun-filled agenda that I could participate in with the kids. For example, a dress-up Pirate Party was a blast. And the best part of the rally was collecting raffle tickets when we participated in an event. So, we played mini golf, with an ice cream social at the end, and we got tickets. We went down the "toilet bowl" slide (never again) and got tickets. Then at the pirate party, our name was called and we won a prize, and the girls just thought that was so cool. As a side note, when we register the grandkids, Entegra Coach, specifically, Stephana had sticker books for the kids to keep them busy.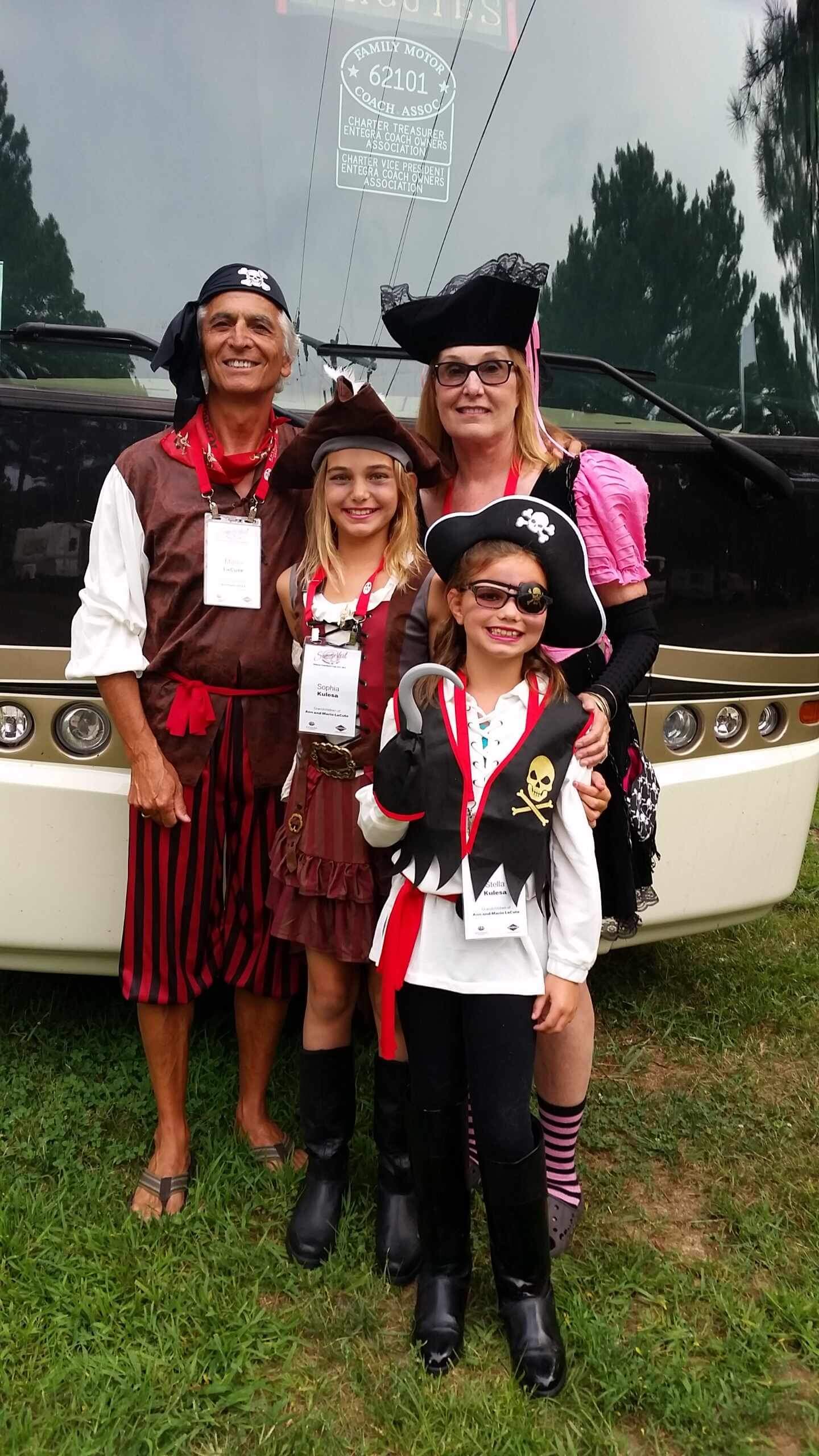 We also visited a KOA, which was full of activities in the summer. There was a water parade hayride where the other motorhomes sprayed us with water as we rode by. There was a craft day, a zip line and their favorite was the jumping pillow. In fact, this KOA had a small café, so the kids enjoyed going to buy a snack or a piece of pizza. All right, up their alley.
And remember, the kids are all about food. So, I stocked the motorhome with yogurt, Goldfish® crackers, string cheese, popsicles, frozen waffles and lots of Nutella®, and off we went. I also did a little Pinterest research and found a great idea for handling snacks. I purchased two clear tackle boxes with handles and compartments and filled each box with snacks. With the divided compartments, the mandarin oranges didn't get the Goldfish® soggy.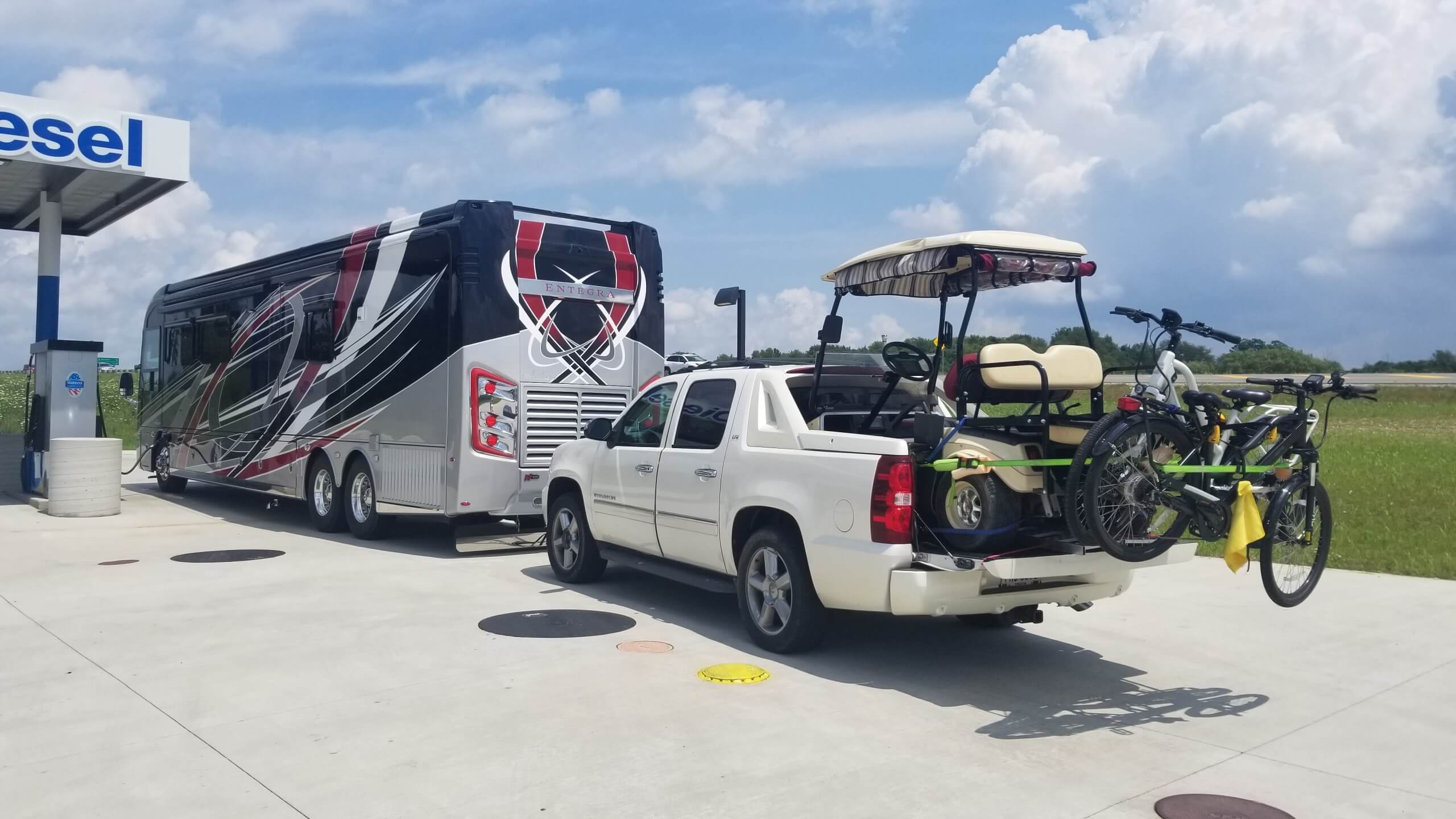 Once we arrived at the park and got set up, I set up a buddy system for the kids. Therefore, the oldest girl was responsible for the older boy, and so on. The girls took their responsibility very seriously. They helped by putting on the PJ's, helped them brush their teeth, and kept buddied up on the golf course and playground, as well as in the pool.
Bedtime was a fun time too. Not only did the girls get the boys ready, they slept with their little buddy. We had a RBQ floorplan, so the sofa opened into the bed and the other sofa opened into a futon, so they were all comfy together.
I had the kids bring sleeping bags, because we are camping, right, and that made it so much easier for set up and take down. No sheets, blankets or pillows to worry about.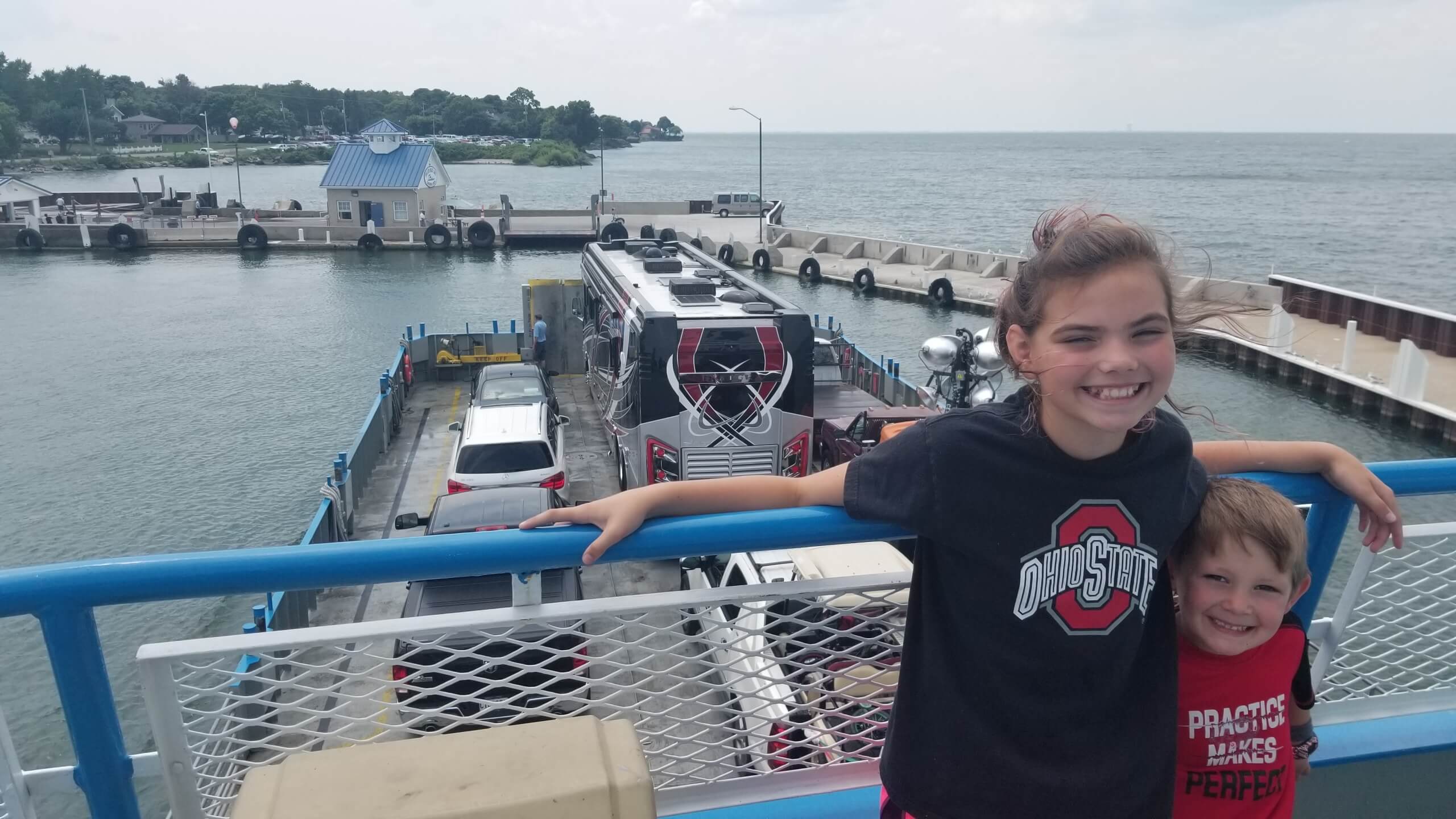 I have started a very bad habit with the grandkids, and I continued that bad habit into the coach. When the kids come to visit, every morning I would have a surprise for them. Something as simple as a matchbox car, or a headband. I equipped the motorhome with daily surprises. So, one of the best items were water balloons. Grandpa filled them up from the outside faucet. I brought snaps, those little noise makers. I had glow sticks around the fire at night, and bubbles are always a winner, especially when grandpa lets them wash the motorhome with their bubble guns.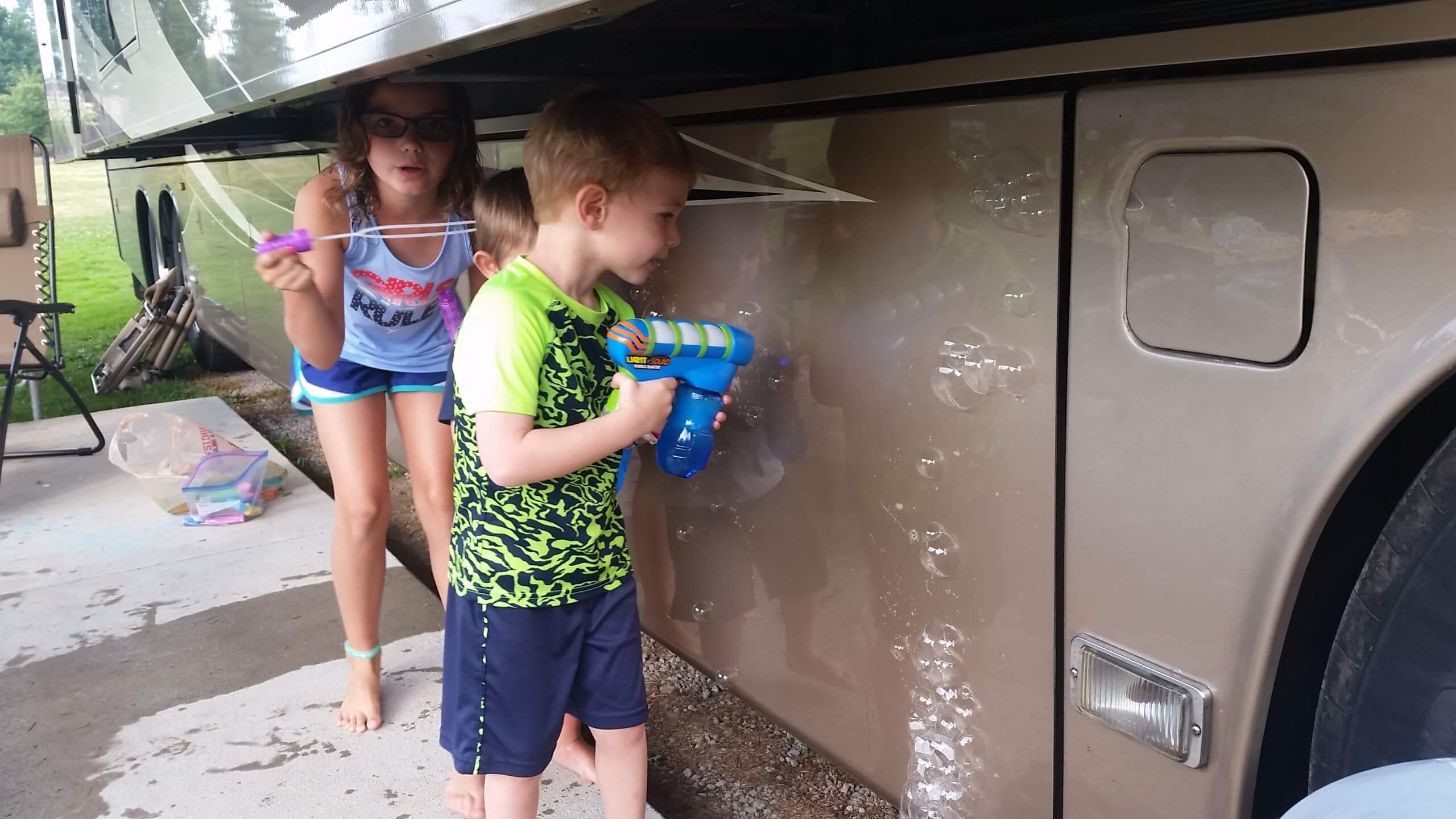 I really believe the pre-trip preparation was the winning formula.
As I recall our trips with the grandkids, it reminds me of the memories we made, the laughing and the stories that are still being told. In fact, I am smiling as I write this, thinking of the good times we had with the kids.
There is such a short window when our grandchildren think we are still cool and fun. Take advantage of this time; don't be afraid that you won't be able to keep them busy. Enjoy them, make memories with them, and most of all have fun. If we knew that grandkids were going to be this much fun, we would have had them first!!!!