The pinnacle of luxury travel

THE QUIETEST RIDING, BEST HANDLING COACH ON THE MARKET TODAY. PERIOD.
It's no wonder the Cornerstone has been the #1 selling coach in the Cummins X 605HP engine category—and the 2022 model follows suit. Power meets beauty in this impressive package—and the new model year has even more to love. The new décor and modern interior design packages are just the beginning; driver and passenger will love the leather massaging seats in the cab and navigate with ease thanks to the iGO Primo navigation system with RV attribute routing. When it's time to park it, state-of-the art entertainment systems, residential furniture and appliances and spacious living quarters will have you feeling right at home. This is a lineup you don't want to miss.
Specs
| | |
| --- | --- |
| Gross Vehicle Weight Rating (lbs) | 54,000 |
| Gross Combined Weight Rating (lbs) | 74,000 |
| Front Gross Axle Weight Rating (lbs) | 20,000 |
| Rear Gross Axle Weight Rating (lbs) | 20,000 |
| Tag Axle Gross Weight Rating (lbs) | 14,000 |
| Exterior Length | 45' 5" |
| Exterior Width | 101" |
| Exterior Height with A/C and Satellite | 12' 8" |
| Interior Height | 84" |
| Fresh Water Capacity (gals) | 100 |
| Grey Waste Water Capacity (gals) | 62 |
| Black Waste Water (gals) | 41 |
| Fuel Tank Capacity (gals) | 150 |
| Furnace (BTU Output) | 65,600 Aqua-Hot |
| Wheel Base | 320" |
Specs
| | |
| --- | --- |
| Gross Vehicle Weight Rating (lbs) | 54,000 |
| Gross Combined Weight Rating (lbs) | 74,000 |
| Front Gross Axle Weight Rating (lbs) | 20,000 |
| Rear Gross Axle Weight Rating (lbs) | 20,000 |
| Tag Axle Gross Weight Rating (lbs) | 14,000 |
| Exterior Length | 45' 5" |
| Exterior Width | 101" |
| Exterior Height with A/C and Satellite | 12' 8" |
| Interior Height | 84" |
| Fresh Water Capacity (gals) | 100 |
| Grey Waste Water Capacity (gals) | 62 |
| Black Waste Water (gals) | 41 |
| Fuel Tank Capacity (gals) | 150 |
| Furnace (BTU Output) | 65,600 Aqua-Hot |
| Wheel Base | 320" |
Specs
| | |
| --- | --- |
| Gross Vehicle Weight Rating (lbs) | 54,000 |
| Gross Combined Weight Rating (lbs) | 74,000 |
| Front Gross Axle Weight Rating (lbs) | 20,000 |
| Rear Gross Axle Weight Rating (lbs) | 20,000 |
| Tag Axle Gross Weight Rating (lbs) | 14,000 |
| Exterior Length | 45' 5" |
| Exterior Width | 101" |
| Exterior Height with A/C and Satellite | 12' 8" |
| Interior Height | 84" |
| Fresh Water Capacity (gals) | 100 |
| Grey Waste Water Capacity (gals) | 62 |
| Black Waste Water (gals) | 41 |
| Fuel Tank Capacity (gals) | 150 |
| Furnace (BTU Output) | 65,600 Aqua-Hot |
| Wheel Base | 320" |
Specs
| | |
| --- | --- |
| Gross Vehicle Weight Rating (lbs) | 54,000 |
| Gross Combined Weight Rating (lbs) | 74,000 |
| Front Gross Axle Weight Rating (lbs) | 20,000 |
| Rear Gross Axle Weight Rating (lbs) | 20,000 |
| Tag Axle Gross Weight Rating (lbs) | 14,000 |
| Exterior Length | 45' 5" |
| Exterior Width | 101" |
| Exterior Height with A/C and Satellite | 12' 8" |
| Interior Height | 84" |
| Fresh Water Capacity (gals) | 100 |
| Grey Waste Water Capacity (gals) | 62 |
| Black Waste Water (gals) | 41 |
| Fuel Tank Capacity (gals) | 150 |
| Furnace (BTU Output) | 65,600 Aqua-Hot |
| Wheel Base | 320" |
Specs
| | |
| --- | --- |
| Gross Vehicle Weight Rating (lbs) | 54,000 |
| Gross Combined Weight Rating (lbs) | 74,000 |
| Front Gross Axle Weight Rating (lbs) | 20,000 |
| Rear Gross Axle Weight Rating (lbs) | 20,000 |
| Tag Axle Gross Weight Rating (lbs) | 14,000 |
| Exterior Length | 45' 5" |
| Exterior Width | 101" |
| Exterior Height with A/C and Satellite | 12' 8" |
| Interior Height | 84" |
| Fresh Water Capacity (gals) | 100 |
| Grey Waste Water Capacity (gals) | 62 |
| Black Waste Water (gals) | 41 |
| Fuel Tank Capacity (gals) | 150 |
| Furnace (BTU Output) | 65,600 Aqua-Hot |
| Wheel Base | 320" |
Specs
| | |
| --- | --- |
| Gross Vehicle Weight Rating (lbs) | 54,000 |
| Gross Combined Weight Rating (lbs) | 74,000 |
| Front Gross Axle Weight Rating (lbs) | 20,000 |
| Rear Gross Axle Weight Rating (lbs) | 20,000 |
| Tag Axle Gross Weight Rating (lbs) | 14,000 |
| Exterior Length | 45' 5" |
| Exterior Width | 101" |
| Exterior Height with A/C and Satellite | 12' 8" |
| Interior Height | 84" |
| Fresh Water Capacity (gals) | 100 |
| Grey Waste Water Capacity (gals) | 62 |
| Black Waste Water (gals) | 41 |
| Fuel Tank Capacity (gals) | 150 |
| Furnace (BTU Output) | 65,600 Aqua-Hot |
| Wheel Base | 320" |
All Floorplans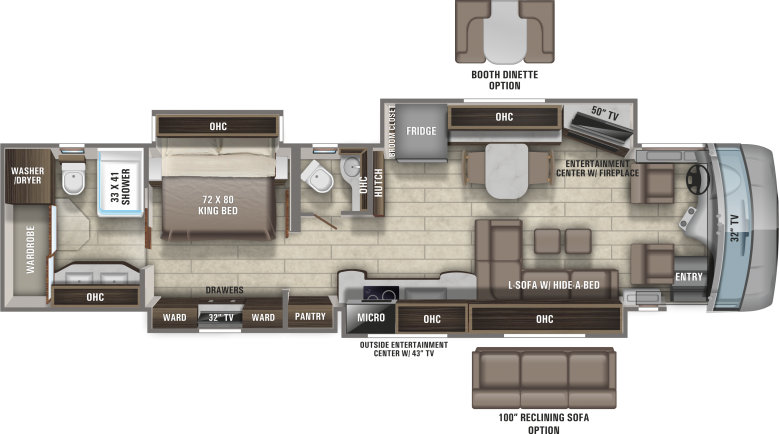 2022 Cornerstone | 45B
---
2022 Cornerstone | 45D
---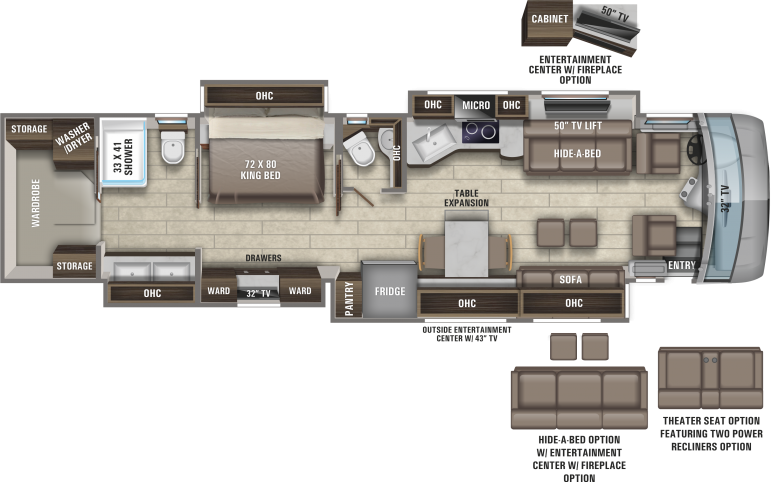 2022 Cornerstone | 45F
---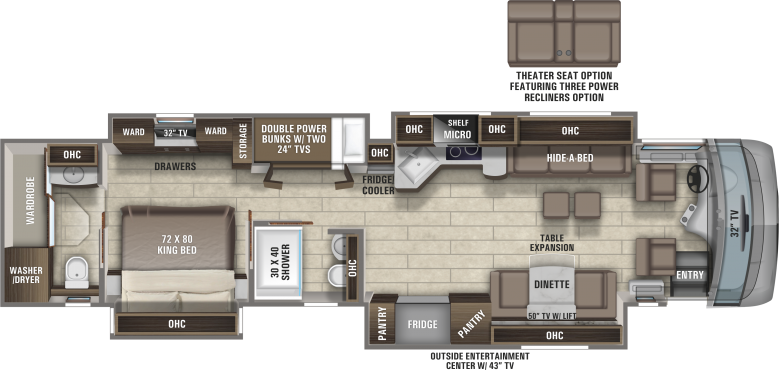 2022 Cornerstone | 45R
---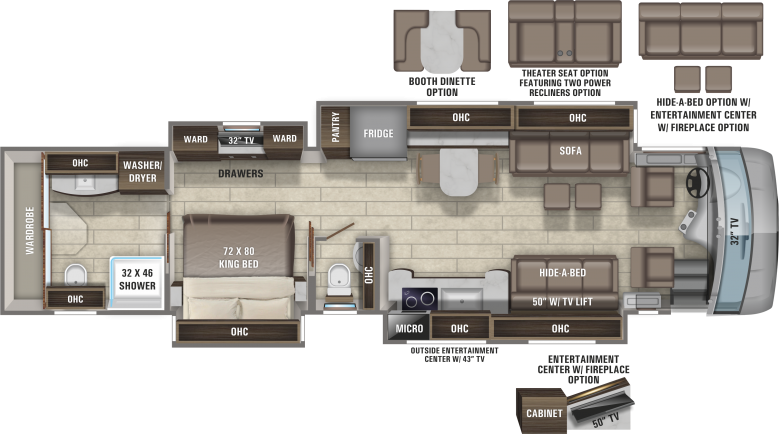 2022 Cornerstone | 45W
---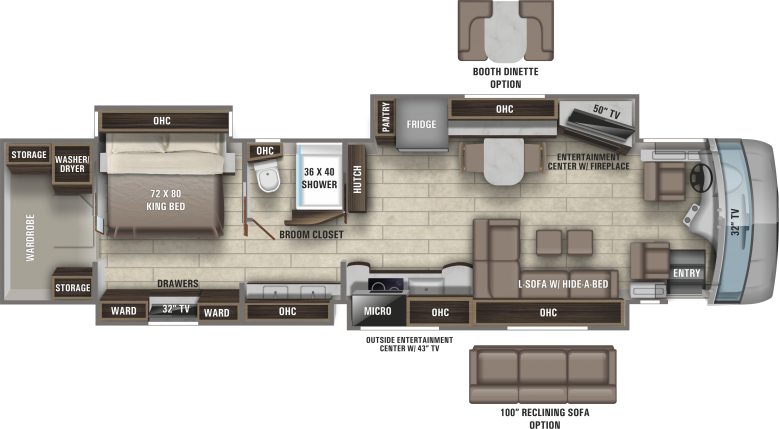 2022 Cornerstone | 45Z
---