Make your next trip a masterpiece

THE QUIETEST RIDING, BEST HANDLING COACH ON THE MARKET TODAY. PERIOD.
Introducing, all-new for 2020, our Vision XL. This new addition to our gas Class A family is built on the Ford F53 chassis, and offers 320 horsepower, with electronic fuel injection and 460 lb.-ft. of torque. This coach is full of passion, craftsmanship, dynamics and elegance. With ultimate refinement, the Vision XL is a step above and features backup and side-view cameras with monitor, huge frameless windows, exterior entertainment center with LED TV mounted on a swivel bracket and single-disc DVD/FM and radio. The E-Z Drive Elite package on the Vision XL includes a computer-balanced driveshaft, variable-rate front and rear jounce bumpers, heavy-duty front and rear stabilizer bars, SACHS shocks and 22.5" Michelin tires for precise handling and renowned stability. Vision XL was created for those seeking new landscapes and is everything you would expect, and more, from a Class A Motorhome, created by Entegra Coach.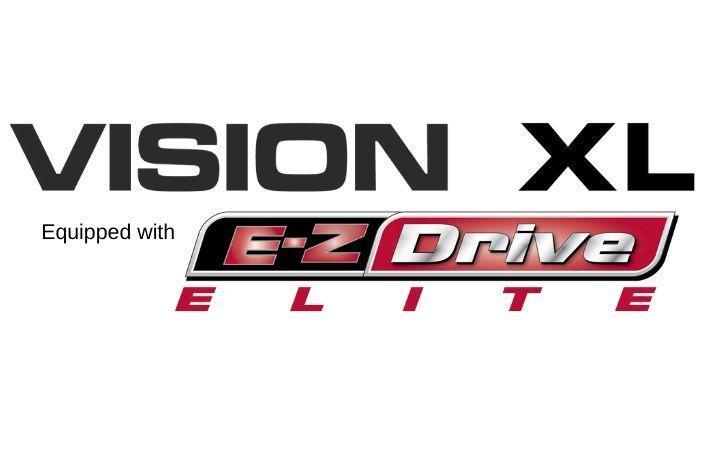 Specs
| | |
| --- | --- |
| Wheel Base | 228" |
| Exterior Length | 36' 11" |
| Exterior Height with A/C and Satellite | 12' 10" |
| Exterior Width | 101" |
| Interior Height | 84" |
| Fresh Water Capacity (gals) | 72 |
| Grey Waste Water Capacity (gals) | 40 |
| Black Waste Water (gals) | 40 |
| Gross Vehicle Weight Rating (lbs) | 22,000 |
| Gross Combined Weight Rating (lbs) | 26,000 |
| Front Gross Axle Weight Rating (lbs) | 8,000 |
| Rear Gross Axle Weight Rating (lbs) | 15,000 |
| Tag Axle Gross Weight Rating (lbs) | N/A |
| Fuel Tank Capacity (gals) | 80 |
| Furnace (BTU Output) | 35,000 |
Specs
| | |
| --- | --- |
| Furnace (BTU Output) | 35,000 |
| Black Waste Water (gals) | 50 |
| Grey Waste Water Capacity (gals) | 40 |
| Fresh Water Capacity (gals) | 72 |
| Fuel Tank Capacity (gals) | 80 |
| Wheel Base | 238" |
| Interior Height | 84" |
| Gross Vehicle Weight Rating (lbs) | 22,000 |
| Gross Combined Weight Rating (lbs) | 26,000 |
| Front Gross Axle Weight Rating (lbs) | 8,000 |
| Rear Gross Axle Weight Rating (lbs) | 15,000 |
| Tag Axle Gross Weight Rating (lbs) | N/A |
| Exterior Length | 36' 6" |
| Exterior Width | 101" |
| Exterior Height with A/C and Satellite | 12' 10" |
Specs
| | |
| --- | --- |
| Gross Vehicle Weight Rating (lbs) | 24,000 |
| Gross Combined Weight Rating (lbs) | 30,000 |
| Front Gross Axle Weight Rating (lbs) | 9,000 |
| Rear Gross Axle Weight Rating (lbs) | 15,500 |
| Tag Axle Gross Weight Rating (lbs) | N/A |
| Exterior Length | 38' 10" |
| Exterior Width | 101" |
| Exterior Height with A/C and Satellite | 12' 10" |
| Interior Height | 84" |
| Fresh Water Capacity (gals) | 72 |
| Grey Waste Water Capacity (gals) | 40/40 |
| Black Waste Water (gals) | 51/51 |
| Fuel Tank Capacity (gals) | 80 |
| Furnace (BTU Output) | (2) 30,000 |
| Wheel Base | 252" |
All Floorplans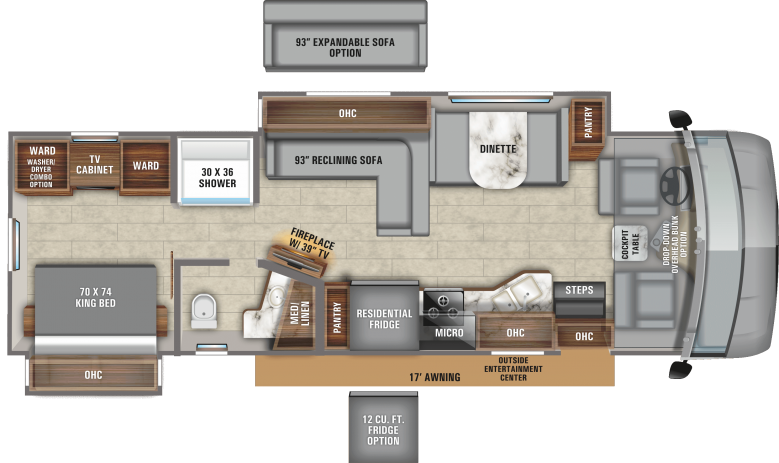 2020 Vision XL | 34B
---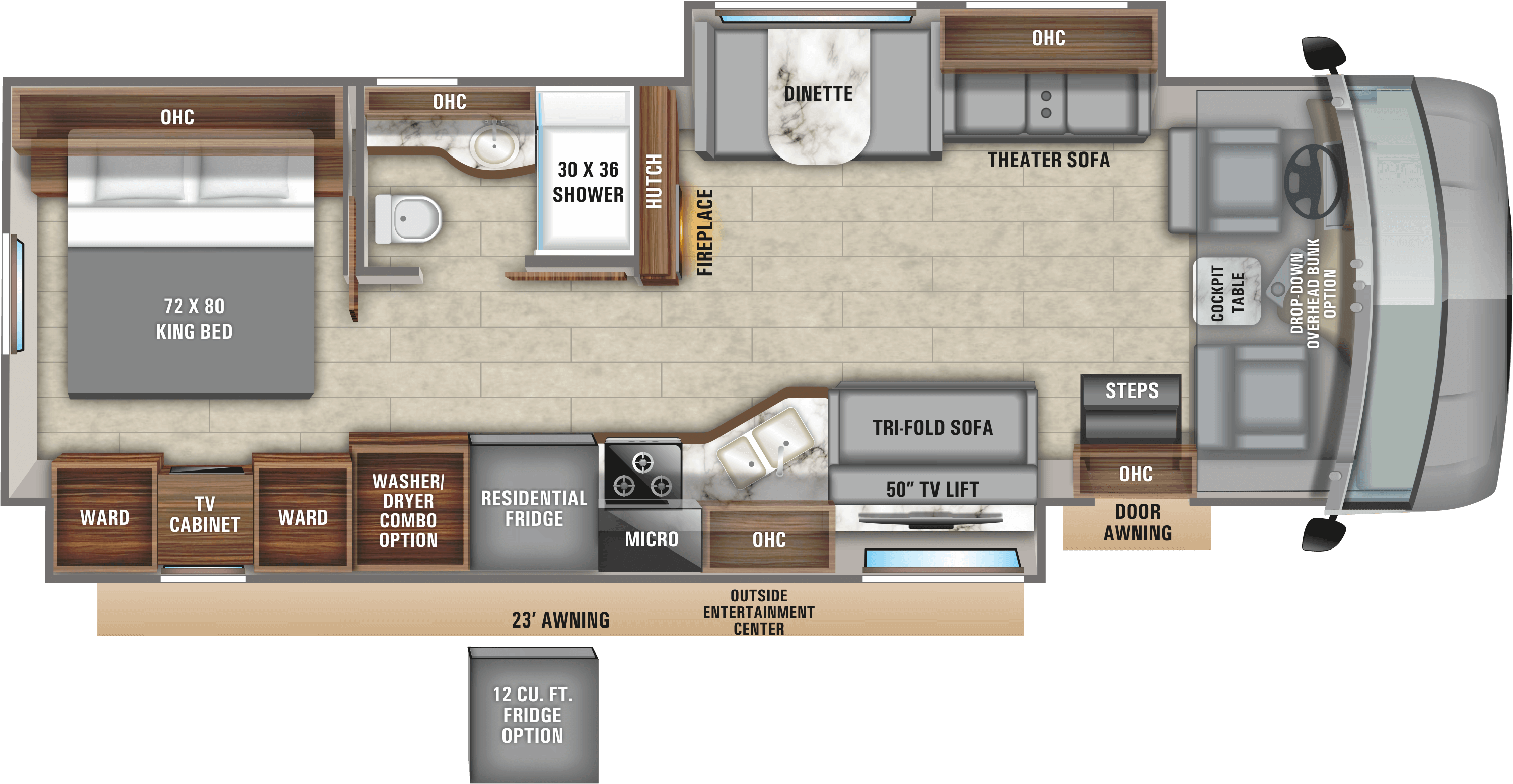 2020 Vision XL | 34G
---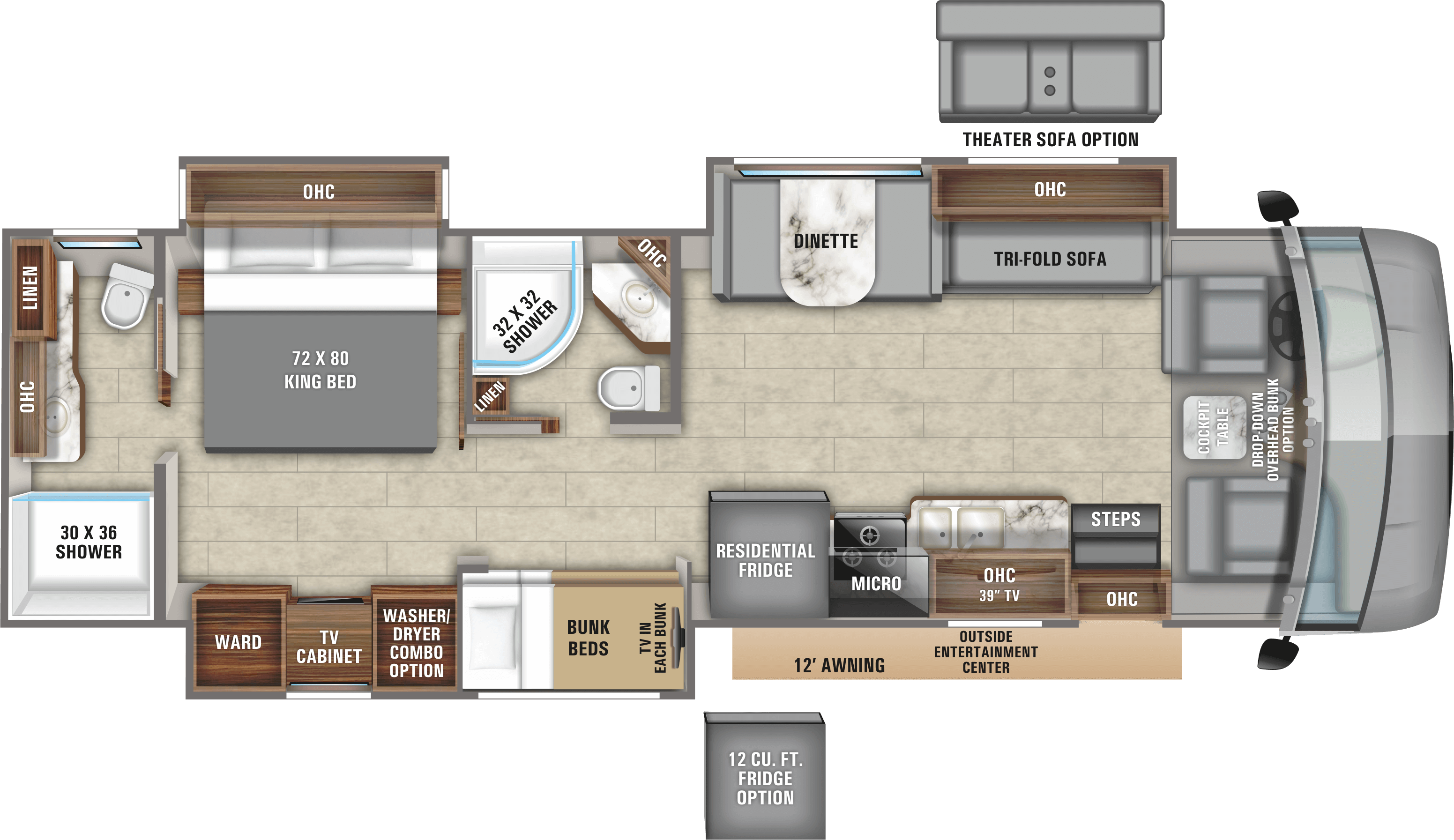 2020 Vision XL | 36A
---