Keep Your Dreams in Sight

THE QUIETEST RIDING, BEST HANDLING COACH ON THE MARKET TODAY. PERIOD.
This Class A motorhome provides many of the luxurious features of our diesel lineup in a gas coach-- standard. The 2020 Vision offers an updated exterior graphics package with eye popping attention to detail and bold lines. Vision is built using timeless techniques, high-end materials, and smart design. The E-Z Drive Elite package on the Vision includes a computer-balanced driveshaft, jounce bumpers, heavy-duty front and rear stabilizer bars, and SACHS shocks for precise handling and renowned stability.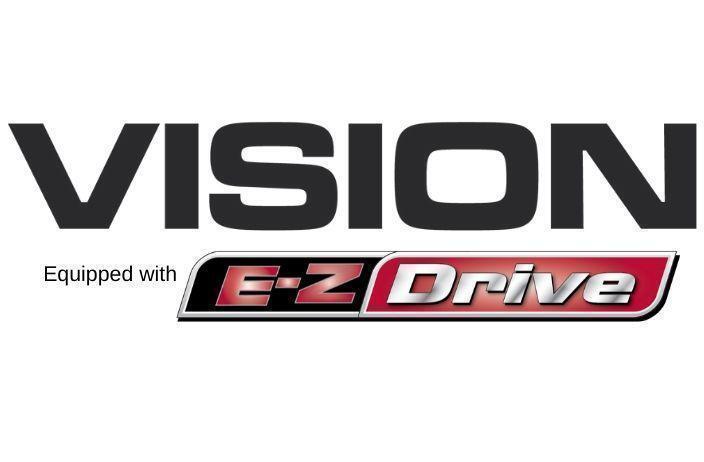 Specs
| | |
| --- | --- |
| Gross Vehicle Weight Rating (lbs) | 16,000 |
| Gross Combined Weight Rating (lbs) | 23,000 |
| Front Gross Axle Weight Rating (lbs) | 6,500 |
| Rear Gross Axle Weight Rating (lbs) | 11,000 |
| Tag Axle Gross Weight Rating (lbs) | N/a |
| Exterior Length | 28' 5" |
| Exterior Width | 101" |
| Exterior Height with A/C and Satellite | 12' 5" |
| Interior Height | 84" |
| Fresh Water Capacity (gals) | 53 |
| Grey Waste Water Capacity (gals) | 40 |
| Black Waste Water (gals) | 32 |
| Fuel Tank Capacity (gals) | 80 |
| Furnace (BTU Output) | 30,000 |
| Wheel Base | 178" |
Specs
| | |
| --- | --- |
| Gross Vehicle Weight Rating (lbs) | 18,000 |
| Gross Combined Weight Rating (lbs) | 23,000 |
| Front Gross Axle Weight Rating (lbs) | 7,000 |
| Rear Gross Axle Weight Rating (lbs) | 12,000 |
| Tag Axle Gross Weight Rating (lbs) | N/A |
| Exterior Length | 29' 11" |
| Exterior Width | 101" |
| Exterior Height with A/C and Satellite | 12' 5" |
| Interior Height | 84" |
| Fresh Water Capacity (gals) | 72 |
| Grey Waste Water Capacity (gals) | 50 |
| Black Waste Water (gals) | 49 |
| Fuel Tank Capacity (gals) | 80 |
| Furnace (BTU Output) | 30,000 |
| Wheel Base | 190" |
Specs
| | |
| --- | --- |
| Gross Vehicle Weight Rating (lbs) | 18,000 |
| Gross Combined Weight Rating (lbs) | 23,000 |
| Front Gross Axle Weight Rating (lbs) | 7,000 |
| Rear Gross Axle Weight Rating (lbs) | 12,000 |
| Tag Axle Gross Weight Rating (lbs) | N/a |
| Exterior Length | 32' 2" |
| Exterior Width | 101" |
| Exterior Height with A/C and Satellite | 12' 5" |
| Interior Height | 84" |
| Fresh Water Capacity (gals) | 72 |
| Grey Waste Water Capacity (gals) | 40 |
| Black Waste Water (gals) | 49 |
| Fuel Tank Capacity (gals) | 80 |
| Furnace (BTU Output) | 30,000 |
| Wheel Base | 190" |
Specs
| | |
| --- | --- |
| Gross Vehicle Weight Rating (lbs) | 18,000 |
| Gross Combined Weight Rating (lbs) | 23,000 |
| Front Gross Axle Weight Rating (lbs) | 7,000 |
| Rear Gross Axle Weight Rating (lbs) | 12,000 |
| Tag Axle Gross Weight Rating (lbs) | N/a |
| Exterior Length | 31' 4" |
| Exterior Width | 101" |
| Exterior Height with A/C and Satellite | 12' 5" |
| Interior Height | 84" |
| Fresh Water Capacity (gals) | 72 |
| Grey Waste Water Capacity (gals) | 40 |
| Black Waste Water (gals) | 50 |
| Fuel Tank Capacity (gals) | 80 |
| Furnace (BTU Output) | 30,000 |
| Wheel Base | 190" |
Specs
| | |
| --- | --- |
| Gross Vehicle Weight Rating (lbs) | 18,000 |
| Gross Combined Weight Rating (lbs) | 23,000 |
| Front Gross Axle Weight Rating (lbs) | 7,000 |
| Rear Gross Axle Weight Rating (lbs) | 12,000 |
| Tag Axle Gross Weight Rating (lbs) | N/a |
| Exterior Length | 32' 2" |
| Exterior Width | 101" |
| Exterior Height with A/C and Satellite | 12' 5" |
| Interior Height | 84" |
| Fresh Water Capacity (gals) | 72 |
| Grey Waste Water Capacity (gals) | 40 |
| Black Waste Water (gals) | 50 |
| Fuel Tank Capacity (gals) | 80 |
| Furnace (BTU Output) | 30,000 |
| Wheel Base | 190" |
All Floorplans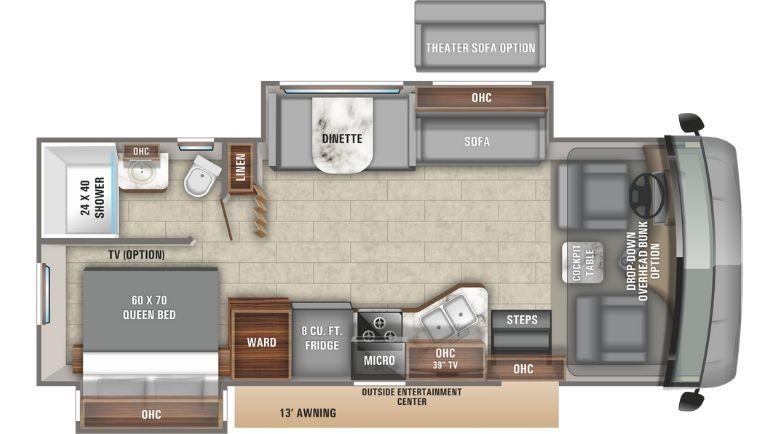 2020 Vision | 26X
---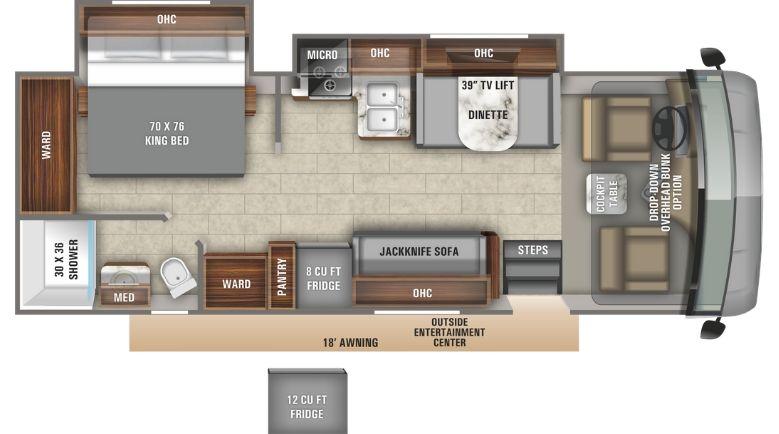 2020 Vision | 27A
---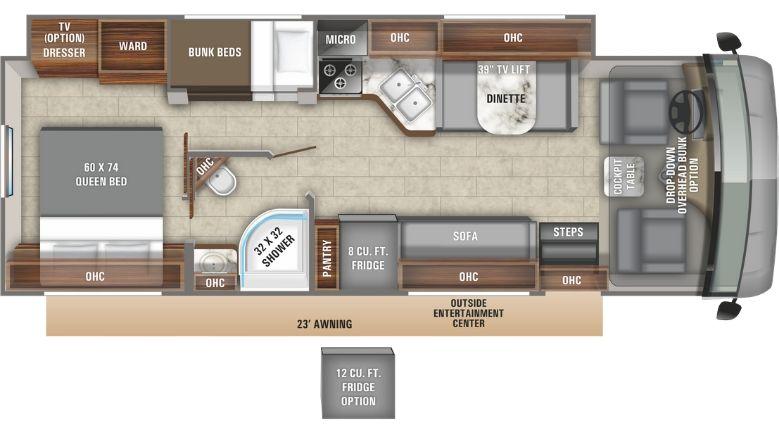 2020 Vision | 29F
---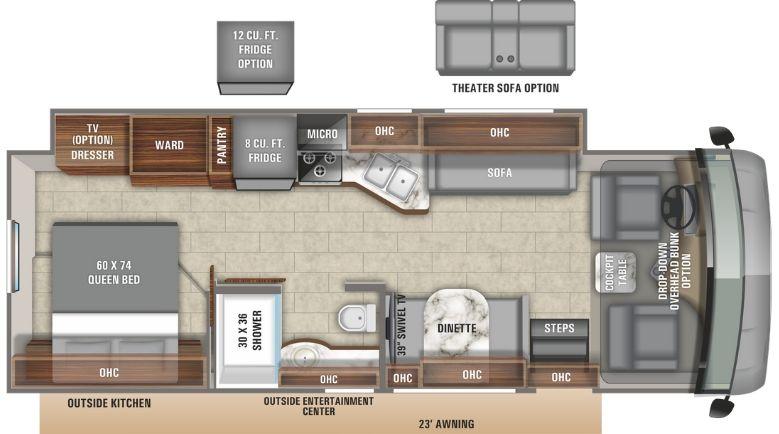 2020 Vision | 29S
---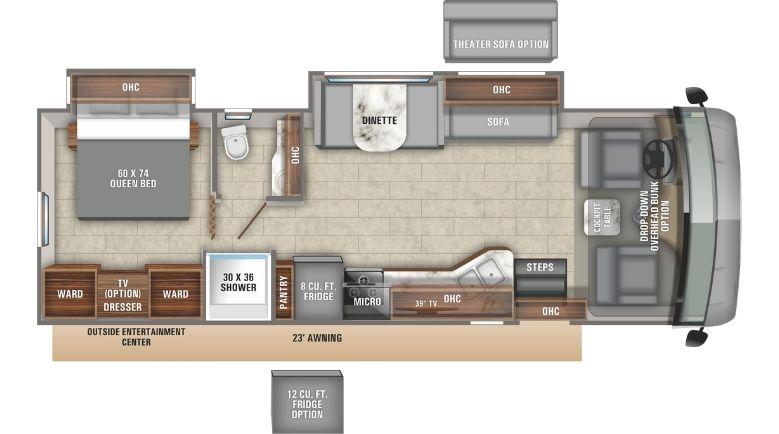 2020 Vision | 31V
---