Not All Who Wander Are Lost

THE QUIETEST RIDING, BEST HANDLING COACH ON THE MARKET TODAY. PERIOD.
If you're looking for luxury in a diesel-powered, sprinter-style Class C that's built on a premium fuel efficient Mercedes 3500 chassis, you won't have to search any further than the Qwest. Among the many things new for 2020, The Qwest will now feature a 10" Mercedes infotainment display with lane assist, collision avoidance and GPS. Upgraded LED headlights will light your way as you discover the wonders on the road. Beautiful full-body paint adorns this coach, an automotive-bonded windshield is in the front cap, modern European curved cabinetry and woven vinyl flooring set this beautifully capable adventurer apart.

Specs
| | |
| --- | --- |
| Gross Vehicle Weight Rating (lbs) | 11,030 |
| Gross Combined Weight Rating (lbs) | 15,250 |
| Front Gross Axle Weight Rating (lbs) | 4,410 |
| Rear Gross Axle Weight Rating (lbs) | 7,720 |
| Tag Axle Gross Weight Rating (lbs) | N/a |
| Exterior Length | 25' 2" |
| Exterior Width | 96" |
| Exterior Height with A/C and Satellite | 10' 11" |
| Interior Height | 80" |
| Fresh Water Capacity (gals) | 39 |
| Grey Waste Water Capacity (gals) | 31 |
| Black Waste Water (gals) | 31 |
| Fuel Tank Capacity (gals) | 26.40 |
| Furnace (BTU Output) | 20,000 |
| Wheel Base | 170.3" |
Specs
| | |
| --- | --- |
| Gross Vehicle Weight Rating (lbs) | 11,030 |
| Gross Combined Weight Rating (lbs) | 15,250 |
| Front Gross Axle Weight Rating (lbs) | 4,410 |
| Rear Gross Axle Weight Rating (lbs) | 7,720 |
| Tag Axle Gross Weight Rating (lbs) | N/a |
| Exterior Length | 25' 2" |
| Exterior Width | 96" |
| Exterior Height with A/C and Satellite | 10' 11" |
| Interior Height | 80" |
| Fresh Water Capacity (gals) | 43 |
| Grey Waste Water Capacity (gals) | 31 |
| Black Waste Water (gals) | 31 |
| Fuel Tank Capacity (gals) | 26.40 |
| Furnace (BTU Output) | 20,000 |
| Wheel Base | 170.3" |
Specs
| | |
| --- | --- |
| Gross Vehicle Weight Rating (lbs) | 11,030 |
| Gross Combined Weight Rating (lbs) | 15,250 |
| Front Gross Axle Weight Rating (lbs) | 4,410 |
| Rear Gross Axle Weight Rating (lbs) | 7,720 |
| Tag Axle Gross Weight Rating (lbs) | N/a |
| Exterior Length | 25' 2" |
| Exterior Width | 96" |
| Exterior Height with A/C and Satellite | 10' 11" |
| Interior Height | 80" |
| Fresh Water Capacity (gals) | 43 |
| Grey Waste Water Capacity (gals) | 31 |
| Black Waste Water (gals) | 31 |
| Fuel Tank Capacity (gals) | 26.40 |
| Furnace (BTU Output) | 20,000 |
| Wheel Base | 170.3" |
Specs
| | |
| --- | --- |
| Gross Vehicle Weight Rating (lbs) | 11,030 |
| Gross Combined Weight Rating (lbs) | 15,250 |
| Front Gross Axle Weight Rating (lbs) | 4,410 |
| Rear Gross Axle Weight Rating (lbs) | 7,720 |
| Tag Axle Gross Weight Rating (lbs) | N/A |
| Exterior Length | 25' 2" |
| Exterior Width | 96" |
| Exterior Height with A/C and Satellite | 10' 11" |
| Interior Height | 80" |
| Fresh Water Capacity (gals) | 35 |
| Grey Waste Water Capacity (gals) | 31 |
| Black Waste Water (gals) | 31 |
| Fuel Tank Capacity (gals) | 26.4 |
| Furnace (BTU Output) | 20,000 |
| Wheel Base | 170.3" |
Specs
| | |
| --- | --- |
| Gross Vehicle Weight Rating (lbs) | 11,030 |
| Gross Combined Weight Rating (lbs) | 15,250 |
| Front Gross Axle Weight Rating (lbs) | 4,410 |
| Rear Gross Axle Weight Rating (lbs) | 7,720 |
| Tag Axle Gross Weight Rating (lbs) | N/A |
| Exterior Length | 25' 2" |
| Exterior Width | 96" |
| Exterior Height with A/C and Satellite | 10' 11" |
| Interior Height | 80" |
| Fresh Water Capacity (gals) | 43 |
| Grey Waste Water Capacity (gals) | 31 |
| Black Waste Water (gals) | 31 |
| Fuel Tank Capacity (gals) | 26.4 |
| Furnace (BTU Output) | 20,000 |
| Wheel Base | 170.3" |
All Floorplans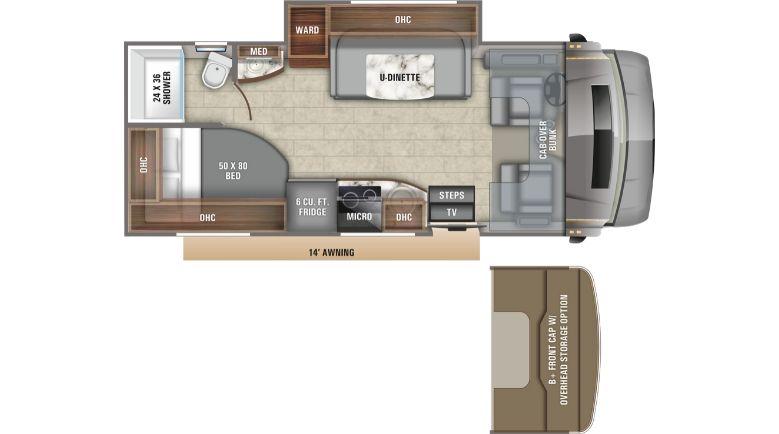 2020 Qwest | 24A
---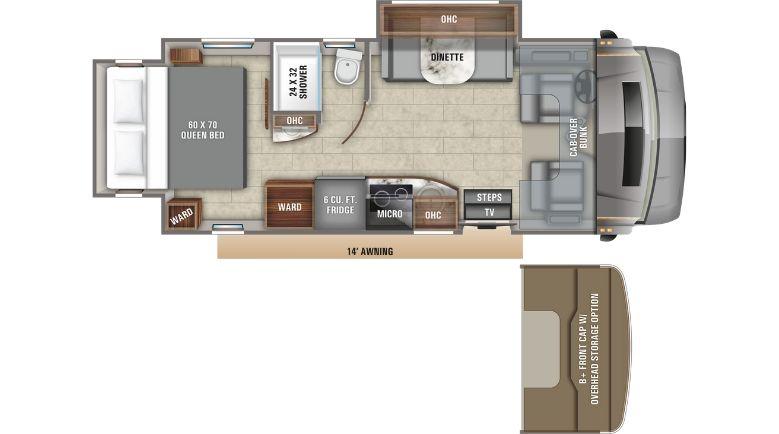 2020 Qwest | 24K
---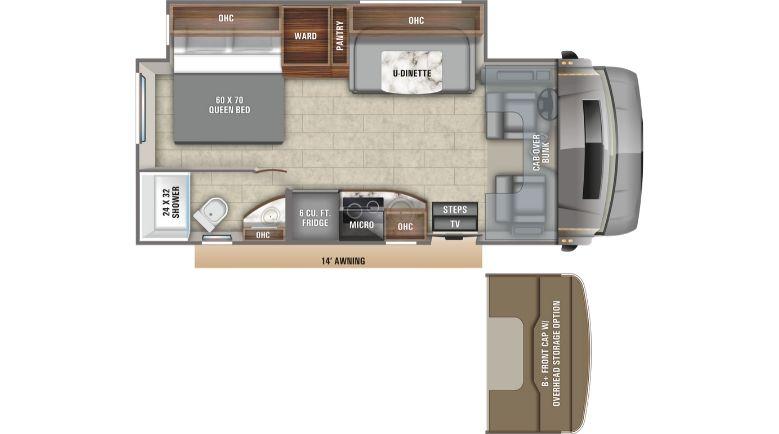 2020 Qwest | 24L
---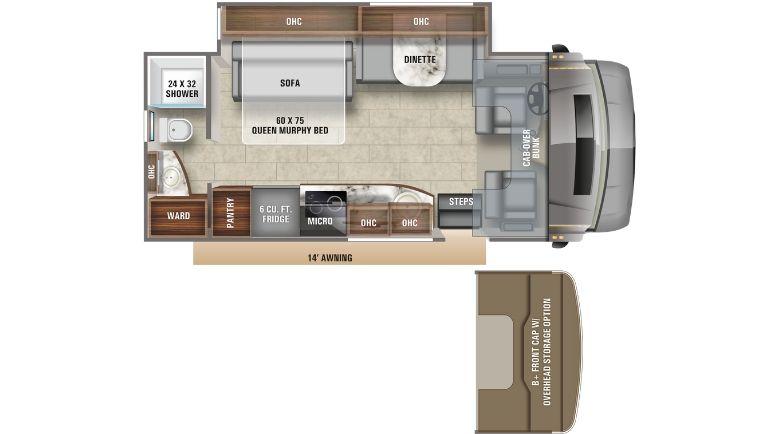 2020 Qwest | 24R
---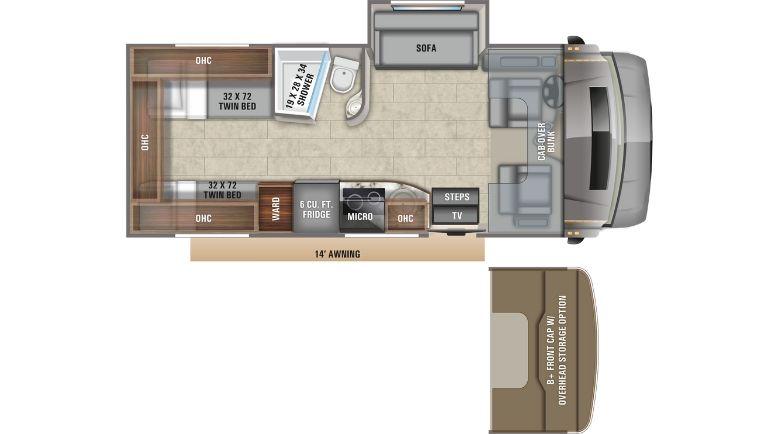 2020 Qwest | 24T
---