Navigate Life's Adventure

THE QUIETEST RIDING, BEST HANDLING COACH ON THE MARKET TODAY. PERIOD.
The Odyssey is a truly unique Class C motorhome for travelers that love the freedom of the road. It features many of the amenities and floorplan designs found on high-end Class C coaches. The 2020 Odyssey will feature an updated graphics package with partial paint option that will adorn your coach with style and sophistication. This coach features a one-piece seamless fiberglass front cap, rear back-up camera and monitor, and an interior command center. Built on the E-450 chassis, you will have higher carrying capacity in the Odyssey. When paired with the E-Z Drive system consisting of a computer balanced driveshaft, standard front and rear stabilizer bars, Hellwig helper springs and rubber isolation body mounts, the Odyssey delivers performance and drivability one would expect from an Entegra Coach luxury coach.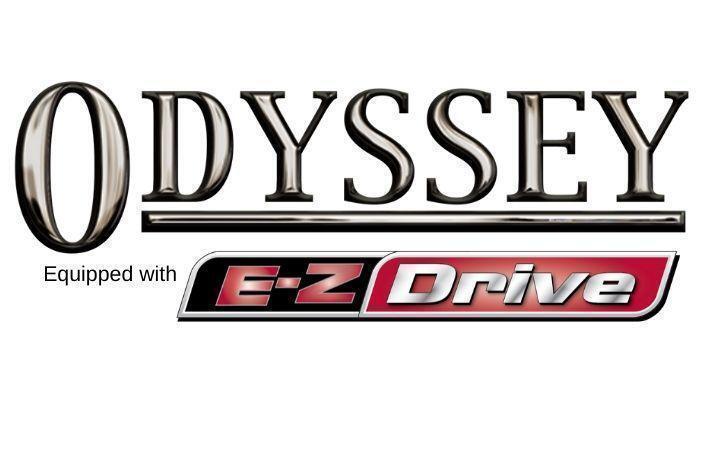 Specs
| | |
| --- | --- |
| Gross Vehicle Weight Rating (lbs) | 14,500 |
| Gross Combined Weight Rating (lbs) | 22,000 |
| Front Gross Axle Weight Rating (lbs) | 5,000 |
| Rear Gross Axle Weight Rating (lbs) | 9,600 |
| Tag Axle Gross Weight Rating (lbs) | N/a |
| Exterior Length | 26' 8" |
| Exterior Width | 100" |
| Exterior Height with A/C and Satellite | 11' 8" |
| Interior Height | 84" |
| Fresh Water Capacity (gals) | 42.50 |
| Grey Waste Water Capacity (gals) | 40 |
| Black Waste Water (gals) | 31 |
| Fuel Tank Capacity (gals) | 55 |
| Furnace (BTU Output) | 30,000 |
| Wheel Base | 158" |
Specs
| | |
| --- | --- |
| Gross Vehicle Weight Rating (lbs) | 14,500 |
| Gross Combined Weight Rating (lbs) | 22,000 |
| Front Gross Axle Weight Rating (lbs) | 5,000 |
| Rear Gross Axle Weight Rating (lbs) | 9,600 |
| Tag Axle Gross Weight Rating (lbs) | N/a |
| Exterior Length | 28' 8" |
| Exterior Width | 100" |
| Exterior Height with A/C and Satellite | 11' 8" |
| Interior Height | 84" |
| Fresh Water Capacity (gals) | 47 |
| Grey Waste Water Capacity (gals) | 41 |
| Black Waste Water (gals) | 32 |
| Fuel Tank Capacity (gals) | 55 |
| Furnace (BTU Output) | 30,000 |
| Wheel Base | 158" |
Specs
| | |
| --- | --- |
| Gross Vehicle Weight Rating (lbs) | 14,500 |
| Gross Combined Weight Rating (lbs) | 22,000 |
| Front Gross Axle Weight Rating (lbs) | 5,000 |
| Rear Gross Axle Weight Rating (lbs) | 9,600 |
| Tag Axle Gross Weight Rating (lbs) | N/a |
| Exterior Length | 28' 8" |
| Exterior Width | 100" |
| Exterior Height with A/C and Satellite | 11' 8" |
| Interior Height | 84" |
| Fresh Water Capacity (gals) | 42.50 |
| Grey Waste Water Capacity (gals) | 41 |
| Black Waste Water (gals) | 32 |
| Fuel Tank Capacity (gals) | 55 |
| Furnace (BTU Output) | 30,000 |
| Wheel Base | 158" |
Specs
| | |
| --- | --- |
| Gross Vehicle Weight Rating (lbs) | 14,500 |
| Gross Combined Weight Rating (lbs) | 22,000 |
| Front Gross Axle Weight Rating (lbs) | 5,000 |
| Rear Gross Axle Weight Rating (lbs) | 9,600 |
| Tag Axle Gross Weight Rating (lbs) | N/a |
| Exterior Length | 32' 6" |
| Exterior Width | 100" |
| Exterior Height with A/C and Satellite | 11' 8" |
| Interior Height | 84" |
| Fresh Water Capacity (gals) | 43.50 |
| Grey Waste Water Capacity (gals) | 41 |
| Black Waste Water (gals) | 32 |
| Fuel Tank Capacity (gals) | 55 |
| Furnace (BTU Output) | 30,000 |
| Wheel Base | 158" |
Specs
| | |
| --- | --- |
| Gross Vehicle Weight Rating (lbs) | 14,500 |
| Gross Combined Weight Rating (lbs) | 22,000 |
| Front Gross Axle Weight Rating (lbs) | 5,000 |
| Rear Gross Axle Weight Rating (lbs) | 9,600 |
| Tag Axle Gross Weight Rating (lbs) | N/a |
| Exterior Length | 32' 6" |
| Exterior Width | 100" |
| Exterior Height with A/C and Satellite | 11' 8" |
| Interior Height | 84" |
| Fresh Water Capacity (gals) | 47 |
| Grey Waste Water Capacity (gals) | 41 |
| Black Waste Water (gals) | 32 |
| Fuel Tank Capacity (gals) | 55 |
| Furnace (BTU Output) | 30,000 |
| Wheel Base | 158" |
Specs
| | |
| --- | --- |
| Gross Vehicle Weight Rating (lbs) | 14,500 |
| Gross Combined Weight Rating (lbs) | 22,000 |
| Front Gross Axle Weight Rating (lbs) | 5,000 |
| Rear Gross Axle Weight Rating (lbs) | 9,600 |
| Tag Axle Gross Weight Rating (lbs) | N/a |
| Exterior Length | 32' 6" |
| Exterior Width | 100" |
| Exterior Height with A/C and Satellite | 11' 8" |
| Interior Height | 84" |
| Fresh Water Capacity (gals) | 43.50 |
| Grey Waste Water Capacity (gals) | 41 |
| Black Waste Water (gals) | 31 |
| Fuel Tank Capacity (gals) | 55 |
| Furnace (BTU Output) | 30,000 |
| Wheel Base | 158" |
Specs
| | |
| --- | --- |
| Gross Vehicle Weight Rating (lbs) | 14,500 |
| Gross Combined Weight Rating (lbs) | 22,000 |
| Front Gross Axle Weight Rating (lbs) | 5,000 |
| Rear Gross Axle Weight Rating (lbs) | 9,600 |
| Tag Axle Gross Weight Rating (lbs) | N/a |
| Exterior Length | 32' 6" |
| Exterior Width | 100" |
| Exterior Height with A/C and Satellite | 11' 8" |
| Interior Height | 84" |
| Fresh Water Capacity (gals) | 47 |
| Grey Waste Water Capacity (gals) | 41 |
| Black Waste Water (gals) | 31 |
| Fuel Tank Capacity (gals) | 55 |
| Furnace (BTU Output) | 30,000 |
| Wheel Base | 158" |
All Floorplans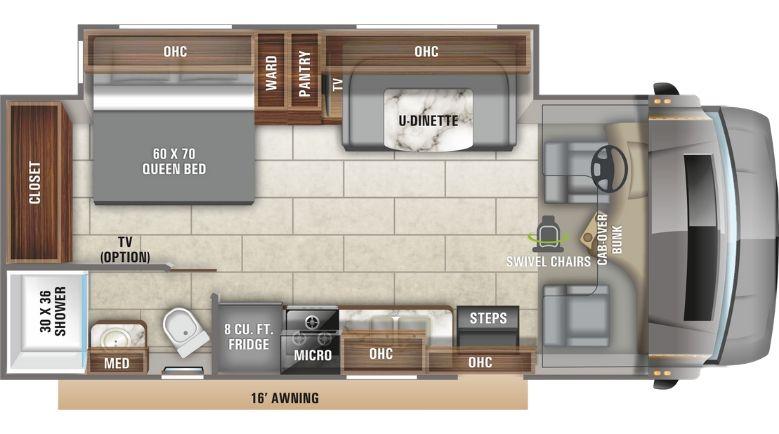 2020 Odyssey | 24B
---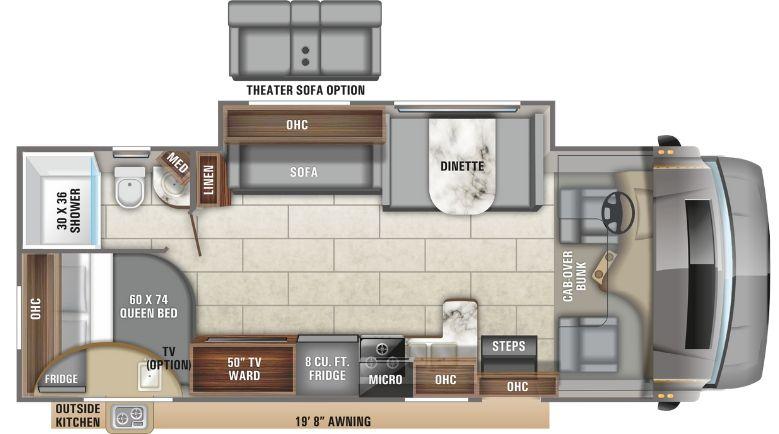 2020 Odyssey | 25R
---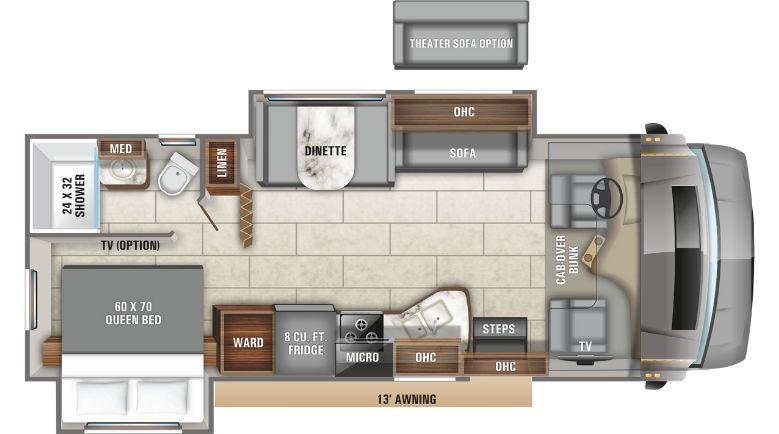 2020 Odyssey | 26D
---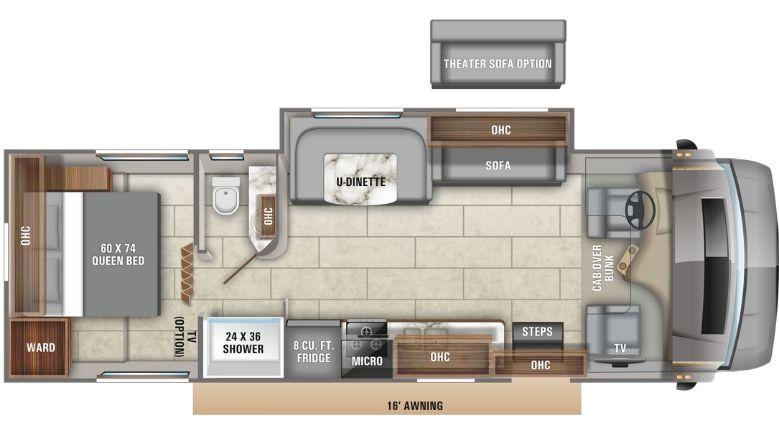 2020 Odyssey | 29K
---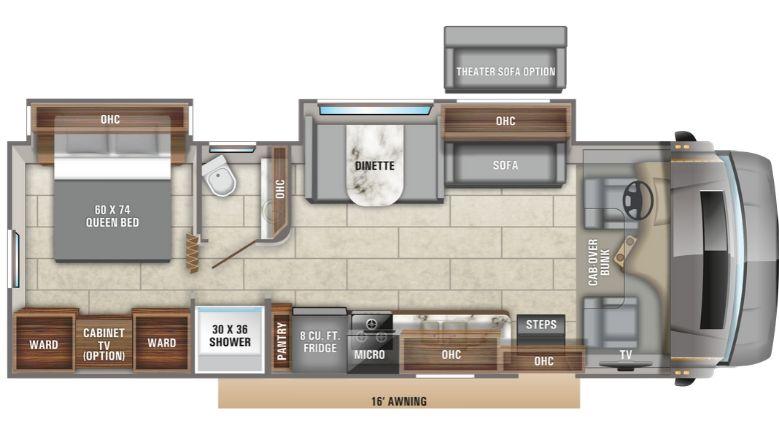 2020 Odyssey | 29V
---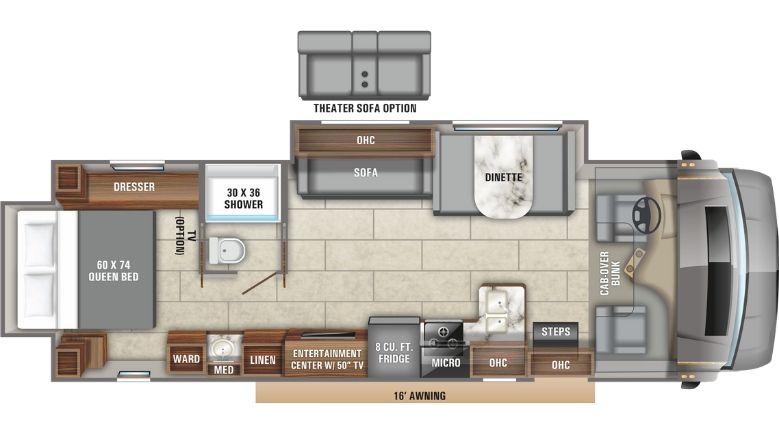 2020 Odyssey | 30Z
---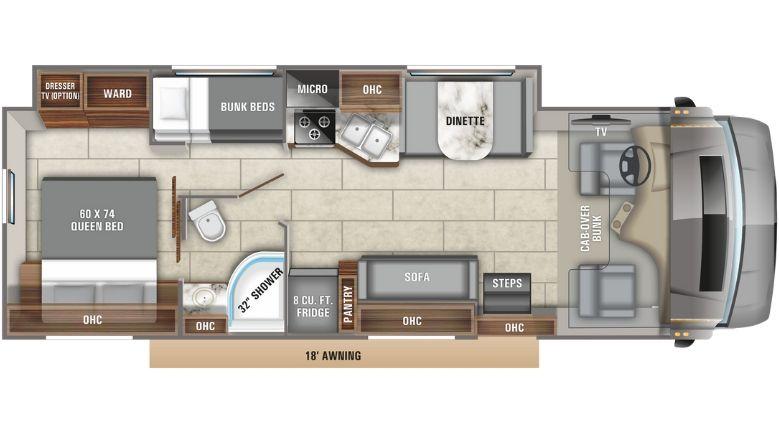 2020 Odyssey | 31F
---