THE QUIETEST RIDING, BEST HANDLING COACH ON THE MARKET TODAY. PERIOD.
EXPERIENCE THE INDULGENCE
Your luxury motorcoach journey starts here—experience the indulgence you've earned. With amenities such as porcelain tile flooring, LED lighting, and a Spartan Message Center with LCD display, experience the new Insignia with the integrity you know from Entegra Coach.
2017 Insignia
|

44B

Chassis and Engine Size: Cummins ISL 450 HP 8.9L Turbocharged Diesel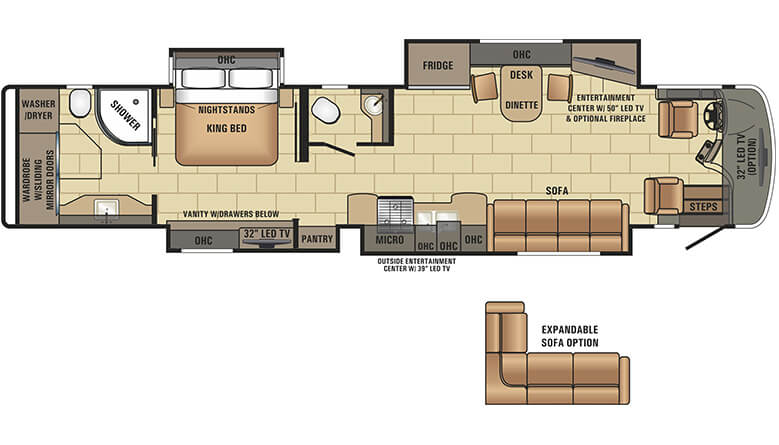 Specs
| | |
| --- | --- |
| Gross Vehicle Weight Rating (lbs) | 47,660 |
| Gross Combined Weight Rating (lbs) | 62,660 |
| Front Gross Axle Weight Rating (lbs) | 15,600 |
| Rear Gross Axle Weight Rating (lbs) | 20,000 |
| Tag Axle Gross Weight Rating (lbs) | 12,000 |
| Wheel Base | 320" |
| Exterior Length | 44' 11" |
| Exterior Height with A/C and Satellite | 12' 9" |
| Exterior Width | 101" |
| Interior Height | 84" |
| Fresh Water Capacity (gals) | 100 |
| Grey Waste Water Capacity (gals) | 62 |
| Black Waste Water (gals) | 41 |
2017 Insignia
|

44W

Chassis and Engine Size: Cummins ISL 450 HP 8.9L Turbocharged Diesel

Specs
| | |
| --- | --- |
| Gross Vehicle Weight Rating (lbs) | 47,660 |
| Gross Combined Weight Rating (lbs) | 62,660 |
| Front Gross Axle Weight Rating (lbs) | 15,600 |
| Rear Gross Axle Weight Rating (lbs) | 20,000 |
| Tag Axle Gross Weight Rating (lbs) | 12,000 |
| Wheel Base | 320" |
| Exterior Length | 44' 11" |
| Exterior Width | 101" |
| Interior Height | 84" |
| Exterior Height with A/C and Satellite | 12' 9" |
| Fresh Water Capacity (gals) | 100 |
| Grey Waste Water Capacity (gals) | 62 |
| Black Waste Water (gals) | 41 |
All Floorplans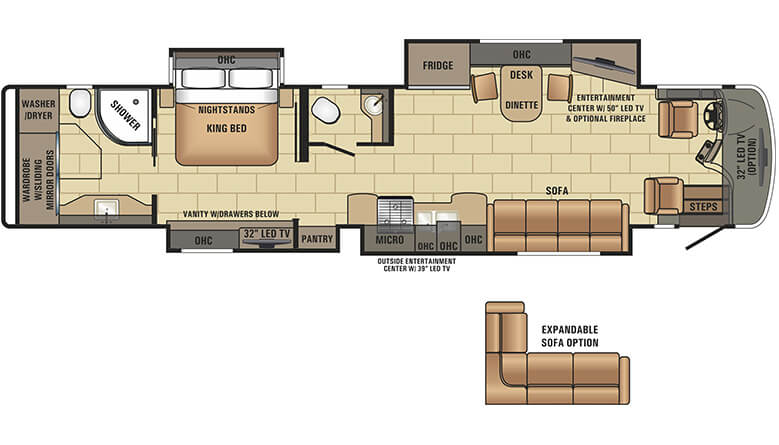 2017 Insignia | 44B
Chassis and Engine Size: Cummins ISL 450 HP 8.9L Turbocharged Diesel
---

2017 Insignia | 44W
Chassis and Engine Size: Cummins ISL 450 HP 8.9L Turbocharged Diesel
---