THE QUIETEST RIDING, BEST HANDLING COACH ON THE MARKET TODAY. PERIOD.
REWARD YOUR AMBITIONS
You've followed your aspirations and ambitions—it's time to reward yourself. Experience the Aspire and enjoy the amenities, including XITE G3 infotainment system, JBL premium audio sound system, and pulsing third brake light, to name a few. Take a deeper look and you'll see why this is the coach for which you've worked so hard.
2017 Aspire
|

38M

Chassis and Engine Size: Cummins ISL 450 HP 8.9L Turbocharged Diesel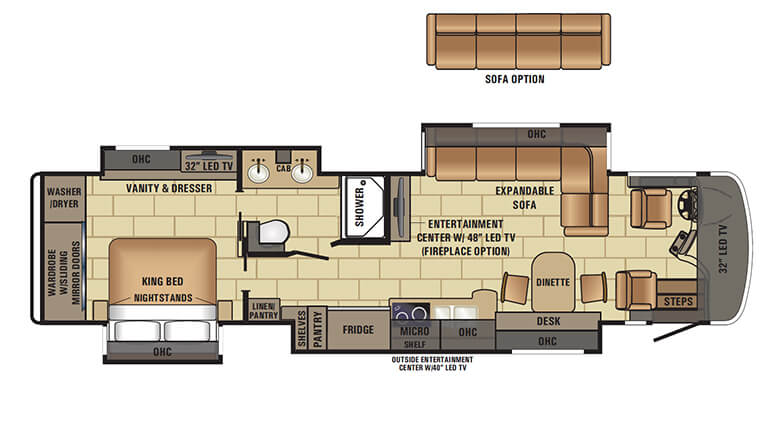 Specs
| | |
| --- | --- |
| Gross Vehicle Weight Rating (lbs) | 41,000 |
| Gross Combined Weight Rating (lbs) | 56,000 |
| Front Gross Axle Weight Rating (lbs) | 17,000 |
| Rear Gross Axle Weight Rating (lbs) | 24,000 |
| Tag Axle Gross Weight Rating (lbs) | N/A |
| Exterior Length | 40' 6" |
| Exterior Width | 101" |
| Exterior Height with A/C and Satellite | 12' 9" |
| Interior Height | 84" |
| Fresh Water Capacity (gals) | 100 |
| Grey Waste Water Capacity (gals) | 62 |
| Black Waste Water (gals) | 41 |
| Wheel Base | 261" |
2017 Aspire
|

40P

Chassis and Engine Size: Cummins ISL 450 HP 8.9L Turbocharged Diesel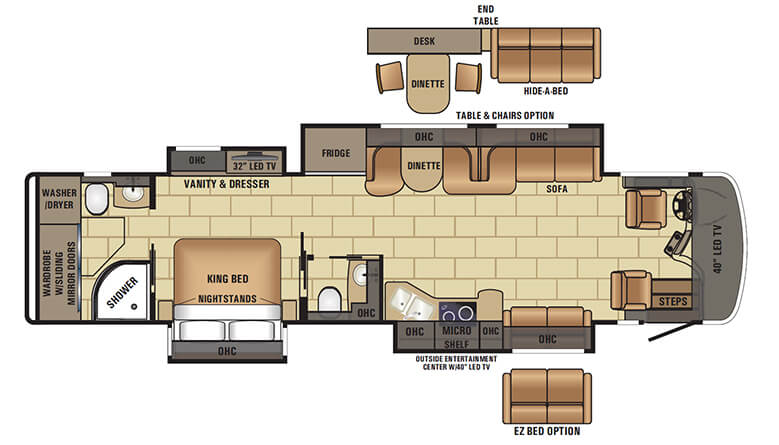 Specs
| | |
| --- | --- |
| Gross Vehicle Weight Rating (lbs) | 41,000 |
| Gross Combined Weight Rating (lbs) | 56,000 |
| Front Gross Axle Weight Rating (lbs) | 17,000 |
| Rear Gross Axle Weight Rating (lbs) | 24,000 |
| Tag Axle Gross Weight Rating (lbs) | N/A |
| Exterior Length | 40' 6" |
| Exterior Width | 101" |
| Exterior Height with A/C and Satellite | 12' 9" |
| Interior Height | 84" |
| Fresh Water Capacity (gals) | 100 |
| Grey Waste Water Capacity (gals) | 62 |
| Black Waste Water (gals) | 41 |
| Wheel Base | 261" |
2017 Aspire
|

42DEQ

Chassis and Engine Size: Cummins ISL 450 HP 8.9L Turbocharged Diesel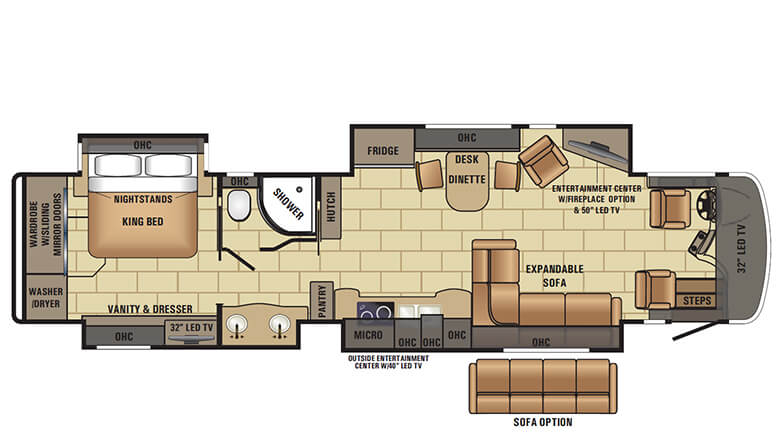 Specs
| | |
| --- | --- |
| Gross Vehicle Weight Rating (lbs) | 49,000 |
| Gross Combined Weight Rating (lbs) | 64,000 |
| Front Gross Axle Weight Rating (lbs) | 17,000 |
| Rear Gross Axle Weight Rating (lbs) | 20,000 |
| Tag Axle Gross Weight Rating (lbs) | 12,000 |
| Exterior Length | 43' 2" |
| Exterior Width | 101" |
| Exterior Height with A/C and Satellite | 12' 9" |
| Interior Height | 84" |
| Fresh Water Capacity (gals) | 100 |
| Grey Waste Water Capacity (gals) | 62 |
| Black Waste Water (gals) | 41 |
| Wheel Base | 296" |
2017 Aspire
|

42RBQ

Chassis and Engine Size: Cummins ISL 450 HP 8.9L Turbocharged Diesel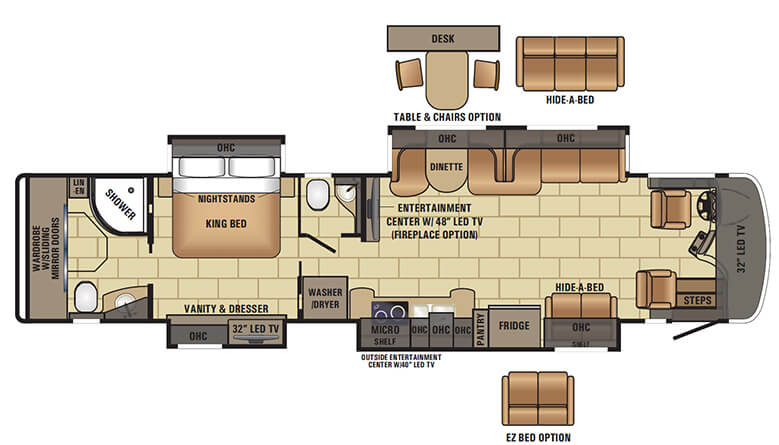 Specs
| | |
| --- | --- |
| Gross Vehicle Weight Rating (lbs) | 49,000 |
| Gross Combined Weight Rating (lbs) | 64,000 |
| Front Gross Axle Weight Rating (lbs) | 17,000 |
| Rear Gross Axle Weight Rating (lbs) | 20,000 |
| Tag Axle Gross Weight Rating (lbs) | 12,000 |
| Exterior Length | 43' 2" |
| Exterior Width | 101" |
| Exterior Height with A/C and Satellite | 12' 9" |
| Interior Height | 84" |
| Fresh Water Capacity (gals) | 100 |
| Grey Waste Water Capacity (gals) | 62 |
| Black Waste Water (gals) | 41 |
| Wheel Base | 296" |
2017 Aspire
|

44B

Chassis and Engine Size: Cummins ISL 450 HP 8.9L Turbocharged Diesel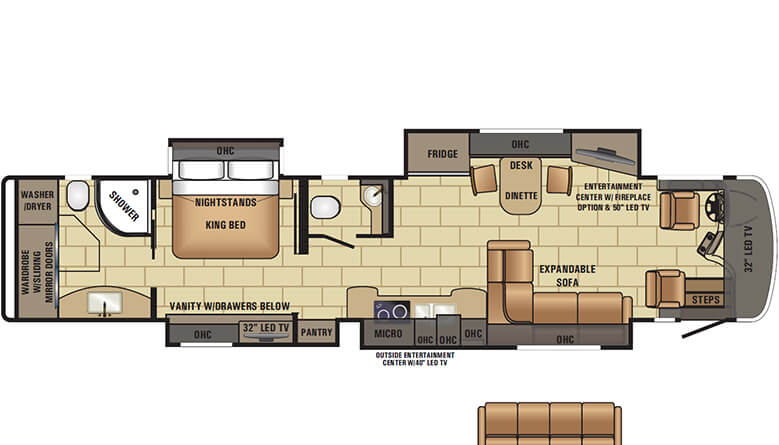 Specs
| | |
| --- | --- |
| Gross Vehicle Weight Rating (lbs) | 49,000 |
| Gross Combined Weight Rating (lbs) | 64,000 |
| Front Gross Axle Weight Rating (lbs) | 17,000 |
| Rear Gross Axle Weight Rating (lbs) | 20,000 |
| Tag Axle Gross Weight Rating (lbs) | 12,000 |
| Exterior Length | 44' 11" |
| Exterior Width | 101" |
| Exterior Height with A/C and Satellite | 12' 9" |
| Interior Height | 84" |
| Fresh Water Capacity (gals) | 100 |
| Grey Waste Water Capacity (gals) | 62 |
| Black Waste Water (gals) | 41 |
| Wheel Base | 320" |
2017 Aspire
|

44R

Chassis and Engine Size: Cummins ISL 450 HP 8.9L Turbocharged Diesel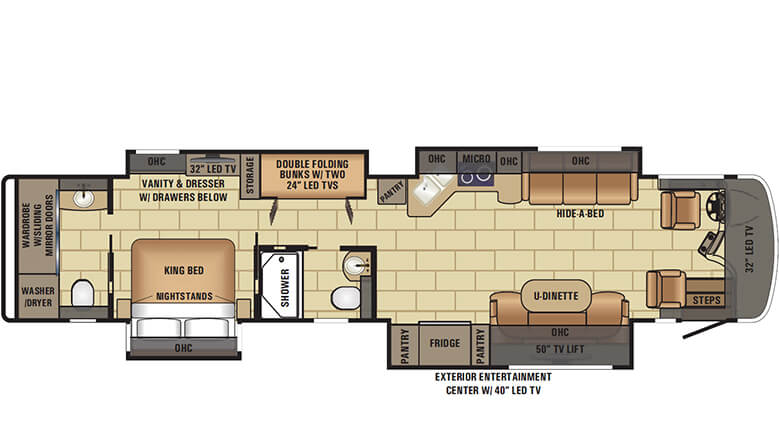 Specs
| | |
| --- | --- |
| Gross Vehicle Weight Rating (lbs) | 49,000 |
| Gross Combined Weight Rating (lbs) | 64,000 |
| Front Gross Axle Weight Rating (lbs) | 17,000 |
| Rear Gross Axle Weight Rating (lbs) | 20,000 |
| Tag Axle Gross Weight Rating (lbs) | 12,000 |
| Exterior Length | 44' 11" |
| Exterior Width | 101" |
| Exterior Height with A/C and Satellite | 12' 9" |
| Interior Height | 84" |
| Fresh Water Capacity (gals) | 100 |
| Grey Waste Water Capacity (gals) | 62 |
| Black Waste Water (gals) | 41 |
| Wheel Base | 320" |
2017 Aspire
|

44U

Chassis and Engine Size: Cummins ISL 450 HP 8.9L Turbocharged Diesel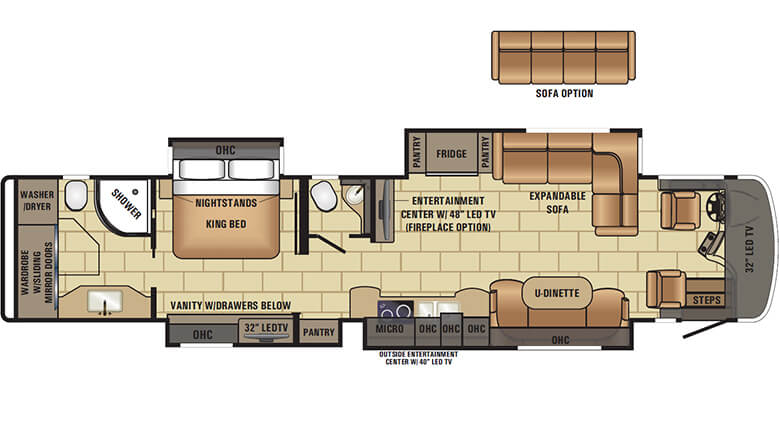 Specs
| | |
| --- | --- |
| Gross Vehicle Weight Rating (lbs) | 49,000 |
| Gross Combined Weight Rating (lbs) | 64,000 |
| Front Gross Axle Weight Rating (lbs) | 17,000 |
| Rear Gross Axle Weight Rating (lbs) | 20,000 |
| Tag Axle Gross Weight Rating (lbs) | 12,000 |
| Exterior Length | 44' 11" |
| Exterior Width | 101" |
| Exterior Height with A/C and Satellite | 12' 9" |
| Interior Height | 84" |
| Fresh Water Capacity (gals) | 100 |
| Grey Waste Water Capacity (gals) | 62 |
| Black Waste Water (gals) | 41 |
| Wheel Base | 320" |
2017 Aspire
|

44W

Chassis and Engine Size: Cummins ISL 450 HP 8.9L Turbocharged Diesel

Specs
| | |
| --- | --- |
| Gross Vehicle Weight Rating (lbs) | 49,000 |
| Gross Combined Weight Rating (lbs) | 64,000 |
| Front Gross Axle Weight Rating (lbs) | 17,000 |
| Rear Gross Axle Weight Rating (lbs) | 20,000 |
| Tag Axle Gross Weight Rating (lbs) | 12,000 |
| Exterior Length | 44' 11" |
| Exterior Width | 101" |
| Exterior Height with A/C and Satellite | 153" |
| Interior Height | 84" |
| Fresh Water Capacity (gals) | 100 |
| Grey Waste Water Capacity (gals) | 62 |
| Black Waste Water (gals) | 41 |
| Wheel Base | 320" |
All Floorplans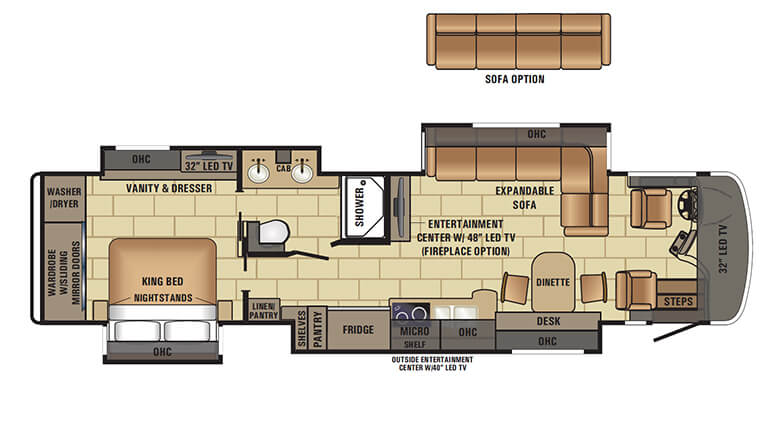 2017 Aspire | 38M
Chassis and Engine Size: Cummins ISL 450 HP 8.9L Turbocharged Diesel
---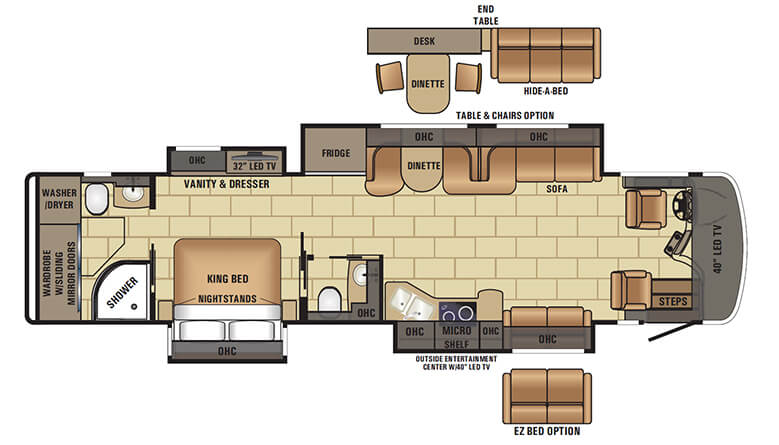 2017 Aspire | 40P
Chassis and Engine Size: Cummins ISL 450 HP 8.9L Turbocharged Diesel
---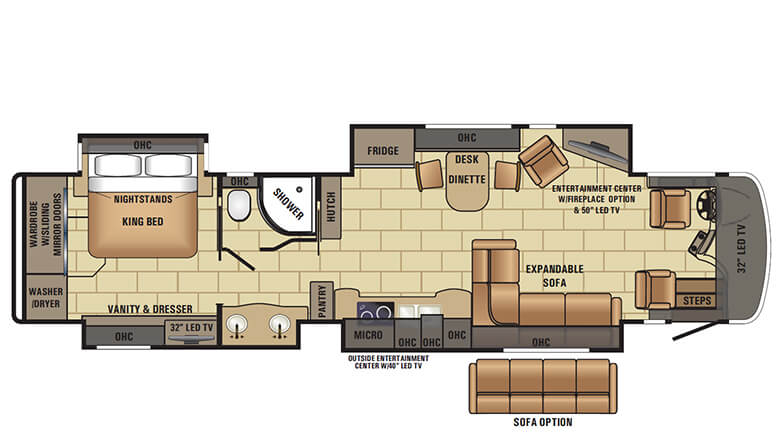 2017 Aspire | 42DEQ
Chassis and Engine Size: Cummins ISL 450 HP 8.9L Turbocharged Diesel
---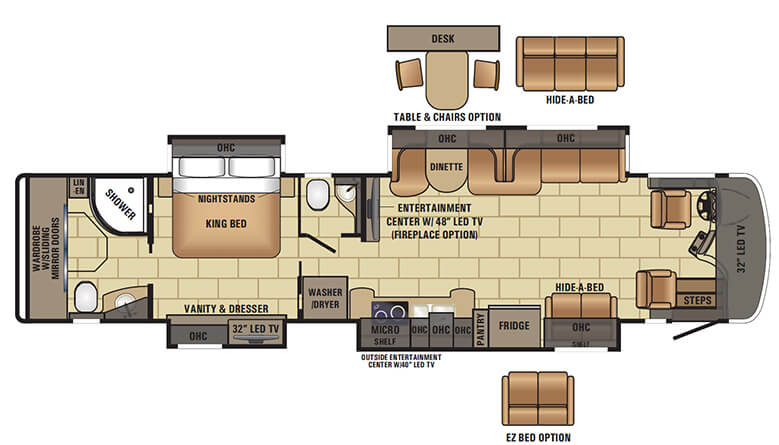 2017 Aspire | 42RBQ
Chassis and Engine Size: Cummins ISL 450 HP 8.9L Turbocharged Diesel
---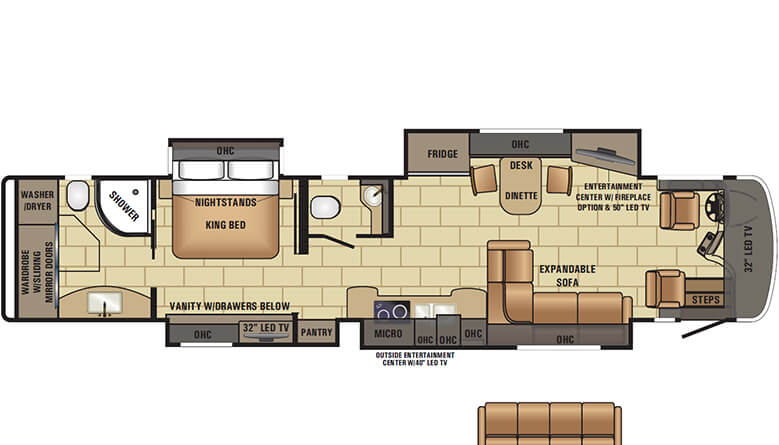 2017 Aspire | 44B
Chassis and Engine Size: Cummins ISL 450 HP 8.9L Turbocharged Diesel
---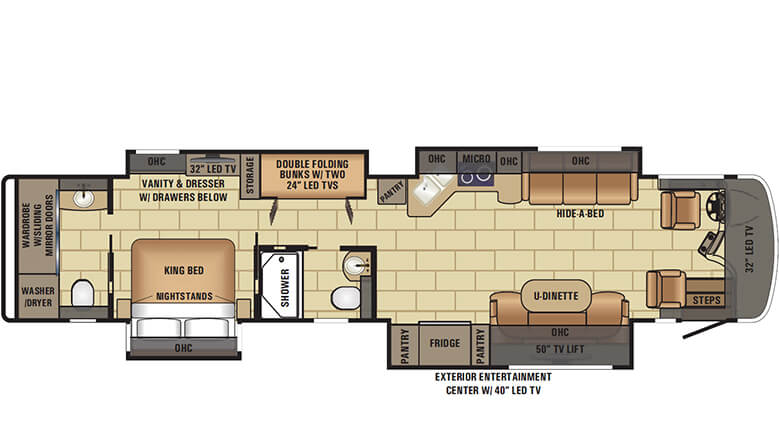 2017 Aspire | 44R
Chassis and Engine Size: Cummins ISL 450 HP 8.9L Turbocharged Diesel
---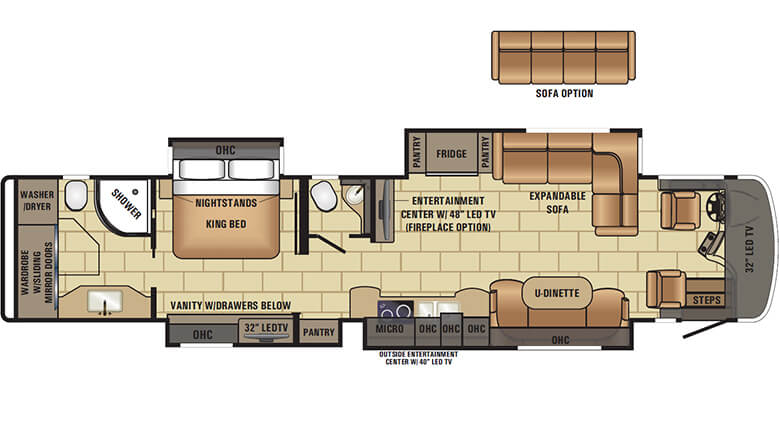 2017 Aspire | 44U
Chassis and Engine Size: Cummins ISL 450 HP 8.9L Turbocharged Diesel
---

2017 Aspire | 44W
Chassis and Engine Size: Cummins ISL 450 HP 8.9L Turbocharged Diesel
---