THE QUIETEST RIDING, BEST HANDLING COACH ON THE MARKET TODAY. PERIOD.
YOUR WELL-EARNED ACCOLADE
In the Anthem luxury coach, you'll reward yourself with what you've worked so hard for. With dual rear cameras and industry firsts such as En-telligent Vegatouch pad system and En-telligent Blind Spot Monitoring system, you will enjoy driving this motorcoach as you experience the sights through the Ultra-Vision wrap-around windshield.
2017 Anthem
|

42DEQ

Chassis and Engine Size: Cummins ISL 450 HP 8.9L Turbocharged Diesel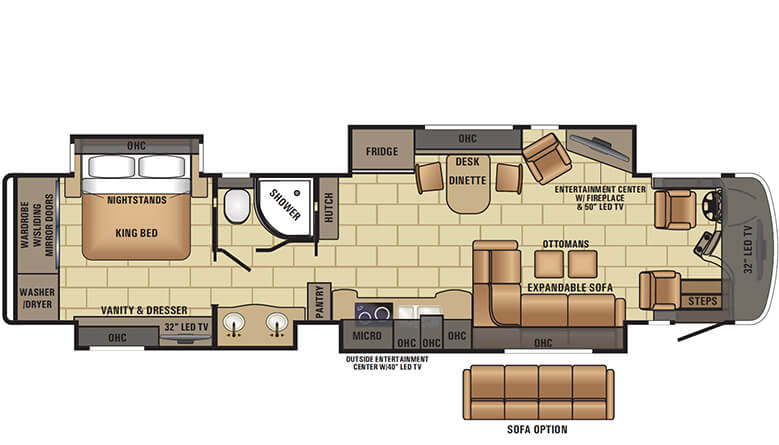 Specs
| | |
| --- | --- |
| Gross Vehicle Weight Rating (lbs) | 49,000 |
| Gross Combined Weight Rating (lbs) | 64,000 |
| Front Gross Axle Weight Rating (lbs) | 17,000 |
| Rear Gross Axle Weight Rating (lbs) | 20,000 |
| Tag Axle Gross Weight Rating (lbs) | 12,000 |
| Exterior Length | 43' 1" |
| Exterior Width | 101" |
| Exterior Height with A/C and Satellite | 12' 9" |
| Interior Height | 84" |
| Fresh Water Capacity (gals) | 100 |
| Grey Waste Water Capacity (gals) | 62 |
| Black Waste Water (gals) | 41 |
| Wheel Base | 296" |
2017 Anthem
|

42RBQ

Chassis and Engine Size: Cummins ISL 450 HP 8.9L Turbocharged Diesel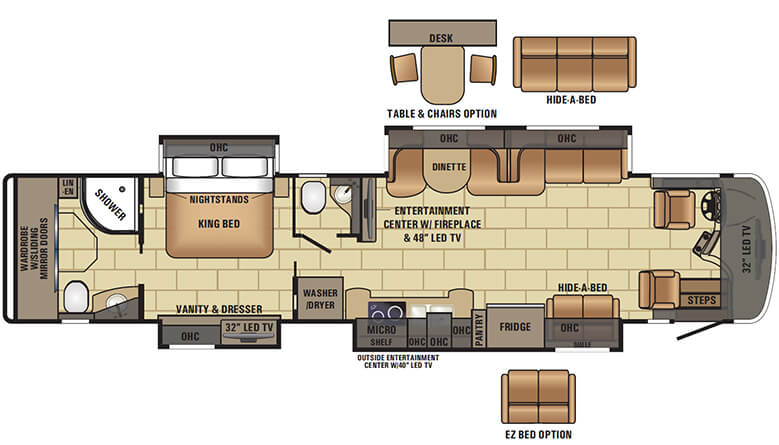 Specs
| | |
| --- | --- |
| Gross Vehicle Weight Rating (lbs) | 49,000 |
| Gross Combined Weight Rating (lbs) | 64,000 |
| Front Gross Axle Weight Rating (lbs) | 17,000 |
| Rear Gross Axle Weight Rating (lbs) | 20,000 |
| Tag Axle Gross Weight Rating (lbs) | 12,000 |
| Exterior Length | 43' 1" |
| Exterior Width | 101" |
| Exterior Height with A/C and Satellite | 12' 9" |
| Interior Height | 84" |
| Fresh Water Capacity (gals) | 100 |
| Grey Waste Water Capacity (gals) | 62 |
| Black Waste Water (gals) | 41 |
| Wheel Base | 296" |
2017 Anthem
|

44A

Chassis and Engine Size: Cummins ISL 450 HP 8.9L Turbocharged Diesel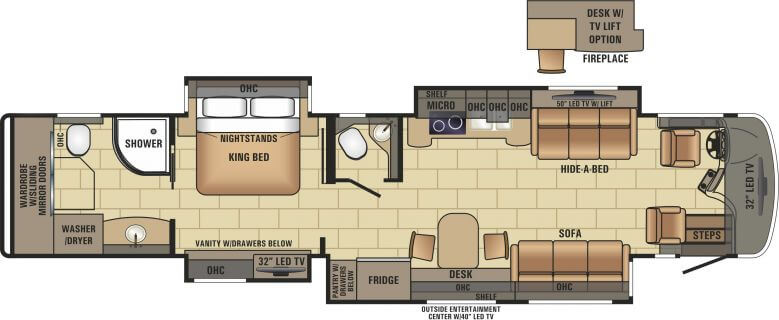 Specs
| | |
| --- | --- |
| Gross Vehicle Weight Rating (lbs) | 49,000 |
| Gross Combined Weight Rating (lbs) | 64,000 |
| Front Gross Axle Weight Rating (lbs) | 17,000 |
| Rear Gross Axle Weight Rating (lbs) | 20,000 |
| Tag Axle Gross Weight Rating (lbs) | 12,000 |
| Exterior Length | 44' 11" |
| Exterior Width | 101" |
| Exterior Height with A/C and Satellite | 12' 9" |
| Interior Height | 84" |
| Fresh Water Capacity (gals) | 100 |
| Grey Waste Water Capacity (gals) | 62 |
| Black Waste Water (gals) | 41 |
| Wheel Base | 320" |
2017 Anthem
|

44B

Chassis and Engine Size: Cummins ISL 450 HP 8.9L Turbocharged Diesel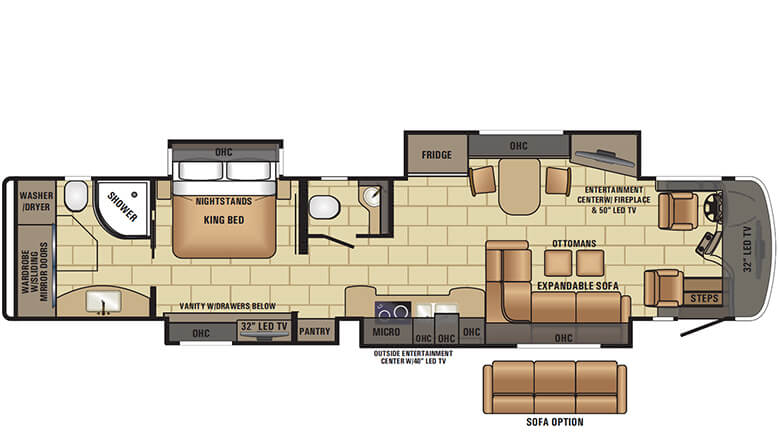 Specs
| | |
| --- | --- |
| Gross Vehicle Weight Rating (lbs) | 49,000 |
| Gross Combined Weight Rating (lbs) | 64,000 |
| Front Gross Axle Weight Rating (lbs) | 17,000 |
| Rear Gross Axle Weight Rating (lbs) | 20,000 |
| Tag Axle Gross Weight Rating (lbs) | 12,000 |
| Exterior Length | 44' 11" |
| Exterior Width | 101" |
| Exterior Height with A/C and Satellite | 12' 9" |
| Interior Height | 84" |
| Fresh Water Capacity (gals) | 100 |
| Grey Waste Water Capacity (gals) | 62 |
| Black Waste Water (gals) | 41 |
| Wheel Base | 320" |
2017 Anthem
|

44DLQ

Chassis and Engine Size: Cummins ISL 450 HP 8.9L Turbocharged Diesel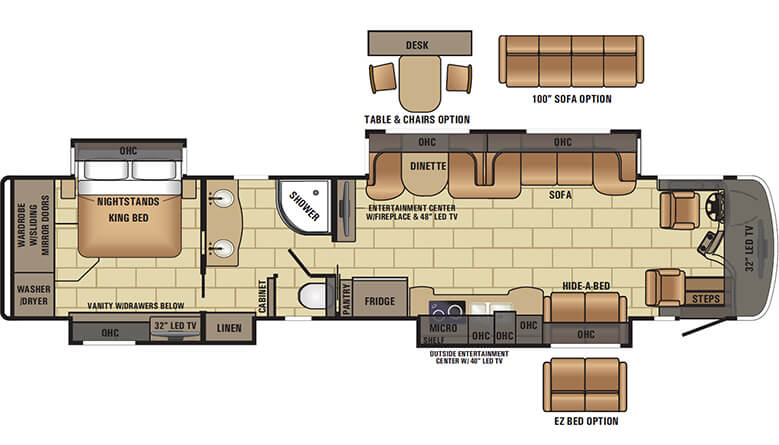 Specs
| | |
| --- | --- |
| Gross Vehicle Weight Rating (lbs) | 49,000 |
| Gross Combined Weight Rating (lbs) | 64,000 |
| Front Gross Axle Weight Rating (lbs) | 17,000 |
| Rear Gross Axle Weight Rating (lbs) | 20,000 |
| Tag Axle Gross Weight Rating (lbs) | 12,000 |
| Exterior Length | 44' 11" |
| Exterior Width | 101" |
| Exterior Height with A/C and Satellite | 12' 9" |
| Interior Height | 84" |
| Fresh Water Capacity (gals) | 100 |
| Grey Waste Water Capacity (gals) | 62 |
| Black Waste Water (gals) | 41 |
| Wheel Base | 320" |
All Floorplans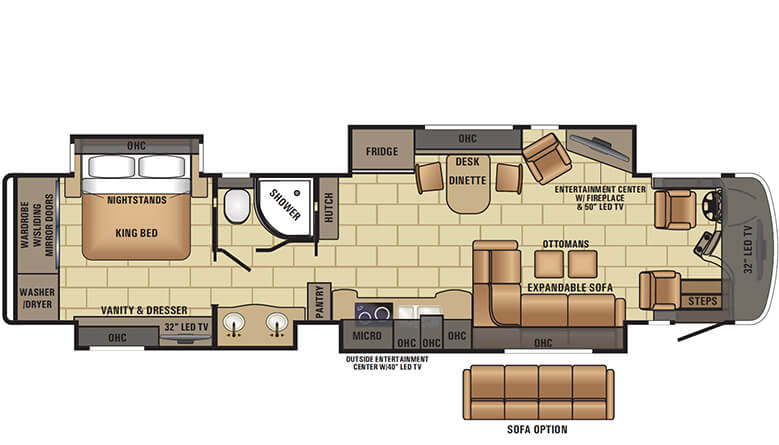 2017 Anthem | 42DEQ
Chassis and Engine Size: Cummins ISL 450 HP 8.9L Turbocharged Diesel
---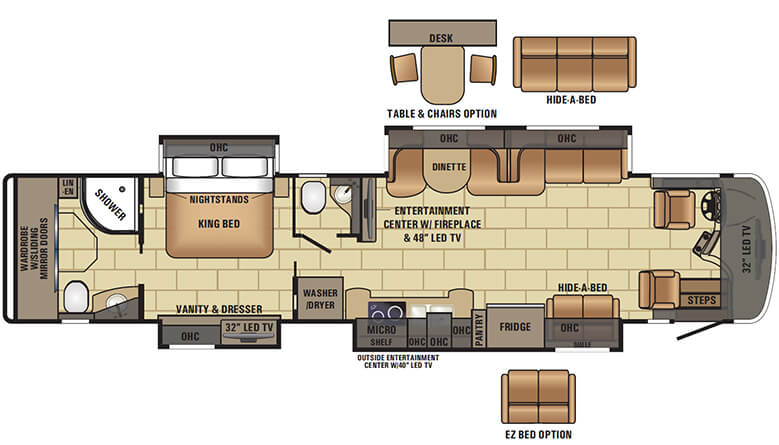 2017 Anthem | 42RBQ
Chassis and Engine Size: Cummins ISL 450 HP 8.9L Turbocharged Diesel
---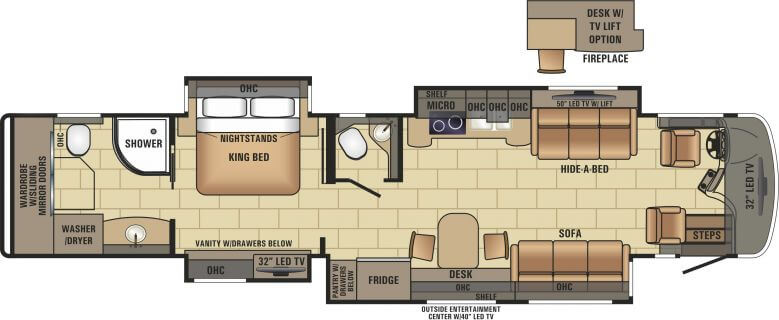 2017 Anthem | 44A
Chassis and Engine Size: Cummins ISL 450 HP 8.9L Turbocharged Diesel
---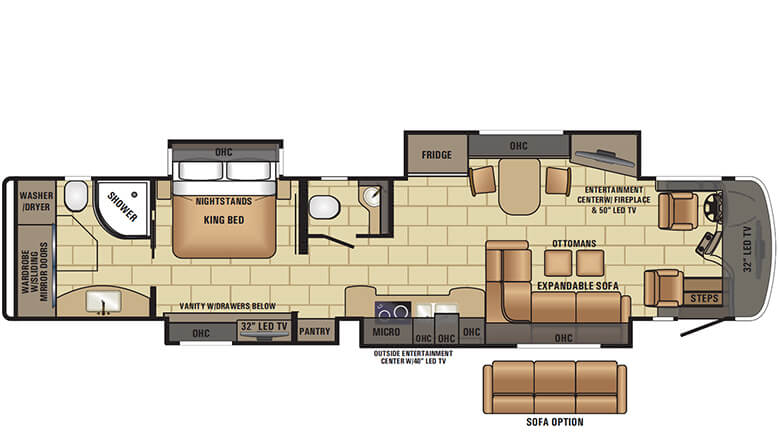 2017 Anthem | 44B
Chassis and Engine Size: Cummins ISL 450 HP 8.9L Turbocharged Diesel
---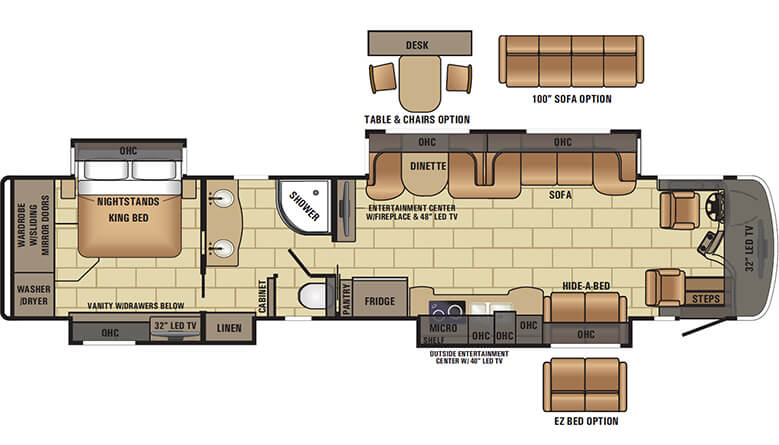 2017 Anthem | 44DLQ
Chassis and Engine Size: Cummins ISL 450 HP 8.9L Turbocharged Diesel
---