A higher class of Class A

THE QUIETEST RIDING, BEST HANDLING COACH ON THE MARKET TODAY. PERIOD.
Experience excellence
Crafting a luxury coach is an art—and the Cornerstone is our masterpiece. In it, power meets opulence for a combination that's sure to turn heads. In fact, the only thing more invigorating than the journey itself is the attention you'll draw in the process.
2016 Cornerstone
|

45A

Chassis and Engine Size: Cummins ISX 15LTR 600HP VG Turocharged Diesel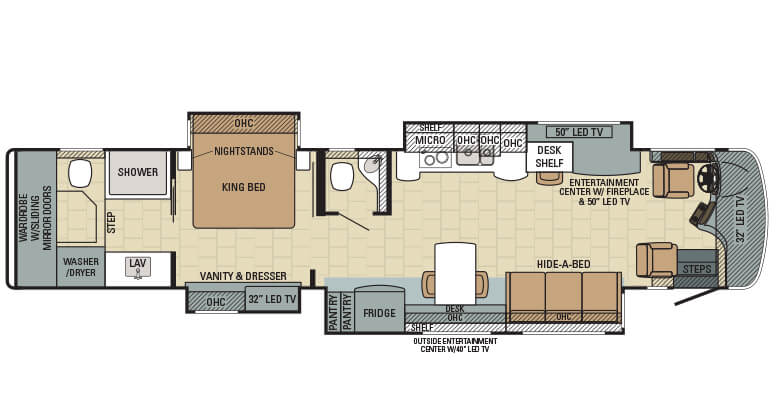 Specs
| | |
| --- | --- |
| Exterior Length | 44' 11" |
| Exterior Width | 101" |
| Exterior Height with A/C and Satellite | 155" |
| Interior Height | 84" |
| Gross Vehicle Weight Rating (lbs) | 54,000 |
| Gross Combined Weight Rating (lbs) | 74,000 |
| Front Gross Axle Weight Rating (lbs) | 20,000 |
| Rear Gross Axle Weight Rating (lbs) | 20,000 |
| Tag Axle Gross Weight Rating (lbs) | 14,000 |
| Wheel Base | 320" |
| Furnace (BTU Output) | 65,600 Aqua-Hot |
| Fuel Tank Capacity (gals) | 150 |
| Fresh Water Capacity (gals) | 100 |
| Grey Waste Water Capacity (gals) | 62 |
| Black Waste Water (gals) | 41 |
2016 Cornerstone
|

45B

Chassis and Engine Size: Cummins ISX 15LTR 600HP VG Turocharged Diesel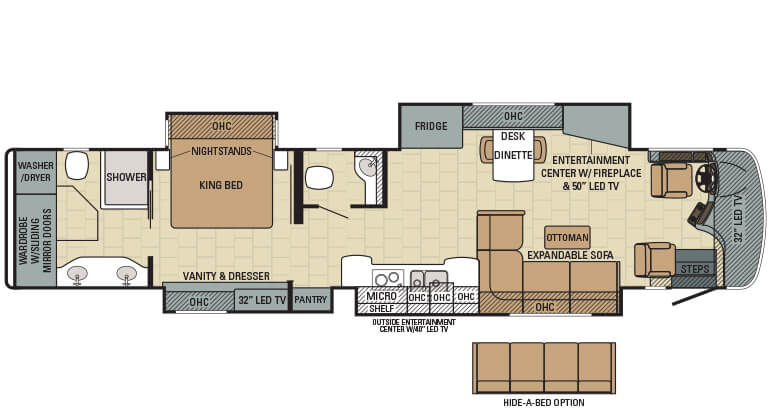 Specs
| | |
| --- | --- |
| Gross Vehicle Weight Rating (lbs) | 54,000 |
| Gross Combined Weight Rating (lbs) | 74,000 |
| Front Gross Axle Weight Rating (lbs) | 20,000 |
| Rear Gross Axle Weight Rating (lbs) | 20,000 |
| Tag Axle Gross Weight Rating (lbs) | 14,000 |
| Exterior Length | 44' 11" |
| Exterior Width | 101" |
| Exterior Height with A/C and Satellite | 155" |
| Interior Height | 84" |
| Fresh Water Capacity (gals) | 100 |
| Grey Waste Water Capacity (gals) | 62 |
| Black Waste Water (gals) | 41 |
| Fuel Tank Capacity (gals) | 150 |
| Furnace (BTU Output) | 65,600 Aqua-Hot |
| Furnace (BTU Output) | 65,600 Aqua-Hot |
| Wheel Base | 320" |
2016 Cornerstone
|

45J

Chassis and Engine Size: Cummins ISX 15LTR 600HP VG Turocharged Diesel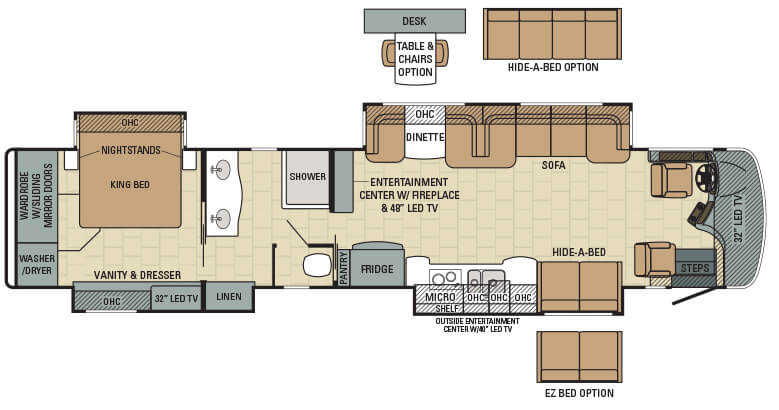 Specs
| | |
| --- | --- |
| Gross Vehicle Weight Rating (lbs) | 54,000 |
| Gross Combined Weight Rating (lbs) | 74,000 |
| Front Gross Axle Weight Rating (lbs) | 20,000 |
| Rear Gross Axle Weight Rating (lbs) | 20,000 |
| Tag Axle Gross Weight Rating (lbs) | 14,000 |
| Exterior Length | 44' 11" |
| Exterior Width | 101" |
| Exterior Height with A/C and Satellite | 155" |
| Interior Height | 84" |
| Fresh Water Capacity (gals) | 100 |
| Grey Waste Water Capacity (gals) | 62 |
| Black Waste Water (gals) | 41 |
| Fuel Tank Capacity (gals) | 150 |
| Furnace (BTU Output) | 65,600 Aqua-Hot |
| Wheel Base | 320" |
2016 Cornerstone
|

45K

Chassis and Engine Size: Cummins ISX 15LTR 600HP VG Turocharged Diesel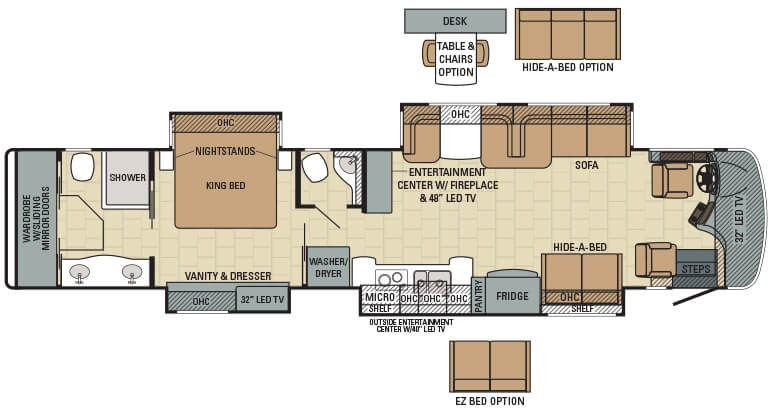 Specs
| | |
| --- | --- |
| Gross Vehicle Weight Rating (lbs) | 54,000 |
| Gross Combined Weight Rating (lbs) | 74,000 |
| Front Gross Axle Weight Rating (lbs) | 20,000 |
| Rear Gross Axle Weight Rating (lbs) | 20,000 |
| Tag Axle Gross Weight Rating (lbs) | 14,000 |
| Exterior Length | 44' 11" |
| Exterior Width | 101" |
| Exterior Height with A/C and Satellite | 155" |
| Interior Height | 84" |
| Fresh Water Capacity (gals) | 100 |
| Grey Waste Water Capacity (gals) | 62 |
| Black Waste Water (gals) | 41 |
| Fuel Tank Capacity (gals) | 150 |
| Furnace (BTU Output) | 65,600 Aqua-Hot |
| Wheel Base | 320" |
All Floorplans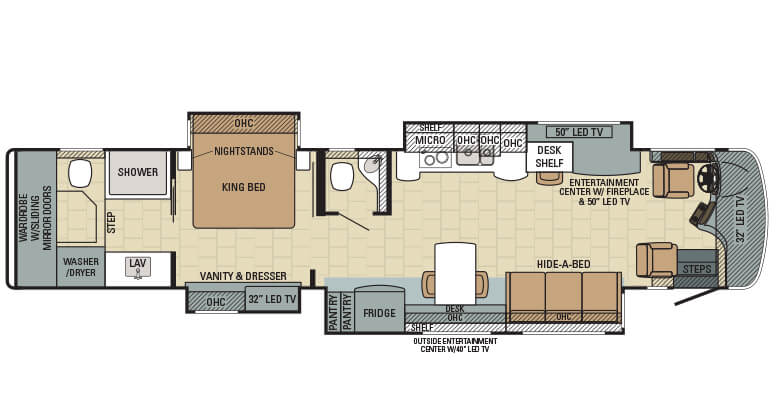 2016 Cornerstone | 45A
Chassis and Engine Size: Cummins ISX 15LTR 600HP VG Turocharged Diesel
---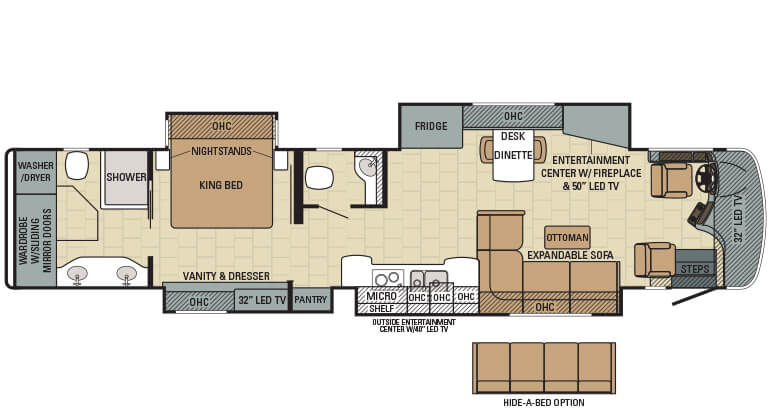 2016 Cornerstone | 45B
Chassis and Engine Size: Cummins ISX 15LTR 600HP VG Turocharged Diesel
---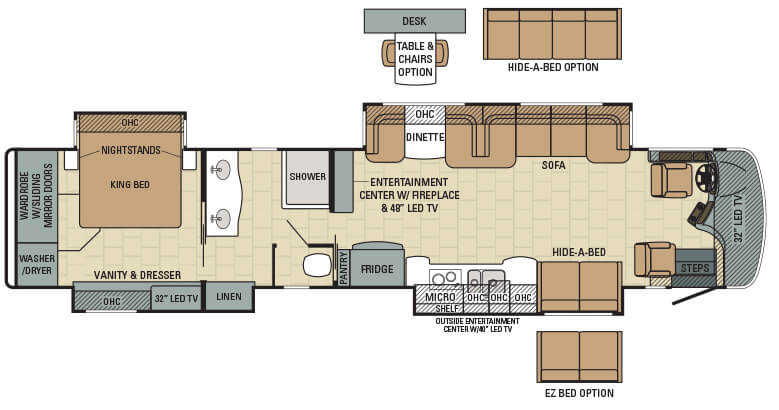 2016 Cornerstone | 45J
Chassis and Engine Size: Cummins ISX 15LTR 600HP VG Turocharged Diesel
---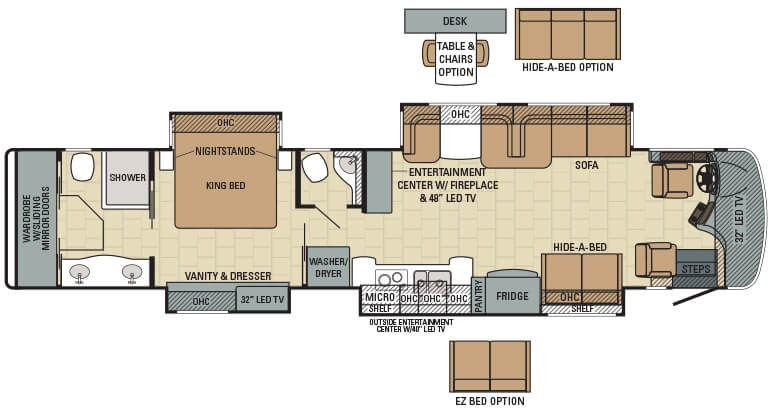 2016 Cornerstone | 45K
Chassis and Engine Size: Cummins ISX 15LTR 600HP VG Turocharged Diesel
---