THE QUIETEST RIDING, BEST HANDLING COACH ON THE MARKET TODAY. PERIOD.
Transform your journey with Entegra Coach's Accolade XL diesel class c motorhome - an embodiment of refinement, power and comfort.
Our most luxurious Super Class C, the 2024 Accolade XL features all solid hardwood cabinetry and stiles throughout with deluxe hidden hinges, an Aquahot heating system with electric floor heat and the Firefly Total Coach Control System with a 7-inch touchscreen and app integration.
Luxury extends to the Accolade XL's exterior with Girard Nova roof-mounted, integrated awnings and an exterior entertainment center featuring outside speakers, an LED TV mounted on a swivel bracket and an AM/FM radio. Built on the Freightliner S2RV chassis and equipped with E-Z Drive Premier, the Accolade XL offers a smooth and carefree adventure.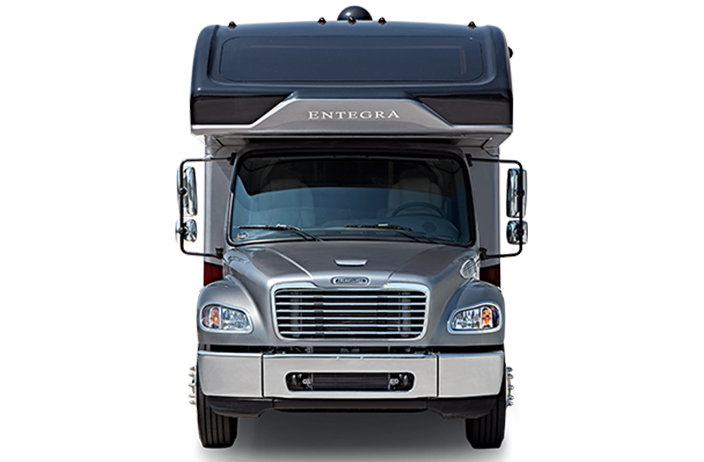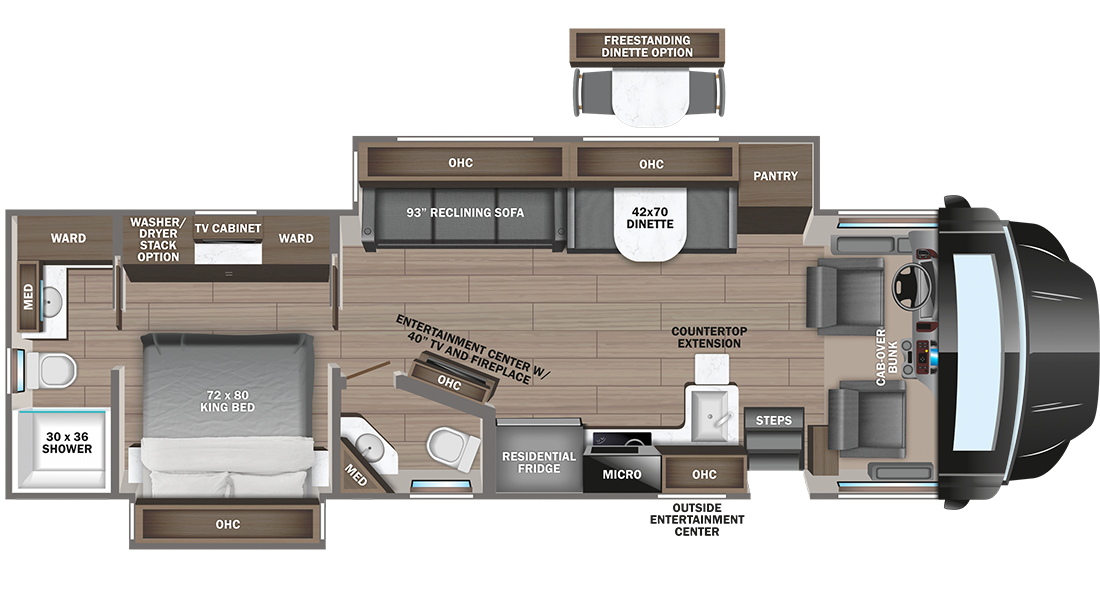 Specs
| | |
| --- | --- |
| Gross Vehicle Weight Rating (lbs) | 31,000 |
| Gross Combined Weight Rating (lbs) | 43,000 |
| Front Gross Axle Weight Rating (lbs) | 10,000 |
| Rear Gross Axle Weight Rating (lbs) | 21,000 |
| Exterior Length | 39' 4" |
| Exterior Width | 101" |
| Exterior Height with A/C and Satellite | 13' 4" |
| Interior Height | 84" |
| Fresh Water Capacity (gals) | 72 |
| Grey Waste Water Capacity (gals) | 51/40 |
| Black Waste Water (gals) | 40/23 |
| Fuel Tank Capacity (gals) | 100 |
| Furnace (BTU Output) | 40,000 Aqua-Hot |
| Wheel Base | 279" |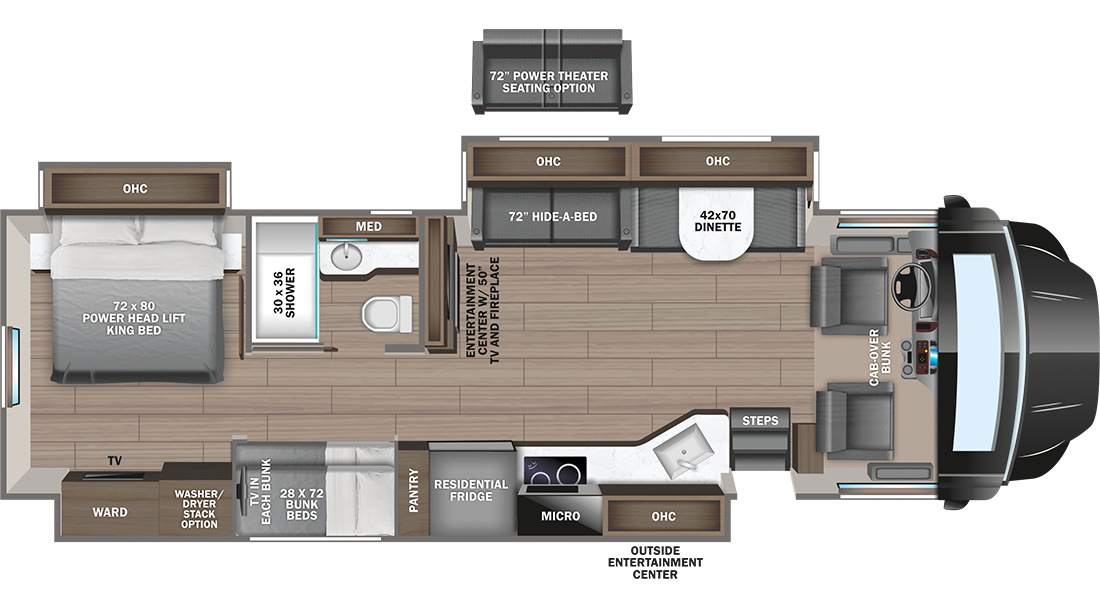 Specs
| | |
| --- | --- |
| Gross Vehicle Weight Rating (lbs) | 31,000 |
| Gross Combined Weight Rating (lbs) | 43,000 |
| Front Gross Axle Weight Rating (lbs) | 10,000 |
| Rear Gross Axle Weight Rating (lbs) | 21,000 |
| Exterior Length | 39' 4" |
| Exterior Width | 101" |
| Exterior Height with A/C and Satellite | 13' 4" |
| Interior Height | 84" |
| Fresh Water Capacity (gals) | 72 |
| Grey Waste Water Capacity (gals) | 50/31 |
| Black Waste Water (gals) | 50 |
| Fuel Tank Capacity (gals) | 100 |
| Furnace (BTU Output) | 40,000 Aqua-Hot |
| Wheel Base | 279" |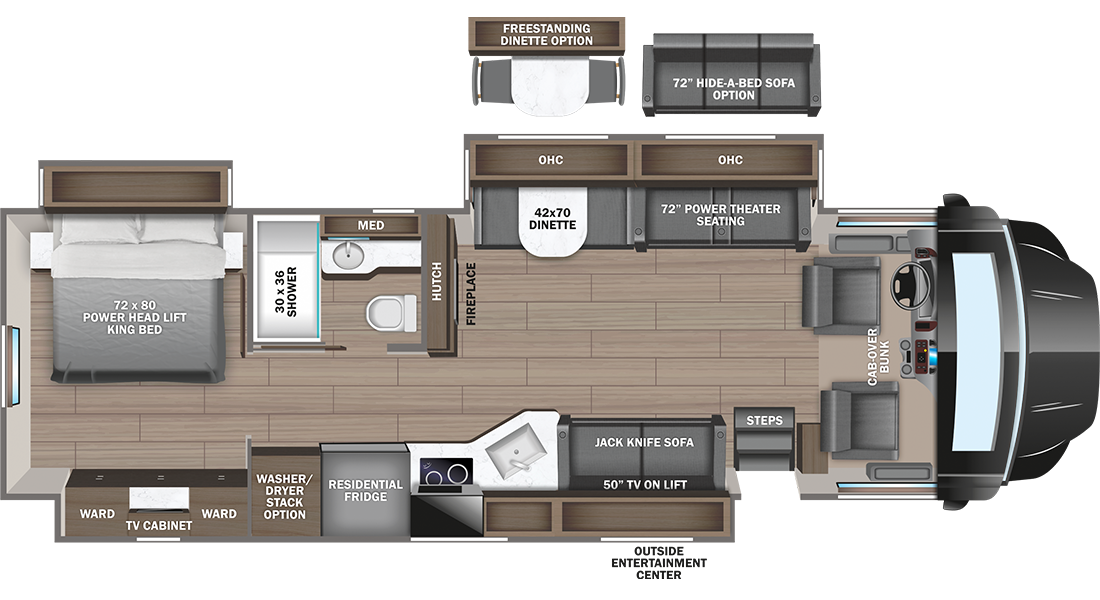 Specs
| | |
| --- | --- |
| Gross Vehicle Weight Rating (lbs) | 31,000 |
| Gross Combined Weight Rating (lbs) | 43,000 |
| Front Gross Axle Weight Rating (lbs) | 10,000 |
| Rear Gross Axle Weight Rating (lbs) | 21,000 |
| Exterior Length | 39' 4" |
| Exterior Width | 101" |
| Exterior Height with A/C and Satellite | 13' 4" |
| Interior Height | 84" |
| Fresh Water Capacity (gals) | 72 |
| Grey Waste Water Capacity (gals) | 40/40 |
| Black Waste Water (gals) | 33/23 |
| Fuel Tank Capacity (gals) | 100 |
| Furnace (BTU Output) | 40,000 Aqua-Hot |
| Wheel Base | 279" |
All Floorplans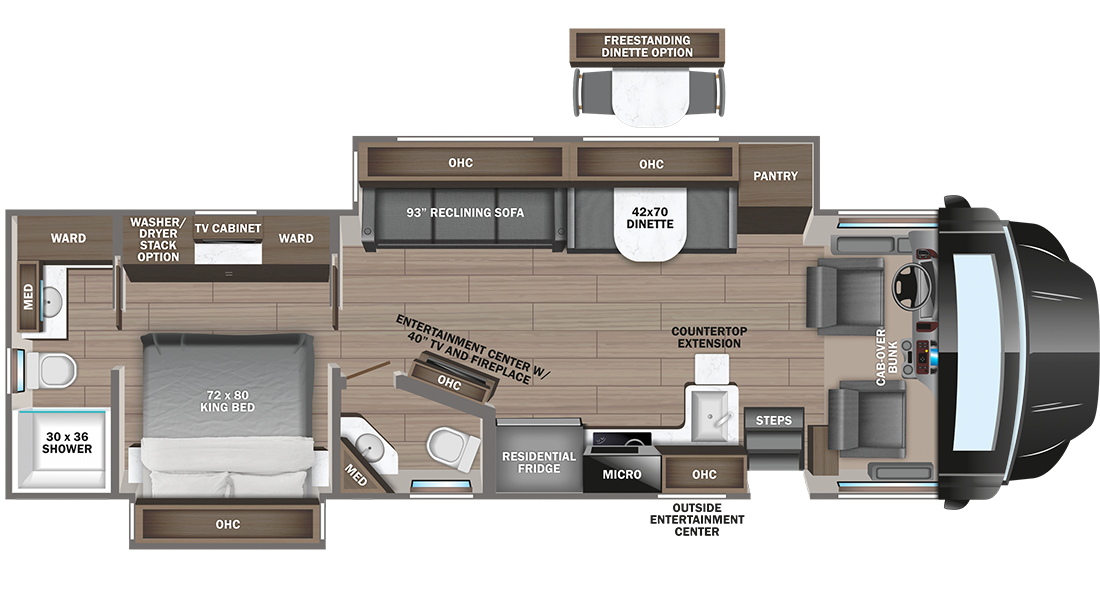 2024 Accolade XL | 37K
---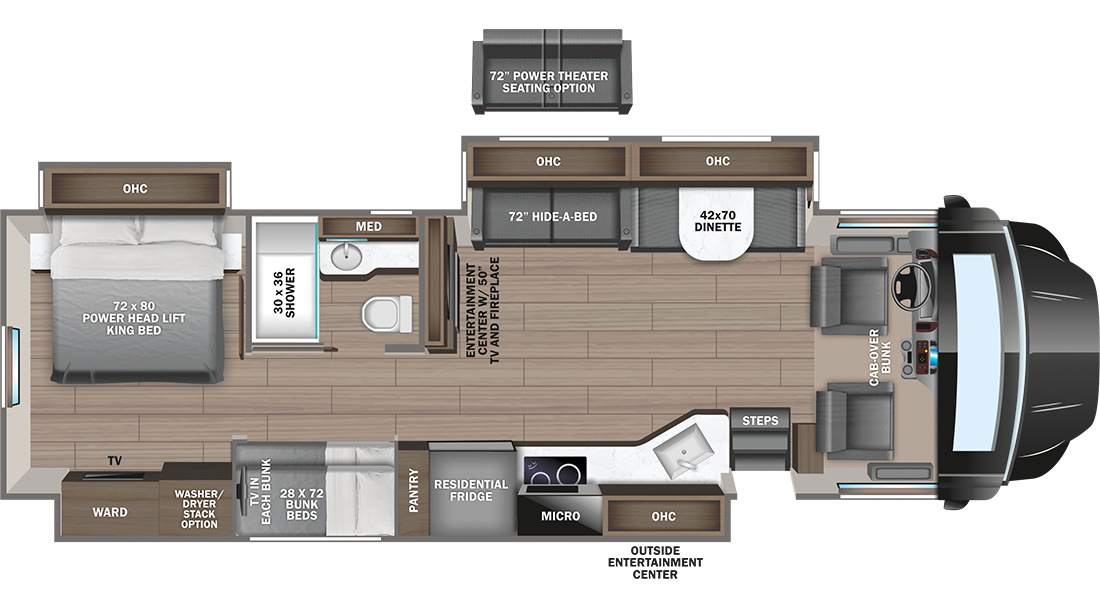 2024 Accolade XL | 37L
---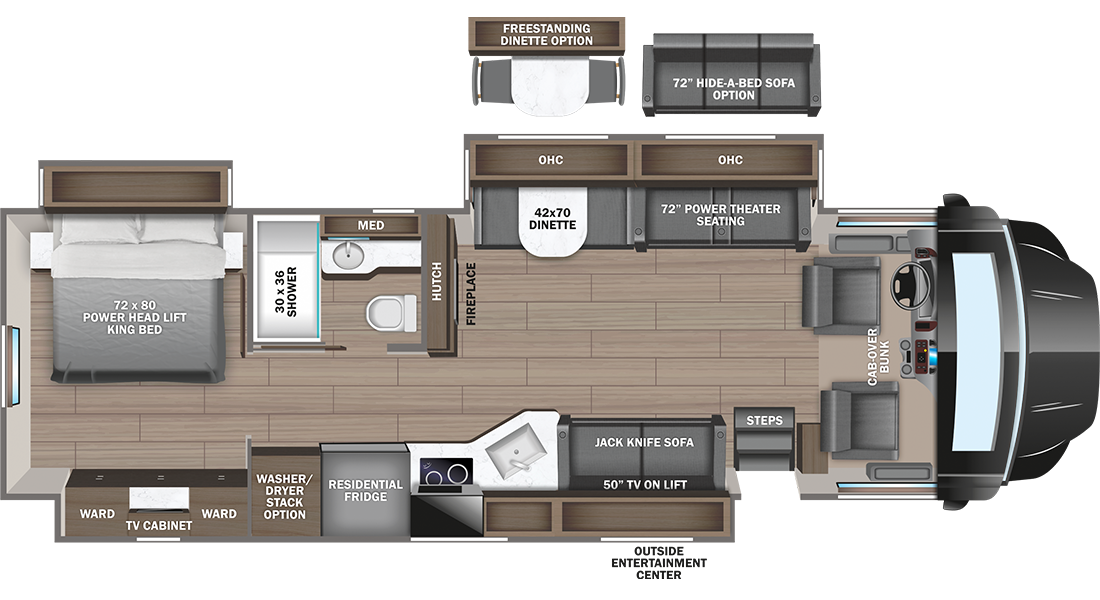 2024 Accolade XL | 37M
---