You Have a Luxury Coach, Go Ahead and Leave These Behind
Today's luxury coaches are brimming with features and comforts. So much so, in fact, that many of the things once required of long-distance travel or camping can be left behind. Well-equipped, intelligently designed coaches provide the opportunity to bring more of what you want with you on the road—the gear, wardrobe, warm reminders of home etc.
Your worries
First things first—it's time to adventure, explore, learn and, of course, relax. If you're traveling in an Entegra Coach, you'll enjoy peace of mind knowing you're supported by unrelenting attention to detail, old-world craftsmanship and personalized customer service. You'll also adventure with confidence knowing the first three years of ownership are covered by roadside assistance from Coach-Net®, the country's largest RV emergency road service, and a two-year limited warranty we'd put up against any other in the business.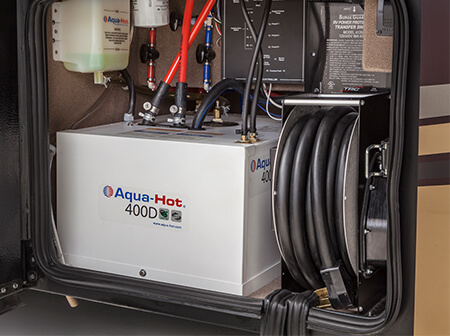 Water hose
A hose comes in handy for all sorts of reasons on the road, from keeping your coach shiny and clean to keeping the Slip 'N Slide® primed for the grandkids. Most Entegra Coach models are equipped with a built-in hose, made even easier to handle by an electric reel that tidily stores away.
Space heaters
Our coaches are built with residential-style insulation reinforced by the addition of reflective Flexfoil® where it matters most: in the floor, roof, sidewalls and front and rear caps. Five-inch-thick flooring and a one-piece fiberglass insulated roof go even further to keep the climates inside and outside the coach separate. The underbelly and exterior utility center are also fully enclosed and heated, keeping storage areas and key systems at ideal temperature levels without supplemental heat.
Water jugs
Forget the gallon water jugs and save room in your spacious fridge and cabinets for local delicacies or your favorites from home. Today's coaches are equipped with city and tank water filtration systems to ensure clean drinking water no matter where your adventure takes you. Leave those filtered pitchers, purification tablets and faucet filters behind too.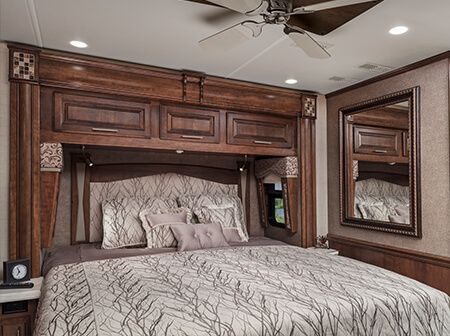 Air mattresses
You'll feel like the king of the castle sleeping on the huge residential mattress in the master bedroom, and your overnight guests won't have to settle either. Each Entegra Coach boasts a hide-a-bed sofa to quickly and easily convert your main living area into a second bedroom for friends and family to comfortably rest their heads.
Stereo or extra speakers
Whether it's a dinner party with newfound friends, celebrating a special occasion or winding down after an active day, you'll be able to set just the right mood thanks to audio systems inside and out of these luxury coaches. Most Entegra Coaches are equipped with a powerful combination of soundbars, multimedia stereo receivers and Bluetooth® connectivity from some of the leading names in sound, like JBL®, Bose® and Pioneer.
Compare Entegra Coach models now, discover more of the things you may be able to leave behind and start imagining all the things you've always wanted with you on the road, but just couldn't quite fit.