Small Motorcoach Features That Make a Huge Difference
When you're on the open road, your personal safety and comfort are of the utmost importance. While new buyers might focus on choosing a motorcoach with quality construction, smooth handling and a spacious layout, many seasoned coach owners will agree–those seemingly secondary features turn out to be just as important. Whether you're a first-time buyer or are looking to make upgrades to your coach, here are ten small features that will make your next big adventure even more enjoyable.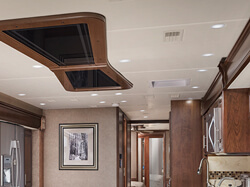 1. LED Lighting
You know what they say–a watt saved is a watt earned (that is what they say, right?). One of the easiest ways to cut down on power consumption is through use of LED bulbs, which last significantly longer than traditional bulbs and provide a lovely glow to boot. We've fitted our coaches with this energy-saving technology inside and out.
2. Onboard Safe
Whether you're exploring a new city or venturing into the great outdoors, being encumbered by a purse or money belt can really be a drag. An onboard safe not only helps keep your jewelry, cash and other precious items secure, it will also provide peace of mind when you're out on your next big adventure.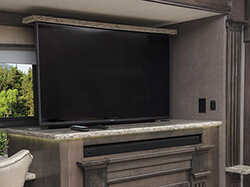 3. DVD Player
When you're at home, watching your favorite movie is as easy as firing up Netflix. But what happens when you're camped out in the beautiful Montana foothills and barely have enough bandwidth to check your email, let alone stream a movie? An onboard DVD player can be a lifesaver–particularly when you're entertaining your kids or grandkids!
4. Keyless Entry Fob
Nothing's worse than fumbling with keys at a dark campsite after a long, adventure-filled day. Keyless entry systems provide increased security, and keyless entry fobs are also much more convenient to carry.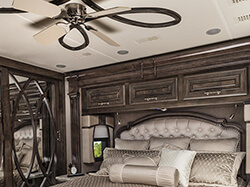 5. Bedroom Ceiling Fan
A bedroom ceiling fan can help keep your coach feeling like a luxury getaway no matter the season or destination. In addition to helping you keep your cool, they also help keep air circulating, preventing moisture buildup and odors.
6. Motion Sensor Security Lights
Motion sensor lights provide an added layer of security. Not only do they help ensure the safety of your property, they'll also help ease your mind–particularly on those nights when the grandkids are convinced that every shadow outside your coach is actually a hungry grizzly bear.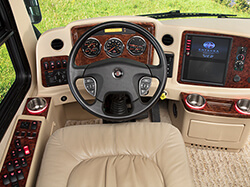 7. Cockpit Comforts
If you're like most motorcoach owners, you'll be spending many hours on the open road en route to your next big adventure. While features like power adjustable seats, LED-lit cup holders, infotainment systems and USB ports may seem like mere luxuries when you first begin shopping for a motorcoach, seasoned travelers will agree–it's features like these that will keep you happy, comfortable and safe during long travel days.
8. Clear on-the-Road Signals
When you're on the road, nothing is more important than safety. Features like a pulsing third brake light or turn lights that run the length of your coach help to ensure the drivers around you are alert and aware of your movements.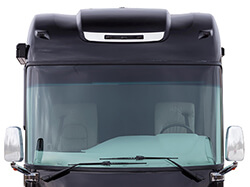 9. Steel-Reinforced Front Cap
The front of your coach sustains a lot of wear and tear on the road. A well-constructed, steel-reinforced front cap can help ensure your big investment retains its glory for years to come.
10. Day/Night Shades
Having high-quality shades will help keep your coach shaded from the sun, helping keep you cool and comfortable while conserving energy. Most importantly, they also help protect your motorcoach from damage caused by extreme weather.
Travelers: which luxury motorcoach features have you come to appreciate the most? Share your answer with us on Facebook!
Most features above are available on all Entegra Coach models. Hover over the "Models" tab above to compare.
Additional Resources
How Standard Features Can Set A Luxury Coach Apart