What's New with Connection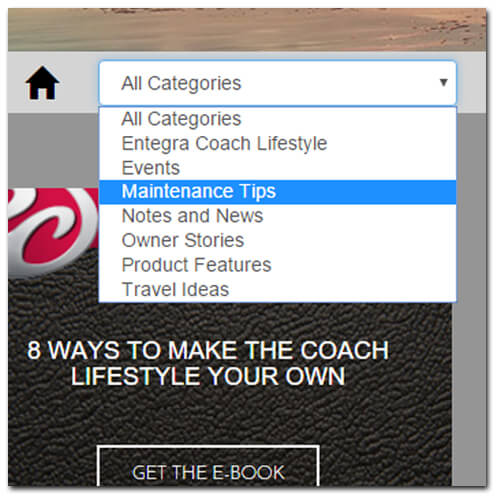 The spring season is right around the corner and is universally known as the time of year when all things emerge from their winter hibernation with a fresh face and a renewed energy. We here at Entegra Coach took that sentiment to heart and revamped our Connection Magazine into a blog, just in time for the new season! Whether you're brand new to the site or an old friend, welcome! Many things have changed, but one thing will remain the same: Connection is your reliable resource for valuable coach content. It will continue to be a platform to connect you to information and interesting reads to keep you engaged in the Entegra Coach family.
Perhaps the biggest change to Connection Magazine is the move from a digital magazine to a blog format. We believe that this move will better serve our purpose of bringing you more frequent posts in an easy-to-read layout. Content will also be easier to navigate through as a result. All of the blog posts will be color coded and divided into subcategories that correlate directly with their content.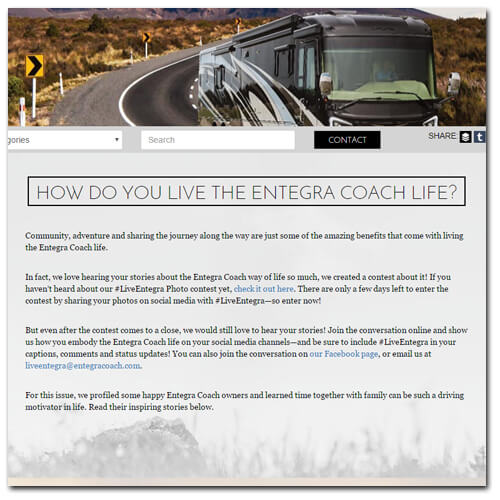 Entegra Coach Lifestyle, Coach Shopping Tips, Owner Stories, Maintenance Tips, Product Features, Notes and News, Events and Travel Ideas are all of our newly renamed subcategories that will help you better find what you're looking for. Interested in advice on how to keep your coach running like new? Click on the "Maintenance Tips" section to be redirected to posts only highlighting the upkeep of your motor coach. Want to find out what happened at our latest event? Find your way to the "Events" section to see what the buzz is all about. Whatever it is that you are interested in, there will be a more streamlined way to locate it on the Entegra Coach Connection Blog.
Along with the updated look and navigation, we will be bringing you a more varied range of content each week. We know that your interests are wide-ranging and diverse when it comes to the world of motor coaches. Entegra Coach wants to cater to each and everyone one of your interests, and with our new blog, we can do so more readily and frequently.
So, go ahead and stay a while. Explore the new layout and check out some of our past Connection Magazine articles by clicking below!